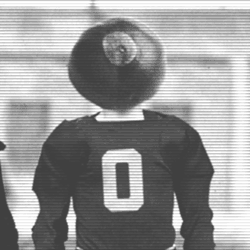 Crumbs
---
Cary NC (via Steubenville Ohio)
MEMBER SINCE August 06, 2014
Favorites
SPORTS MOMENT: 2002 National Championship Game while living on Chittenden my Sr. Year at OSU
COLLEGE FOOTBALL PLAYER: Braxton Miller
COLLEGE BASKETBALL PLAYER: Michael Redd
NFL TEAM: Steelers
NHL TEAM: Penguins
NBA TEAM: Lebron James
MLB TEAM: Pirates
SOCCER TEAM: Crew
Recent Activity
832
The fertility drug is clomid, I have taken it for IVF several times, and it's also used to come down from a cycle of steroids because it boosts natural testosterone so that you don't loose your gains, so it's a Gray area
I just want the NFL to have everyone do the combine in full pads, because I think it would add accuracy.. Logic would dictate that guys like Mike would be faster than smaller guys with the extra weight
I would add Chris Gamble
Arguing with idiots is like administering medicine to the dead...... Pointless
I love rice cakes with cream cheese, and also with peanut butter
Most of the time I think we should leave buckeye guy alone it's only those that don't have self esteem that feel embarrassed because some how he represents you. He is a fan just like us he was just able to monetize it, just because you would do it differently doesn't make you wrong or him right, or you right and him wrong, sounds different the way you write it, he's people enjoy it and let it be. His intentions just might be pure, glass house...
GOAT
He was also told there was an undercover investigation taking place and could not talk about it
I would put Steve Miller #1 personally, just for the pick 6 agains bama, I wouldn't care if he didn't play a down before that play or after....
Nothing to do with OSU, but that Coke article in the WMD's is mind boggling to me, how can anyone calculate a water footprint, how do they know how much water evaporated back into the atmosphere during the process of growing the crops used in the supply change.....
What about a healthy Shazier?
Emerald Isle is a great spot. I went on my Honeymoon there. It's super laid back.
What about Terrelle Pryor at WR?
I remember meeting him when I worked at Sloopy's, some drunk guy was trying to pick a fight with Andy, and Andy stood there told the guy I don't want to fight you go sit down, and I had to escort the guy to his booth, Andy shook my hand thanked me, and said I don't need to get in trouble, that guy's not worth it......he had nothing to prove it was pretty cool....
I don't know for sure, but everyone talks about arm strength, and if I'm not mistaken didn't Joe Burrow throw the second furthest ball at half time of last years spring game, let me know if I'm wrong
I have not been back to OSU in a good while, it was changing when I left, considering I worked at Sloopy's $1 pitcher night....I just couldn't get over the rent these kids are paying...wow...$800 was at minimum a 2 bedroom....old guy here...back in my day
They should just have a first down second down and third down quarterback system, you know to keep everyone fresh
Didn't read all of the comments, but saw a few about Ward, no one knows the situation, and it could have been as simple as him doing a teammate a favor to get him some playing time... No one knows but glass... Stone throw....my father always told me opinions are like ass holes everybody has one.....
Makes perfect sense, he can make the same if not more money, get's to move back home, and lower cost of living, also like it has been said before DC in waiting
I thought Xam meant exam in the morning, but who knows???
Wolves are people too, why all the hate
I would never not really "hate" how "hate" is now used.
The damn word of the day kills me, I don't want to click on it but I have to, it's just impossible not to.
I wish every game was a night game, however that is because I have 22 month old boy girl twins that go to bed just before 7:30 pm every night.