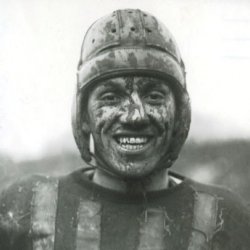 Crumb
from Liberty Township
MEMBER SINCE December 17, 2013
I have multiple pro teams that are my favorites and players that are my favorites, but there is only one absolute favorite. That's the Buckeyes, Ohio is my home, and I'm a Buckeye forever.
Favorites
SPORTS MOMENT: A tie between being at the Shoe at the end of an undefeated season in 2012 and watching Cie Grant seal the National Championship win in the 2003 Fiesta Bowl and Ezekiel Elliot's final score to put away the 2015 National Championship Game and being there when Curtis Samuel scoring in double OT beat TTUN in 2016.
COLLEGE FOOTBALL PLAYER: Matt Wilhelm, Zach Boren, and Joe Germaine. Current: C.J. Saunders and Drue Chrisman
COLLEGE BASKETBALL PLAYER: Ron Lewis and Evan Turner. Current: Kyle Young, Andre Wesson, and Justin Ahrens.
NFL TEAM: Cincinnati Bengals, Browns, Cowboys and Titans
NHL TEAM: Detroit Red Wings and Columbus Blue Jackets
NBA TEAM: Cleveland Cavaliers, teams with former Buckeyes
MLB TEAM: Cincinnati Reds and Indians and Braves
SOCCER TEAM: Columbus Crew and FC Cincinnati
Recent Activity
When he hit the hole I said "Zeke making it look EzE (Easy)! Wow, go EzE! Go EzE! Go EzE!" As I jumped up and down higher than I ever have before and would only match when Curtis Samuel ripped out Jim Harbaugh's heart.
He secretly just didn't want to do steroids.
J.T. absolutely would have led the team to victory. Go back and watch how much better he was in 2014 than 2015 or 2016. In 2017 he started to get back to 2014 form. J.T.'s problem was his broken ankle first and second was having Tim Beck as his quarterback coach and offensive coordinator in 2015 and 2016, and Ed Warriner as the other offensive Coordinator. Give him his healthy ankle, and working with Tom Herman for the remainder of the game against that team up north and against a Wisconsin team we absolutely murdered and there's talk for him to contend with Mariota for the 2014 Heisman at the very he's second and ahead of Melvin Gordon and Amari Cooper. Remember, he's throwing to Devin Smith, Michael Thomas, Jalin Marshall, Evan Spencer and Curtis Samuel and handing it off to Zeke Elliott and Curtis Samuel.
J.T. wins us the 2014 title, the real what if questions are if he has a competent position coach and offensive coordinator in his sophomore and junior seasons, how good could he have been? Under Tom Herman and Ryan Day he had 30+ passing TDs and 10+ rushing TDs in both of those two seasons.
I love Jim Tressel but this game was lost on TresselBall. Our kicker went 5 for 6 that night. That's right, against one of the greatest teams in college football history, we settled for SIX field goal attempts. The offensive ineptitude was also on the offensive line, Jim Bollman never improved his players from the time they set foot on campus until they left, and this was proven in 2005. First when they settled for SIX field goal attempts and then when they couldn't stop Larry Johnson Sr.'s best defensive line he had at Penn State a few weeks later. This theme would return in the Debacle in the Desert, it's Sequel in the Superdome, back-to-back eggs laid against the Trojans, and the 2010 Meltdown in Madison.
I gotta give the Vest credit though, he knew what his answer had to be and that was have a quarterback that had that x-factor of being able to make plays a traditional pocket passer couldn't which is why he put all his chips in on Troy Smith and Terrelle Pryor, to the tune of six straight Big Ten Championships, a Rose Bowl title, and a Sugar Bowl title.
1997 National Champions: Nebraska Cornhuskers
1997 Best player in College Football: Peyton Manning
Dane Sanzenbacher is one of my all-time favorite Buckeyes. The way he just did his job and was a solid guy is why my post-game recaps have an award to the quiet or unsung hero of the game award as the Dane Sanzenbacher award.
I'll never forget his catch against Penn State or his fumble recovery for a touchdown against Arkansas in the Sugar Bowl.
I like Tim Spencer too even though he was a little before my time. Some of my older and fellow BYU fans still hold it against him running over the Cougars and Steve Young and against the Buckeyes :)
That made me nearly cry with joy. The monkey was off their backs. Ding dong, the witch is dead. And I spit on her grave!
May God bless Ohio, America, and the whole wide world in this dark hour. Go Buckeyes!
Seriously it reminds me of Eisenhower's D-Day speech. Some things just stay with you in your heart and this one is etched in stone in mine.
Piss on the NCAA and the SEC.
I like the chances of Wyatt Davis, Josh Myers, Thayer Munford, Garrett Wilson, and Chris Olave against anyone, even some star Ducks.
And that's what cuts so deep, we nearly overcame all that was against us.
I hope Jeaux Burreaux picks them apart.
Agreed. Those hurt but they were never really close. EVERYTHING about this game was close and heart wrenching. But the future is bright at Ohio State.
118 points against them and two seasons. Lovely!
Not to mention that awful turf that probably contributed to his and Teague's problems. I've never seen so many slips on grass like that in a game that wasn't soaked to the bone. That was a factor on Etienne's touchdown run too.
CA_Buck and every other ref and his brother who were watching the game called B.S.
Sorry, Bafiesta, gotta disagree here. Lawrence was the one who dipped his head first, bracing for the tackle. This was what made the contact 'illegal.' Wade was trying to hit tall ol' Sunshine lower to avoid this very thing but because Sunshine curled up and then acted like he'd been shot the bad call was made.
Spot on. Such a kick in the teeth.
Eze, so many cases of it's flaws in this game. If it weren't such a cluster bomb they'd have not tossed Wade and extended a drive, or they would've called the punt block attempt running into and not roughing. Why have it if you can't use it to get calls right?
Ron I'm with you 100% about the Mack screen call. I don't like it. Or do like you said, hand it to J.K. and then go for it on 4th. I think that was a case of them out thinking themselves.
Spot on, Nutinpa. I think there is a sense that with this one, we may not have advanced but we're still undefeated.
MW2014, After more thought and after thinking more about their red zone struggles, I wonder if maybe the aggression you and I were looking for was to go for it on a fourth down at some point? I feel like maybe a coach or the staff should say at some point, three red zone field goal attempts aren't going to beat Clemson? After saying all that, I'm still nitpicking and second guessing with hindsight, and can't truly fault the calls Ryan Day and company made at the time. It would have taken guts of steel to not take 3 at any of those points and is easy to say now and I wouldn't have thought much more of it if we had still pulled out the win.