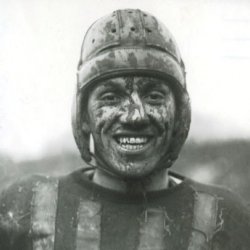 Crumb
from Liberty Township
MEMBER SINCE December 17, 2013
I have multiple pro teams that are my favorites and players that are my favorites, but there is only one absolute favorite. That's the Buckeyes, Ohio is my home, and I'm a Buckeye forever.
Favorites
SPORTS MOMENT: A tie between being at the Shoe at the end of an undefeated season in 2012 and watching Cie Grant seal the National Championship win in the 2003 Fiesta Bowl and Ezekiel Elliot's final score to put away the 2015 National Championship Game and being there when Curtis Samuel scoring in double OT beat TTUN in 2016.
COLLEGE FOOTBALL PLAYER: Matt Wilhelm, Zach Boren, and Joe Germaine. Current: C.J. Saunders and Drue Chrisman
COLLEGE BASKETBALL PLAYER: Ron Lewis and Evan Turner. Current: Kyle Young, Andre Wesson, and Justin Ahrens.
NFL TEAM: Cincinnati Bengals, Browns, Cowboys and Titans
NHL TEAM: Detroit Red Wings and Columbus Blue Jackets
NBA TEAM: Cleveland Cavaliers, teams with former Buckeyes
MLB TEAM: Cincinnati Reds and Indians and Braves
SOCCER TEAM: Columbus Crew and FC Cincinnati
Recent Activity
Thanks for always reading, my friend.
Also my nicknames are:
Big Diesel
Big Greasy
Triple D
Big Thanos
and etc

— Dawand Jones (@dawand_jones) October 19, 2019
Dawand Jones talking about his nicknames!
If you haven't read my Ohio State articles before, feel free to find them in the archives of my profile here on MySportsVote.com
Great to be back here among friends on Eleven Warriors! In this off season I landed my first gig as a sportswriter. It's at an upstart site and app called MySportsVote.com. I encourage you to check it out, it's like the poll portion of this great site but on sports nationwide. I'll give them a quick shout with every article I post here for my fellow Buckeyes. You can find more about them and me in my profile links here on Eleven Warriors. I love this site, and everyone who has helped me enjoy and write about Ohio State! O-H!
Making a run at a national title means the next man up mantra is executed on the field. I believe in the depth of this team, yet the last two seasons have me nervous, hopefully it is without cause.
BIA is the secondary's unit nickname now. Rushmen, Slobs, Zone 6, and the BIA.
I had long hair as a kid. My Dad didn't approve and told me to get it cut, but whenever we talked or joked about it, he would always end each discussion with a story about an old Western actor being asked about hippies and their long hair in the 60's. They asked the actor what he thought, he surprised the reporter asking the question saying he didn't judge someone by what was or wasn't on their head (this actor and my father are both bald) but by what was or wasn't in their head. I hold to that precept and not just about hair.
Spot on, Navy. We all say stupid things, but it seems much better to me that sometimes we just assume that a stupid thing is just that and not something truly more nefarious and evil. I hope that was the case here.
Makes me love the 2017 Gray unis all that much more!
I don't get it. The most packed, most rowdy home games I've been to outside of THE Game have been at night and it's not even close. It's because people who are there for the sheer social experience and not the football game, are less in number the later the start time. Also outside of Oklahoma two years ago, there are less visiting fans present the later the game is. I get Fox trying to be different than ESPN, CBS, and NBC but this seems like a case of different for different's sake alone and not different to be better. That kind of gimmick wears thin very quickly.
Is that a beef they have against Fox, cause I know they'll set up for games that are being called by CBS.
My father is a prostate cancer survivor of almost 20 years and he's in his 70's, so there is hope of life after treatment. They say get checked every year at 40 I think? Or is lowered to 35 now? Anyway, there's hope. Also, piss on cancer.
Right on both accounts! Now that I think about it, 2019 Clemson is more 2014 FSU than they are 2015 Ohio State.
Iowa beats the Fighting Franklins to keep our 2017 rematch in Indy intact.
USC beats Notre Dame, the Irish are super overrated.
Clemson wins but FSU covers. I think they're more 2015 Buckeyes than the 2015 Buckeyes were!
Brandon Peters and Lovie Smith > Jim Harbaugh and Shea Patterson.
I saw Ben Christman at the game on Saturday Night, he was standing in the portal which is a slight no-no and I was about to go ask him to move when my co-worker is like, "Do you know who that is?" I said "No, who is he?" He said that's Ben Christman. We figured he could stand wherever he wanted for a while before it became a problem.
Honestly, there wasn't a set of alternate unis that I hated. 2017 vs. PSU were my favorites though. In the end, I feel about em like Johnnie D said he does.
If you dislike the black unis you have a problem. Plus these young men work hard let them enjoy the change up.

— Johnnie L. Dixon III (@YoungKing_JD5) October 5, 2019
Like Hubbard, Lewis, and Holmes in 2016.
Playing any team twice is bad. I'd rather we beat Wisconsin and they lose to Iowa, and Iowa comes out of the West. We can tee them up for some revenge for 2017 in Indy.
It always is, hustle and depth are very important to title runs. The most obvious time being 2014, but even in 2002, they had to overcome Clarett's injuries, and in 68 Rex Kern was out during a big win against Purdue.
I think he'll take four years to get there and be a top ten pick and not the freak of the others, but I think he'll get there. I could be wrong though, here's to me making an accurate prediction and not cursing the kid.
Yeah, Bachie had a good game for them, but Willekes was shut down by Munford and the Slobs, and that's impressive, cause even though he was shut down, he's a heck of a player. Thanks for the compliment and for the read!