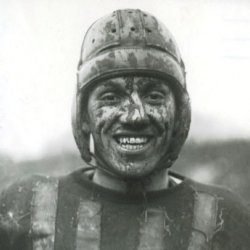 Crumb
---
from Liberty Township
Member since 17 December 2013 | Blog
I have multiple pro teams that are my favorites and players that are my favorites, but there is only one absolute favorite. That's the Buckeyes, Ohio is my home, and I'm a Buckeye forever.
Favorites
SPORTS MOMENT: A tie between being at the Shoe at the end of an undefeated season in 2012 and watching Cie Grant seal the National Championship win in the 2003 Fiesta Bowl and Ezekiel Elliot's final score to put away the 2015 National Championship Game and being there when Curtis Samuel scoring in double OT to beat TTUN in 2016.
COLLEGE FOOTBALL PLAYER: Matt Wilhelm, Zach Boren, and Joe Germaine. Current: Sam Hubbard and Drue Chrisman
COLLEGE BASKETBALL PLAYER: Ron Lewis and Evan Turner. Current: Jae'Sean Tate
NFL TEAM: Cincinnati Bengals, Browns, anyone but Steelers
NHL TEAM: Detroit Red Wings and Columbus Blue Jackets
NBA TEAM: Cleveland Cavaliers, teams with former Buckeyes
MLB TEAM: Cincinnati Reds and Indians and Braves
SOCCER TEAM: Columbus Crew and FC Cincinnati
Recent Activity
Never too late to come up big for Ohio State, Jeff! Well done!
All of Ohio is equally awesome and equal in Buckeye-ness. Whether it's ichigan touching Toledo, the home of the burning river, Cleveland, the partly Kentuckified Cincinnati, holes on the rust belt such as Dayton, Akron, or Youngstown, or dear old drunken Columbus, all are equally Ohioan!
Toledo for its war against that state up north, Rockin and Rollin Cleveland, the Queen City for being the jewel of the beautiful Ohio River, Dayton for giving the world flight, Akron giving Ohio Beanie Wells, Youngstown the Vest, and Columbus for THE Ohio State University!
I think I just became a Chargers fan...
To quote Venkman; "I feel so funky."
When your big brother sets a good example, you follow it! Columbus awaits, Marcus!
Winning says all that needs to be said.
That's awesome! Yet part of me still wants to see 33 in a WWE ring like his old man.
If that's how Columbus looks in the future I don't wanna see the Queen City, The Land, or the Home of the Wright Brothers...
Devin Smith is number 1 with a bullet. Mike Thomas is up there too but he was at his best when he had number 9 on the other side of the formation. While Smith was consistent with both Philly Brown and Mike Thomas.
Devin Smith changed games. Never lost when he scored.
#9 forever!
Yep, and to quote a good youtube video; 'ain't nobody got time for that!'
I have a hard time leaving off Jamarco, Michael Jordan, and Jalyn Holmes. Dante Booker and Chris Worley are at the least 2nd team and belong in the discussion.
Hold out for better, Greg. You deserve better.
Just a comment on the idiotic reporting done now days. I went to Fox Sports and they had nothing about it on their site. I didn't go to ESPN because, well, duh. My first mistake was not coming here first.
Wish that were in Ohio, I'd have gone to see that.
Keep fighting the good fight, brother. The enemy is wearing their urine yellow and tears blue, you can take em!
Just to play devil's advocate for a moment, one could argue that since all that money goes to the university, and the state, that they're basically just helping out countless of other programs in Ohio. I'm curious how much less the rest of the University would have to work with for sports that don't draw crowds, and educational programs that don't get big private donations.
I sure would have liked to have been exploited for a free education, with access to amazing facilities, advantages, tutors, and to come out of college debt free and with the prestige of putting on my resumes that I played football for The Ohio State University.
Not saying these guys don't deserve a little more or the chance to make more, that's above my pay grade, but I can't say they're exploited. If you want to make the argument that they aren't compensated enough, I'll listen, but I just can't see how they're exploited.
I'm reminded of the speech from Patton; "Ohio State people are winners, they will not tolerate a loser."
Very good points gentlemen.
This is how to handle a tough situation on both sides.
Preach, my brother! One of the best places in all of Cincinnati, Ohio, the USA, and the world!
The last major Buckeye to come out of St. Louis did okay for himself and Ohio State while he was here. I'll take it.
Since he has a concealed carry license, his biggest issue is that he didn't properly inform the police. Ohio law says that if a cop talks to you, you have to inform him immediately that you have a license and whether or not you are at that moment carrying.
Example: If you get pulled over for your tail light needing a new bulb and the officer only intends to warn you as a courtesy and says "How are you doing tonight sir/ma'am?" before you say "I'm good" or "What seems to be the problem?" you keep your hands at 10 and 2 on the wheel and say "Officer, I have a conceal carry license and am carrying a firearm and it is _____." (on an ankle holster, in the glove box, in my jacket, etc.) Then the officer will instruct you on what to do. Usually just tell you to move slowly to get ID, etc.
Also, most cops aren't jerks. I informed a officer who taught a religious study group I was part of every week that I was carrying and that I always do. He said I didn't have to inform him anymore as he wasn't worried about the people who get the permit and tell him about it.
It sounds like Washington was careless in a sense but not violent. He just got forgot the rules here. If what we see here is all there is to it, then the worst should be getting his license suspended or revoked, and maybe some community service involving firearm safety.
While I hope you've had a happy birthday coach, you're only the second best person born on July 10th. My Mom is the first! However it is true that only the best, and those that destroy ttun are born in July!
Exactly. And the NCAA is just sore that someone made some money off of playing a game they 'regulate' and didn't give them a cut.
Like Woody Hayes said; "You win with people."