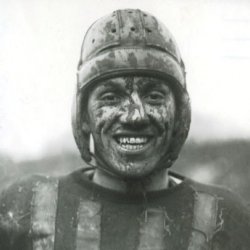 Crumb
from Liberty Township
MEMBER SINCE December 17, 2013
I have multiple pro teams that are my favorites and players that are my favorites, but there is only one absolute favorite. That's the Buckeyes, Ohio is my home, and I'm a Buckeye forever.
Favorites
SPORTS MOMENT: A tie between being at the Shoe at the end of an undefeated season in 2012 and watching Cie Grant seal the National Championship win in the 2003 Fiesta Bowl and Ezekiel Elliot's final score to put away the 2015 National Championship Game and being there when Curtis Samuel scoring in double OT beat TTUN in 2016.
COLLEGE FOOTBALL PLAYER: Matt Wilhelm, Zach Boren, and Joe Germaine. Current: C.J. Saunders and Drue Chrisman
COLLEGE BASKETBALL PLAYER: Ron Lewis and Evan Turner. Current: Kyle Young, Andre Wesson, and Justin Ahrens.
NFL TEAM: Cincinnati Bengals, Browns, Cowboys and Titans
NHL TEAM: Detroit Red Wings and Columbus Blue Jackets
NBA TEAM: Cleveland Cavaliers, teams with former Buckeyes
MLB TEAM: Cincinnati Reds and Indians and Braves
SOCCER TEAM: Columbus Crew and FC Cincinnati
Recent Activity
May God bless Ohio, America, and the whole wide world in this dark hour. Go Buckeyes!
Seriously it reminds me of Eisenhower's D-Day speech. Some things just stay with you in your heart and this one is etched in stone in mine.
Piss on the NCAA and the SEC.
I like the chances of Wyatt Davis, Josh Myers, Thayer Munford, Garrett Wilson, and Chris Olave against anyone, even some star Ducks.
And that's what cuts so deep, we nearly overcame all that was against us.
I hope Jeaux Burreaux picks them apart.
Agreed. Those hurt but they were never really close. EVERYTHING about this game was close and heart wrenching. But the future is bright at Ohio State.
118 points against them and two seasons. Lovely!
Not to mention that awful turf that probably contributed to his and Teague's problems. I've never seen so many slips on grass like that in a game that wasn't soaked to the bone. That was a factor on Etienne's touchdown run too.
CA_Buck and every other ref and his brother who were watching the game called B.S.
Sorry, Bafiesta, gotta disagree here. Lawrence was the one who dipped his head first, bracing for the tackle. This was what made the contact 'illegal.' Wade was trying to hit tall ol' Sunshine lower to avoid this very thing but because Sunshine curled up and then acted like he'd been shot the bad call was made.
Spot on. Such a kick in the teeth.
Eze, so many cases of it's flaws in this game. If it weren't such a cluster bomb they'd have not tossed Wade and extended a drive, or they would've called the punt block attempt running into and not roughing. Why have it if you can't use it to get calls right?
Ron I'm with you 100% about the Mack screen call. I don't like it. Or do like you said, hand it to J.K. and then go for it on 4th. I think that was a case of them out thinking themselves.
Spot on, Nutinpa. I think there is a sense that with this one, we may not have advanced but we're still undefeated.
MW2014, After more thought and after thinking more about their red zone struggles, I wonder if maybe the aggression you and I were looking for was to go for it on a fourth down at some point? I feel like maybe a coach or the staff should say at some point, three red zone field goal attempts aren't going to beat Clemson? After saying all that, I'm still nitpicking and second guessing with hindsight, and can't truly fault the calls Ryan Day and company made at the time. It would have taken guts of steel to not take 3 at any of those points and is easy to say now and I wouldn't have thought much more of it if we had still pulled out the win.
Not my intent, Allinosu. Borland played his heart out and was a boss to even come close to making that play. He would have been a permanent Buckeye legend like Steve Miller if he makes that play, and he nearly did. How he's gone from 2018 to 2019 was like Taylor Decker from 2013 to 2014. Bottom line, you're right that he gives his all for Ohio State and this loss isn't on him, and he's a heck of a player.
In fact this is a goal I have for writing from now on, that if a player ever 'misses' a play to not call them out by name in an article, maybe just by position, and in cases like this make it clear that most Hall of Famers would have trouble making the play. I only mention it because it was like so much of this game, painfully close.
That's fair, Ron, I'm just hoping that maybe that would have changed the fight between the defense and Clemson's offense. Maybe rattle Sunshine or his linemen to a point where Young gets loose and more turnovers are force.
A silver lining is that they're going to be lethal this fall. Olave, Wilson, and Williams, and not to mention the plethora of top ranked recruits Brian Hartline is bringing in and developing...Zone 6 is a deadly force.
Buck95 I had thoughts of the 76 Rose Bowl during our B1G Title bout with the Badgers, especially in the first half. I'm glad you brought it up here because it had to feel similar. Finishing the season B1G champs, have a two-time Heisman winner, and to be tied 1-1 with the only defeat on our year and not knowing for certain which team was truly better. Heart breaker for sure.
Linepilot15, I hope I didn't come off as blaming the coaches or Tuf Borland. I agree that the plays were okay and just didn't work out, I just would have preferred a more aggressive approach and that's just my personal preference. And Tuf did drop it but like you said it would have been an all-American play to make and he almost did it! It was just another point of frustration of how close we came. I hold no ill will to him. He played his heart out and and nearly made himself an immortal Buckeye legend. I'm not trying to assign blame to anyone, just comment on how close we came and if how one break had gone our way, we'd be talking about playing Burrow.
Sonof'47alum, thanks for your input and perspective on the 1969 game. The 24-12 final score made me think The Game was closer than it really was, because I was reluctant to dig too deep into that hurt too.
Great points, Dillon G. Don't get me wrong, I'm not trying to blame our Buckeyes exclusively or even primarily. The refs had it out for them, no question. The only point is I've seen teams play well enough to win even when that has happened (though I can't remember it ever happening to this degree) and this team nearly did it too.
I was very busy the past couple of days my friends and haven't yet had a chance to respond to each comment like I try to. This is the most attention any of my articles has ever gotten and I am humbled and grateful to you all even to those who don't like what I say. I'll try to get back to all of you. Thank you so much, and go Buckeyes!