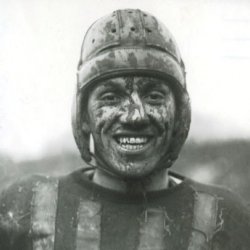 Crumb
from Liberty Township
MEMBER SINCE December 17, 2013
I have multiple pro teams that are my favorites and players that are my favorites, but there is only one absolute favorite. That's the Buckeyes, Ohio is my home, and I'm a Buckeye forever.
Favorites
SPORTS MOMENT: A tie between being at the Shoe at the end of an undefeated season in 2012 and watching Cie Grant seal the National Championship win in the 2003 Fiesta Bowl and Ezekiel Elliot's final score to put away the 2015 National Championship Game and being there when Curtis Samuel scoring in double OT beat TTUN in 2016.
COLLEGE FOOTBALL PLAYER: Matt Wilhelm, Zach Boren, and Joe Germaine. Current: C.J. Saunders and Drue Chrisman
COLLEGE BASKETBALL PLAYER: Ron Lewis and Evan Turner. Current: Kyle Young, Andre Wesson, and Justin Ahrens.
NFL TEAM: Cincinnati Bengals, Browns, Cowboys and Titans
NHL TEAM: Detroit Red Wings and Columbus Blue Jackets
NBA TEAM: Cleveland Cavaliers, teams with former Buckeyes
MLB TEAM: Cincinnati Reds and Indians and Braves
SOCCER TEAM: Columbus Crew and FC Cincinnati
Recent Activity
Haskins is so cerebral and learns and adapts so quickly, I think he'll be inducted into Canton one day.
Screw the NCAA.
It's stuff like this that makes me wish the Big 12 were divided up by the other four and we had four super conferences and could just get college football away from this petty, small minded, mafia-like organization.
Overall a let down. It had plenty of good moments but the show runners forgot about good story telling in the end.
I HATE an ending that leaves you with as many questions as did the beginning and GoT certainly did that.
Oh well, just going to remember the good moments from the show!
Talk is cheap and his is coming from the clearance aisle at the Dollar General Store.
Yeah I don't fault anyone who was taken advantage of. I get why some people get upset that people didn't come forward because maybe and I emphasize maybe, could have saved others. But the only blame resides with the monster who did this and were he not dead already, I couldn't blame someone for taking it out. The creatures like this and the ones at MSU and PSU should be death penalty eligible.
So creeps like this get away with their evil by telling their victims the assault the monster is doing to them is a medical procedure? So messed up. May the victims find healing in all outlets possible, and may perpetrators of these things around the world be destroyed as quickly as possible.
He had a similar one in a Game 7 against the Wings as an Ave that I'll never forget.
Yeah, Ramirez was a putz. I only could ever root for Boston against New York and even then it was like Sparty or PSU against ttun.
Haha, preach! I loved the Bulls as a kid and hated the Knicks! So much so that I'd love it when Reggie Miller would beat them, and I can't stand that dude either!
Nice! You just got yourself another Twitter follower too.
Yep, that's him! I may be a Jackets fan now days and not a Wings fan anymore, but I still hate the Aves!
Biakaupchuka or whatever the crap his name was. Patrick Roy as in boy. Screw his French-Canadian pronouncing ways. There was an Aves player named Blake I hated too. Derek Jeter. Jerome Bettis. Brett Favre. Harbaugh. Woodson. Bonds. A-Rod. Crosby. I better stop now.
Is anyone else surprised that Tyrion and Varys didn't even try to tell Jon. 'Hey take one for the team and marry her, she's really on the brink with all of her friends dead, she needs someone to care!' It seems like that would have been much more sensible than just doing crap that's going to push her even closer to if not off the edge. Tyrion barely mentions joint rule and then it's completely forgotten about. I wonder if they had done a 10 episode season if we could have seen that attempt to play out a little more. Wouldn't have made things seems so abrupt and semi out of left field.
Quad, you've been spot on in most if not all of your takes and posts. +1 sir!
Wargor, the thing is and this is especially true after the Lannisters left Casterly Rock in season 7, these people have been the epicenter for the suffering of the Seven Kingdoms for years. War in the North. The downfall of the Baratheons in the Storm Lands. The Mountain raping and pillaging in the River lands. The war in destruction of the Tyrell's and their lands. The same for Dorne. Basically everywhere else in Westeros has suffered because of the Lannisters and their regime and nowhere outside of Casterly Rock supported that regime more than King's Landing. That's not to say that the civilians deserved to be burnt and killed. They didn't, especially after it could have been avoided once the bells rang. I'm just saying that in total war, they aren't all as innocent as children. They're the same people that cheered for Ned Stark's head being chopped off in front of his kids, but also are the same people who rioted against Joffrey and tried to kill him. So they have more responsibility for the actions of themselves and their city than has been shown recently, especially this season. And I think that's why they went full on Emperor and had Dany do the most destruction. If it had just been the soldiers who were avenging fallen friends and murdered family members and neighbors like in WWII it would have been a much more tragic and not particularly any specific person's fault. Your point about the lack of detail available to every average person is very valid. At the same time, many of the people either themselves probably directly contributed to Cersei's war efforts or had family who did. But that doesn't excuse Dany, it wouldn't even excuse an army of the people the Lannisters had oppressed, it just makes it more understandable for the people. I doubt the show will doe this but I imagine the people of the seven kingdoms will be split in their reaction to the news. I think almost all would be like 'yeah, the Dragon Queen is scary and crazy.' but half would be like 'Cersei's regime had it coming!' and the other half 'Wow, that's way too far!'
Time will tell. I'll look for ya in next week's thread!
I noticed. It'd be nice if they did something with that fact next week, at least mention it, but I don't expect much. It's a good point though. You put those at certain choke points and you're gonna mess up the enemy army big time.
And what will the Dothraki and Unsullied do? And what will happen in Essos? I don't think we're going to get most of these questions answered and that's not cool.
How about in season 7 when he and The Hound discuss the possibility of The Hound dying in King's Landing?
The thing about Cersei's death that I think they under emphasized and will get overlooked because of how they're writing other characters is that those tears in the end were for herself and herself alone. She didn't give a crap about anyone else, and if they were trying to make it seem like she regretted her life of evil at the end, then this is one time I'm glad they failed.
EvanstonBuckeye, that's what makes character arcs like his, Theon's, and so far Arya's work so well. They keep the good parts of themselves and improve. Jamie and Tyrion haven't really changed all that much. If Jamie had, he'd have stayed with Brienne but he was like a dog returning to its vomit. Tyrion and Jon have been fairly consistent and so had Dany up until this episode. She always had a temper problem and dealt out capital punishment when she had to, but she did a Jesse Owens long jump past the line of tough/crazy and all in one episode. It felt sort of rushed.
At some point predictability is okay as long as it's still a good story. Whenever one starts using a plot element such as predictability (or any other plot element) so much and they do it just for it's own sake, it tends to make awful what could have been decent or better if they hadn't bent themselves to said element.