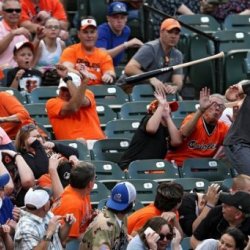 Crowd Threatening Bauserbombs
---
MEMBER SINCE August 12, 2015
Favorites
COLLEGE FOOTBALL PLAYER: Ted Ginn, Jr.
COLLEGE BASKETBALL PLAYER: Greg Oden
NFL TEAM: Bucs
NHL TEAM: Red Wings
NBA TEAM: Pistons
MLB TEAM: Athletics
SOCCER TEAM: Arsenal
Recent Activity
Why wouldn't they just pipe it through the actual speakers?
There's a difference between you didn't play me in one year so I'm out and legitimately not having a chance to play.
I saw Joe Bauserman play football. And it was bad.
Great article, thank you!
Funny, I feel the same way about IPAs. It's the cool thing to lIke, and Pilsner drinkers are irrational goons. To each their own.
Do you know how many of those guys Stud was the primary recruiter for?
Answer: cause I'm not a pansy
In all seriousness, you either hate the weather or you don't. I would be lost without the seasons and do all kinds of things outside even in the dead of winter. If I can snowmobile when it's -25 I can certainly drive to work. Getting my tractor with a front end loader out and plowing is actually a good time for me. I don't blame people for moving to Cali or wherever if they can't cope with the weather. As others said, I'm good on all the lunacy, taxes, natural disasters (whether you had one or not it's coming), traffic, rampant homelessness, etc. it sure is beautiful though!
His personality clashed with the coaches' personality that said he wasn't good enough to start.
So Day somehow ushered him out or told him he didn't fit. LOL. You think any head coach would punt a top qb recruit who obviously wanted to stay not very long ago with the possibility that we only have 1 or 2 scholarship qb next year? All because he's a good runner? He probably just said it's an open competition, and Tate/parents got butt hurt he'd have to compete for the job at a top program. That's truly LOL.
Funny he "resolved" it by going somewhere 3 young qb will get the chance to play for a year before he can beat them out.
Dabo: "grab em by the b-holes"
Yeah rumor has it Tyjon liked all his sisters Instagram photos too
Tate Forcier was once their savior too
I like him, but it's obvious with the attempted summer transfer that he thought he should have played over Haskins. Lol to that.
Man if Fields isn't eligible he could easily pull a Haskins and be on his way to NFL next year. But how can we blame him for wanting to play? He's been a bit immature but no doubt. But people act like he's Tate Forcier just because he's small. My god he was the highest rated QB Meyer ever recruited here. Let's not act like he's some bum because we made him run goalline offense this year.
Message board innuendo would be too reputable of a source for that clown
Pretty sure we all want Larry Johnson to stay but our D sucked this year. Only one person calls the D.
I'm not thrilled but we don't know the details yet. Why hire a grinch-type guy you don't know when you can hire an experienced coordinator for a year or two and see what the young guys have? If he pulled the Washington-Raymond coup at least we aren't bringing a guy with zero game calling experience in and relying heavily on them. Hokes offense sucked not D. We had 10x the talent they did then.
Also, if nothing else, LOL Michigan.
I'm okay with the hire, but that was also before the iPhone was invented if that gives any context.
He should just be happy he Dantonio told him no so he had to reach out to Georgia
A lot of money for not having proven much. He's solid but that's top drawer assistant money both coaching and recruiting
First game I've watched a lot of all year. I forgot how bad college officiating is, yikes.
Good maybe they can not lose by 70 in their bowl game next year.
How will this impact all the recruits he brought? Oh wait...