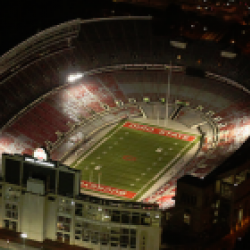 Crimson
---
MEMBER SINCE July 11, 2012
Favorites
COLLEGE FOOTBALL PLAYER: Dane Sanzenbacher
NFL TEAM: Detroit Lions
Recent Activity
I, for one, welcome our new Gunnar overlord!
Cooper would like a private word with you.
I was born near Toledo and was a Lions fan early on (Detroit is the closest big TV market, not one of the 3 Cs). I didn't have strong feelings about the rivalry, even though an uncle was a vocal OSU alum, although I liked OSU in undergrad. I got into grad school at UM and OSU, and when I took the OSU offer, I started paying lots of attention to and rooting for OSU. Now I live near Ann Arbor and have to bring my son up right, as he was born at Wexner (and loves the Brutus statue in the union).
That's what we assumed initially. Then there was an article saying otherwise. Playing White at bullet is a no go for you? We did it last year, called it safety, and people cheered.
He didn't. Hinton was demoted to bring in Kevin Wilson.
Didn't you hear? Thomas is a package deal to OSU!!!
See: Meyer, Urban. :)
I remember it being more of a bad taste in LJs mouth when he was passed over for HC (again). Allowed Urban to flip him.
I believe our base is 1 safety, 1 bullet, and 3 LBs, and the more frequent nickel will drop Werner for a nickel (Wade).
No. We should totally offer all three. They're a package deal!!!
Now if only my son would stop hitting me with a spatula and calling me a Turkey.
WRs
Pretty sure it was the transfer bug.
Rankings are hard. I would go with:
I only see 5 recruits that are ranked worse than 25th at their position.
Motivational tactic from a few years ago. As in, how are you going to provide for your family? Not such a great story these days. https://www.the-mainboard.com/index.php?threads/how-she-gone-eat-com-ceo-and-buckeye-alum-arrested.177125/
This is clearly a fake photo. Urban Meyer wasn't coach yet. Nice try.
Our guys just peeing on them is better, amirite?
The 247 composite is a weighted average, with weights decaying with number of players. It's basically one metric summarizing number of players and average rating. For lower rated players after the first 15, there basically isn't a penalty (say, for kickers).
And I haven't heard of Melton in the class lately, certainly not along the DL.
Maybe we should start calling them Kentucky. Just delusional.
BOOM!
Because they start classes in 2020? Class of 2020?
BOOM!