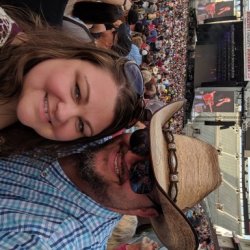 CrazedBuckeye24_7
---
MEMBER SINCE August 27, 2019
Favorites
SPORTS MOMENT: 2002 national championship
COLLEGE FOOTBALL PLAYER: Eddie!!!
COLLEGE BASKETBALL PLAYER: Jimmie Jackson
NFL TEAM: Dallas
NHL TEAM: CBJ
NBA TEAM: Da Bulls
Recent Activity
I read somewhere that Davis has hired an agent so he's done. Wade... please come back.
Please forgive all the negative comments by my Buckeye breatheren. We're just ready to eat some tiger (I was going to use another word for felines but didn't want booted) and come back for seconds in a couple weeks.
You mean Jack? Harry is a center.
I fully agree. Most as we've found out was scheme related but he was always on the wrong end. This year I've grown to love, appreciate, and respect the hell outta that young man. He plays with/on fire, even though he sometimes talks too much. I'd want him on my team!!
Exactly, Taylor is featured and yet Dobbins has matched him while playing less minutes and in an offense which can go to any number of players.
While I think he's deserving to be there, to be the best, you have to beat the best. Taylor hasn't done that. Dobbins has out played him head to head, as well as against the top conference defenses. That being said, Chase Young is a destroyer of worlds and should be crowned as such.
Chug came into the game and I believe threw a first down conversion. Even his miss was low and in a spot where only our receiver would catch it. He has gotten to play a good bit this year and I consider our backup to be serviceable. Great job Chug on coming into the game and handling business!!
While I think Parson's a great talent. I'm glad we didn't get him. His attitude has given me a red flag, just like tathan. Better to have the correct pieces. That's one of the differences between OSU and PSU/Mich.
I think he's horrible and needs to stick around for 20 years to learn how to coach and recruit ;)
Because I'm in a pool....Bucks 48-9......big bucks, big bucks, no whammies..... STOP!!!
And now Greenburg thinks Michigan will win because OSU didn't look great against PSU. "First good team they played against". Cincy and Wisconsin would like to have a word. Even SOS shows our schedule is good.... SMH. He's going on the mark may list.
How do I temper my expectations and allow 3 of the most amazing freshman receivers I've ever seen time to grow and learn how to block down field next year?
I agree at least they went both ways. It was called fair. I think they started calling everything because they saw it getting chippy.
WOW. Just what a great game!!! I'll be shocked if KS isn't in the tournament. They really impressed. Pippen is a beast. Veteran squad. They just got frustrated. OSU had the drought. KS made some good changes on d, made some shots, and OSU cooled from 3. Impressed with the resiliency of the team. Walker looked out of sorts. Carton had much better command of the team. The kid is electric. Liddell wasn't afraid to drive it but he put his head down too much. He'll learn. A year or two will make him a star. Great game!!! Win or lose, I was going to walk away impressed with both teams. They would have lost this game last year.
So did Forrest Gump and look at the career he had.
Our line had difficulties opening holes at times against PSU. We need a balanced attack. I do believe though we can wear them down and win more line battles in the 2nd half. Just...please God...no precipitation!
Anyone can be beaten on a given day. The only ones who can't are the games that's already been played. We beat ourselves and still beat you by 11. Rain and fumbles were our kryptonite. Go to bed, suck your thumb and cuddle with your boyfriend. We'll see you next year to wake you up to reality again.
I felt like the ball was coming out of Field's hand a little funny. He wasn't spinning it well. Place had to come back for the ball a bit and that's not like Fields. I think the rain was a big factor for running it. Who woulda thought we'd have fumblitis.
Mexico?
2nd and 3rd string....play was open and a little sloppy. There was space between defender and ball.
I'm sore about the Rutgers game. We played sloppy in comparison to other games. I'm upset about the final score. But then I think about it. They gave up 21 to Rutgers (motivation). They found weakness to fix (ahead of two big games). They still won handily. Our 2nd, 3rd, and 4th stringers all played. That game gave us everything we needed.
Check, check, and check.
"We just had a one beat a 16 for the first time in the history of college basketball. It's a different day and age. It's really good players all over the country." I'm pretty sure that should be "16 beating a 1" but maybe Holtman said it wrong so the quote would be correct.
I seem to remember Wisconsin having the #1 defense when we played them...our rushing totals worked out there. I'm amped and nervous. I give PSU respect. I was disappointed in our play last week and it's good if they feel that way too. I think they will come out hot and loaded. Go Bucks!!
Sorry, have to DV you for this comment (italics)