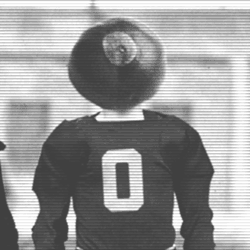 CraigKressel
---
MEMBER SINCE October 18, 2015
Recent Activity
Pac12 or Big12 officials in the playoffs
Definitely not true, still waiting on the 2006 debacle to be righted.
Should have had 1 more play then went to the endzone maybe another screen or pass over the middle, then throw to the endzone 4 times.
Yea it was a perfect call to score. But why would we score with 45 plus seconds left when Clemson still had a timeout and just drove the field with ease in that amount of time?
They care more about the season than 1 playoff game. They have regular season contracts with ACC and SEC networks and if their brands are at their highest then that is what they want.
If that was not a catch then 2005's Limas Sweed catch definitely was not.
If that wasn't a catch then neither was the 2 point conversion and definitely not Limas Sweed's 2005 catch vs Ohio State where the ball flew out the second he touched the ground.
It was what I said, I didn't say anything remotely worth removing or controversial.
I really want to know why my post was deleted what violated the rules? All I said was it was down from being too expensive, tv prices and the quality of coverage and there being so many games vs crap teams.
Why the hell was my post removed, makes absolutely no sense I didn't post anything bad at all.
Comment removed for violating the site's commenting policy.
Why does everyone seem to think Oregon is going to beat Utah. Honestly Utah will probably blow them out.
No way, FSU can't afford what PSU can also why would he take the risk when he already built up PSU.
It is truthful he should get in better shape not sure why it is taken as bad, he is a professional athlete his job is to be in shape.
he needs to go on a diet, he looks really pudgy to be an NFL QB.
He seems like another Jamarcus Russell so far.
I would leave MSU off of that they are dead and buried and not coming
That is on James Franklin he has the power to challenge.