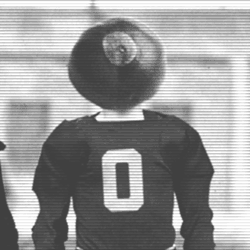 CRAFTFORTHESTEAL
---
Des Moines Iowa
MEMBER SINCE March 25, 2012
Favorites
COLLEGE FOOTBALL PLAYER: James Laurinaitis / Eddie George
COLLEGE BASKETBALL PLAYER: Aaron Craft
NFL TEAM: Whoever El Guapo gets drafted by
NHL TEAM: None
NBA TEAM: None
MLB TEAM: None
SOCCER TEAM: None
Recent Activity
I won't be wasting my time either!
What is a Migos!? Looks like a broke version of Little Wayne and Rick James. I'm more than happy they represent SCum.
Des Moines but from Cedar Rapids
I personally like the Name on the back anyway, I cannot afford $150 for a generic jersey. But $25 free shipping, I can manage that. Just picked up a BlackOut Zeke and Bosa Jerseys, and after seeing the one in store. It is hard to tell a difference, TOSU may not make a dime off of it, but I annually give them plenty of money for games, other merch. So buying a couple knock offs a year I dont think will kill the machine! Like it was stated, Jersey sales are a small margin of the profits anyway.
I cannot picture a Indiana win, there Defense will not allow it. They played there game of the century against the Buckeyes, they blew a stupid lead to Rutgers! If not for the 4 turnovers that The Boys gift wrapped to them, the score would have been out of control a few weeks ago. Zeke destroyed them, I see Iowa running all over them.
Living in Iowa as well, Id much rather see a 12-0 Iowa in the Championship game than a 11-1 or even worse a Average Wisky team. The higher ranking of a 12-0 team will only help with the playoff! Besides a shot to beat Iowa would allow me to talk smack to the locals even more.
All Day, EVERYDAY! Lacking a moral compass and the joy of a JT ran offense, nothing would get in my way to making sure JT got home. I would have offered him a ride and a DONT DO IT AGAIN, in exchange for a National Championship.
Love this! Have a poster size hanging above my computer at work!
Actually all of the teams not names Ohio St, have plenty of all sizes left. That is nuts, has to be the same turds who camped out to snag all of the jerseys! Hate when people hog crap just to flip it.
They sold out QUICK, the MSU ones can still be picked up in all sizes! There is no crazed fan base for this kind of stuff like TOSU's.
Young Joc havent heard that name thrown around in ages, next big thing I guess didnt pan out.
I could never root for Michigan no matter what it means for the Big Ten. 0-11 is what I hope they come in at every year!
How can Mark May lose this? He has won his rounds by landslides!
SO basically the entire class is rumored to be decommitting? Will there be a class now?
I said Could be, not that he is.
No doubt, there is little defense played in the NBA anymore, if Craft can get his 3 point shooting a little more consistent he could be a star. If anything he could be used as a late in the game getting a stop kind of guy, I have seen a ton of bench guys who I know Craft would destroy.
Right, you cant tell me teams like New York, or Philly couldnt have used him this season, teams that could use a little defense. Look up and down those rosters, talent but no heart like Craft would bring.
That would be my first NBA jersey! God that would be awesome if Craft came to Cleveland!
"The durability question is still a concern for me. Miller has yet to play a full season without being knocked out of a game, or missing games."
I have been saying this for two years when anyone says, but Miller has to be starter. How long will he stay there, THANK GOD Joe is not coming into a game though (Nebraska).
The off season is brutal, a few thousand more pointless threads to go!
Mizzu. Cornell, and Iowa all have 3 in the Semi's and all three are only apart by 7 points.
Ohio St has 5 in the Semi's! That is huge as if 2 or 3 move on, and the Hawks stumble. They could lock up the Championship tonight.