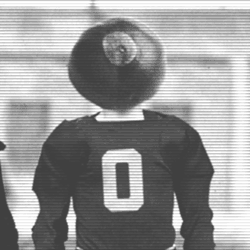 CptBuckeye24
---
MEMBER SINCE November 27, 2012
Favorites
SPORTS MOMENT: Kenny Football tying the game against Purdue to save the undefeated season with the drive, 2pt conversion, and the overtime TD.
COLLEGE FOOTBALL PLAYER: Carlos Hyde
NFL TEAM: Cleveland Browns
NHL TEAM: Don't watch it....but I hate Pittsburgh...
NBA TEAM: Cavs....only because it is a Cleveland team; I hat
MLB TEAM: Cleveland Indians
SOCCER TEAM: N/A
Recent Activity
Draft picks and money.
Or NFL. Browns are reportedly interested in talking to him. Campbell is a leader and has a lot of traits of elite HCs. He reminds me of a young Urban Meyer.
Double secret probation
I didn't say he was going to coach again. But rumors and endless speculation will always be there.
He's called ND a dream job in the past. He had a provision in his Utah contract to go to ND without a buyout. He got more money from Florida, thought it was easier to win there and was more talented than ND. And he was right. He's Catholic. He's talked about his affinity for ND. The speculation has been there and it won't go away until ND hires someone else after Kelly. I think he is done. But the ND rumors will be there and they won't go away.
Once Brian Kelly gets his ass handed to him by Clemson and the ND faithful grow tired of him, you'll hear the speculation of Urban going to ND. If he ever coached again, it would be at ND. Long shot but you never know.
Seems like a knee jerk reaction. But plenty of time to let it all play out.
It's not a need per se, but almost every team has their staff structured that way.
There is an opening on staff and someone has to fill it. Probably a QB type coach
We will need a QB coach/co-offensive coordinator. Wilson should still be around.
I wouldn't be surprised if a grad transfer was brought in at least for depth, if Haskins leaves.
If you thought this team was motivated for TTUN, imagine what they will be like in Urban's last game.
I wouldnt discredit the notion of Haskins staying. Day's system and scheme could become even more QB friendly and further his development.
Somber
Blessed.
Hard to say and I don't think anyone can truly say. Campbell wouldn't be a bad hire by any means. He has 7 seasons as a HC and has won everywhere he's been. Known as a leader. He has a lot traits of a young Urban Meyer. I think Day has a very high ceiling and potential as a HC. Brohm and Day are pretty similar if you ask me. Brohm has HC experience.
Ohio State is a tough place to be a first time HC and to learn that role.
Wouldn't hurt as much in the NFL. He can be a DC for a few seasons and get serious looks as HC in the NFL or college.
Matt Campbell? Fickell? Brohm? I bet there are coaches out there would give up their gigs to come to OSU that we wouldn't expect. Stoops? Vrabel? All lesser likelihoods and less realistic but you never know.
Well, he has to make a decision on Davis with his contract expiring. Schiano maybe interested in other opportunities as HC or in the NFL. He was going to be offered future opportunities elsewhere regardless of Urban's status so who knows what Schiano was planning on doing next year anyways.
Appalachian State had something to say about that.
It's a movie reference from Anchorman.
Boring for sure. There are only 6 teams with 0 or 1 losses. 8 with 2 losses and only 3 of the 8 are P5 teams. Only 8 P5 teams have 2 or fewer losses. It gets slim pickings on good teams beyond the top 5 or 6 teams. I think 9 game conference schedules are in part a cause of this.
Right after the Nebraska game, there were rumors going around at an Ohio HS program with an OSU commit that he was silent, soft commit to TTUN after that game. That was right when Wiltfong and others made CBs to Michigan. Fast forward a month later, the new rumor within the HS program is that Harrison and a Michigan may have miscommunicated but Harrison is much higher on Ohio State and is more engaged with coaches and recruits than he was a month ago. Full disclosure: I am not the original or first hand source and this was something that has been discussed within the HS program. I am just telling everyone what the rumor and thoughts coming from a coaching staff/team with a commit.
At least we beat Maryland