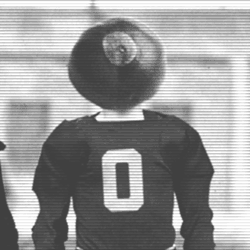 CptBuckeye24
---
MEMBER SINCE November 27, 2012
Favorites
SPORTS MOMENT: Kenny Football tying the game against Purdue to save the undefeated season with the drive, 2pt conversion, and the overtime TD.
COLLEGE FOOTBALL PLAYER: Carlos Hyde
NFL TEAM: Cleveland Browns
NHL TEAM: Don't watch it....but I hate Pittsburgh...
NBA TEAM: Cavs....only because it is a Cleveland team; I hat
MLB TEAM: Cleveland Indians
SOCCER TEAM: N/A
Recent Activity
Is that speculation or is this something that has been reported?
Their reign of being ranked as the higher basketball team last one week.
At this point in the season, you are what you are. It is a play in game a lot of times and is a quarterfinal. Fair or not in the actual ranking, the Committee over the years seems to recognize that and seems to have a preconceived notion of a team prior to CCG week.
Assuming LSU wins, this year will be an excellent case study to see how it evaluates Utah and Oklahoma in the final game, assuming they win their game.
Alabama is definitely better than Minnesota. Minnesota got dispatched by Wisconsin and struggled against Iowa.
Pass protection and sack rates is this teams biggest weakness. Fields has been pressured and has taken sacks. Some of those sacks are on Fields for holding the ball too long/hesitation on his end. He's definitely gotten better from the beginning of the season. I'm not singling out anyone on the OL but collectively, sacks and pressure is the biggest vulnerability we have.
I'd argue they are getting at that point again. Listen to Dantonio at his pressers....he sounds like he lost his mind and isn't in touch with reality. I am legitimately starting to get concerned that he is displaying some signs of cognitive impairment. It's starting to get very sad.
A 6-6 record is a far fall from being 18 in the preseason. They are referring to program win as barely beating Maryland to become bowl eligible. That sums up where they are at and how deep their issues are. That's celebrating mediocrity
He's getting paid for the buyout from USF so is there an incentive for him to coach? Buyout could be/rumored to veworth $5 million https://www.thedailystampede.com/2019/10/22/20927062/usf-head-coach-charlie-strongs-2019-salary-tied-14th-highest-college-football-mark-harlan-usa-today
Is there a link elsewhere on 11w of the meltdown and river of tears at mgoblog?
Give me Utah, LSU, or Georgia before Clemson.
Georgia winning the SEC likely means we play LSU. It's going to be interesting between Oklahoma and Utah for the 4 spot if LSU wins
Penn St is worse. My buddy has been to Ann Arbor and Happy Valley for games. He says Michigan fans are friendly and polite. Penn St will throw stuff yell and be rude.
I went to college in PA and I was there during the Sandusky stuff. Delusional fan base who literally believed they did nothing wrong and Ohio State's Tattoogate was worse. Not just a random fan or 2. It was a pretty good percentage that felt that way. Their fan base is pretty rough and rude. They are entitled and believe they are college football royalty and a top 5 program of all time.
Penn St has the worst fan base in college football. It's horrendous
I want Minnesota but I think Wisky wins
Those numbers are skewed by sacks. Brown averaged 5.8 yards a carry. We had 5 sacks for 32 yards. That equates as 31 carries for 131 yards at 4.2 per carry as a team.
I'd rather deal with the narrative of a paper lion than make mistakes that cost points and that may have exposed us just a little bit.
LSU won on the road and I wouldn't say they squeaked by. They were in control of that game pretty much from the start. Alabama is a better team than Penn St. Ohio St made mistakes that allowed Penn St to hang around and what should have been a blow out, wasn't that at all. Ohio St didn't look like a number one team last week and it wasn't as sharp as its been previously.
Sorry Infantrybuck, you can't win in the trenches when there are 8 or 9 in the box waiting for the QB with no threat of the pass. And when the defense is constantly on the field and being put in the shortfield, that's getting out coached and not using personnel. Entitlement wouldn't have allowed a team to come out and drill TTUN the following week and beat ND in a meaningless bowl game. Yeah, an entitled would have just quit.
Entitlement is not why Ohio St lost to Sparty in 2015. Game plan is 100% why. The insistence on running with Barrett and not giving the ball to Elliott is why we lost. If Ohio St wins that game, we are in the playoff. Entitlement didn't derail that game.
Have this weird feeling of being both exposed and being dominate on both of the sides of the ball
Pass protection/holding on to the ball too long is this team's biggest weakness. Bill's discussion on what it would take for them to win is pretty detailed and spot. A lot has to break in their favor AND break against us. His 2016 comparison is spot on. Ohio St had roughly a 97% chance to win at the start of the 4th quarter and we know how that ended. A lot of outlier type stuff happened and to have to consistently rely on that stuff to win isn't sustainable in a full game or to expect that to occur in a different game
Next year is going to be rough when you factor in their talent losses. And if they keep their offensive staff, they are barely a 6 or 7 win team
Also consider Pouncey had cleats on and that magnifies the force into smaller, metal spikes rather than the whole shoe, it just makes the force even stronger
Did you watch it transpire? Rudolph was pulling on Garrett's helmet first. If he didn't do that, it's unlikely this transpires. He made unsportsmanlike conduct/contact first. You can argue there is roughing the passer but that does not necessitate pulling on someone's helmet in retaliation. Then Rudolph charges at Garrett. He could have walked away. The Steelers linemen shove and keep Garrett away but Rudolph returned and went after Garrett. Garrett committed the most egregious act on the field thing I've ever seen. But Rudolph isn't an innocent victim here. I'd argue a suspension is worthy for him...one game. Pouncey should get at least 4. Kicking and punching someone in the head in that fashion is assault too. I'm all for Garrett getting suspended and getting what he got.