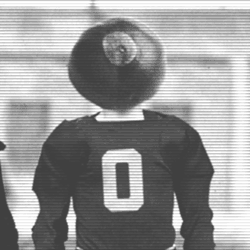 CptBuckeye24
---
MEMBER SINCE November 27, 2012
Favorites
SPORTS MOMENT: Kenny Football tying the game against Purdue to save the undefeated season with the drive, 2pt conversion, and the overtime TD.
COLLEGE FOOTBALL PLAYER: Carlos Hyde
NFL TEAM: Cleveland Browns
NHL TEAM: Don't watch it....but I hate Pittsburgh...
NBA TEAM: Cavs....only because it is a Cleveland team; I hat
MLB TEAM: Cleveland Indians
SOCCER TEAM: N/A
Recent Activity
Police originally sought a sexual battery charge. Seems pretty extreme.
https://www.cleveland.com/browns/2020/01/warrant-issued-for-odell-beckham-jrs-arrest-after-video-shows-him-slapping-an-officers-butt-in-lsus-postgame-locker-room.html
Anybody who is a 5th year player that isn't starting or receiving significant playing time is a candidate for transfer. Some guys want a shot to play and it may not happen here. I totally understand and don't blame them. If they want to stay, great and more power to them.
Wasn't someone on these boards saying if Saunders received an extra year, it may not be on scholarship? Can't remember where I read this...might have been Twitter.
At the same time, you think it's fair to speculate and discuss high school student athletes' futures and college decisions and facilitate it into an industry worth hundreds of millions of dollars?
Would Friday or someone else consider moving to DT?
Cora deserves a lifetime ban. At minimum, a 2 year suspension.
And even sadder since Harbaugh was born in Toledo
The conferences grade and evaluate officials. The NCAA slots a conference crews to officiate bowl games but it's up to the conference to assign the actual crew.
IIRC, I read somewhere that Ohio St wants to see more development from him and will reevaluate his status later. Read that on the forum here or at letterman row.
Has to show he's healthy. Not sure where he is at in his rehab after the 2nd major knee injury
2004 was the last year I can recall of questionable RB play. Lydell Ross and Maurice Wells were the backs. Pittman started to play late in the season and was the best back.
He doesn't find the hole and there's too much lateral movement. He needs to be committed to the hole and run through it. I agree with you once he finds it but he misses those holes and he's not running with the same authority.
Vision seems to be a bit of concern. He doesn't hit the hole very hard and runs side to side too much. He was hesitant and maybe that's something that gets better with more reps. This seemed to be more prevalent during the games when he got more carries to spell Dobbins vs garbage time.
Then it's time for the national officiating supervisor/crew step in and make sure that these calls are right and provide oversight.
I wouldn't say it is a loss yet. He's a strong candidate for the QB coach spot. IIRC, Dennis was considered for the QB coach spot last year
Well, they kinda do that since the Pac12 had the final
Pass protection. Been an issue all year and it was quite prominent once again
DE: Young and Joey Bosa
DT: Heyward and Jones
OLB: Shazier and Lee
MLB: McMillan
CB: Lattimore and Ward
S: Hooker and Bell
Miller never developed the passing tools Lamar had coming into the NFL. Miller had great arm strength and could throw a great deep ball but the short to intermediate passing game never clicked for him. Touch and timing routes weren't his forte and NFL offenses are predicated on these types of passes.
I've been saying for years that Braxton's original shoulder injury occurred either in the Illinois or Indiana game in 2013. The hits he took against Clemson just made the original injury worse.
Name your top 10 coaches in college football if you don't think Whittingham is one of them
Not to mention he almost left Utah a few years ago over the lack administrative support from the University for the football program. You have to be a great coach to keep winning when the administration isn't a huge supporter. That gives even more to the doing more with less mantra
Is Northwestern making things tough for Cam? Is that the reason he may not sign tomorrow?
And Morgan Scalley is probably the next HC
To solely walk away from one school because the position coach changed is a short sighted decision. Getting to be with the same position coach for your entire career isn't a likely proposition, especially at a place like Ohio St.
Under Armor