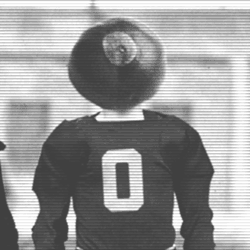 CptBuckeye24
---
MEMBER SINCE November 27, 2012
Favorites
SPORTS MOMENT: Kenny Football tying the game against Purdue to save the undefeated season with the drive, 2pt conversion, and the overtime TD.
COLLEGE FOOTBALL PLAYER: Carlos Hyde
NFL TEAM: Cleveland Browns
NHL TEAM: Don't watch it....but I hate Pittsburgh...
NBA TEAM: Cavs....only because it is a Cleveland team; I hat
MLB TEAM: Cleveland Indians
SOCCER TEAM: N/A
Recent Activity
I think it should be a team vote before it is a coach's decision
Absolutely a true point on how he will be judged. But there are some major donors and those on the Board that have been rubbed the wrong way by Drake. They are bottom line driven type people and they are pleased in that regard. There are some who also believe that Drake struggled to understand that the Ohio State is a bigger brand than an university. Athletics have an enormous amount of power at the University and he struggles with that. Some donors and Board members have pondered if Drake is the best fit at Ohio State and don't know if he is fully committed over the long haul.
Now I'd like to hear what he said in his pregame speech
4 to 6.
Do you think the NCAA "inquiry" at LSU might give Jarrett and Ricks cold feet or extra motivation to look around?
I'd say it's the other way around. The talk has been Jarrett is more solid in his commitment than Ricks
Harrison is not under appreciated or overlooked. He was our best LB and could have went to the NFL last year. He's the only guaranteed starter at LB and only one who played at a high level last year.
Well, there are two factors here. One, LSU is under NCAA scrutiny and who knows where this will go. Two, Ricks has only improved his relationship with Coach Hafley and Ricks is open to an OSU visit and communication.
Maybe some of his sources are no longer at OSU now that Day is the HC.
Are you saying it pays to be in Tallahassee?
Franklin has a lot tears raining down these days....
True. But they struggled with Rutgers and Wisconsin, who was on a spiral at that point. TTUN just bent them over.
You have no idea the physical toll that three vasectomies have on a person
Penn State was pretty frustrated after last season. Their was commentary out there about grumblings of frustrated donors and officials at Penn State that were unhappy with Franklin after starting last season as a top 10 team but getting beat by their 3 biggest competitors in the B1G while losing 2 of those at home. They really struggled in most of their games after losing to us. Indiana took it to them for 3 quarters before fading.
Read this week from Birm that ND is a strong favorite. Several crystal balls recently went to ND after their recent offer. Supposed to visit ND in early June and there is some concern of a possible commitment. He has a June visit to Ohio St.
Bingo. The schedule is tough and we are going to get everyone's best shot. You know Kiffin and Fickell will get their teams motivated to play in the Shoe. Cincy is talented enough to give us a major scare if we aren't ready to go.
Being the best team on paper and having the most talent in the conference won't matter if Fields gets hurt or doesn't develop, OL play doesn't improve, and the back defensive breakdowns continue. I keep going back to last year with the OL having two 5th-year senior starters and two 3 year starters. The two 5th year players largely underperformed and were very average starters. The talent is either missing or development wasn't happening last year but either way, talent on paper doesn't matter if this group doesn't improve.
While visiting Georgia on the same day of the announcement?
Indians came into the season as an 87 to 92 win team. That would win the division by 6+ games. Now they are an 85 win team. Do the Twins have what it takes to be an 85 win team?
First of all, second guessing based on a completely unforeseeable injury is a little ridiculous. It's as if someone were to knock the Marlins for not trading Jose Fernandez before the boat crash that took his life.
Ehhh... True to some extent but Kluber trade rumors in the offseason were very real. The Indians strongly considered making a deal and there has been a noticeable decline in Kluber in terms of numbers and velocity. Something seems to be off with him prior to yesterday. The Indians had a chance to get more offense for the roster for him and they didn't. It was tough decision either way to make and I can't fault the Indians for either decision.
Do you think honestly think we can get by Houston?
Of course they were looking for him. He has an outstanding warrant from July for aggravated robbery. That's a first degree felony charge. They found shell casings in the yard so that seems to substantiate the original report of shots fired.
Tat Gate prevented OSU from sliding into the 8 to 10 win season status. It also saved the Big Ten from becoming nationally irrelevant
Urban does (did?) not know how to coach and manage a passing first QB. And that inability to fully unleash a passing first QB/pocket passer held this team back.
They are likely to develop. I don't think some guys under Matta, Loving, Williams and a few others, actually gave two shits about getting better and working for it.