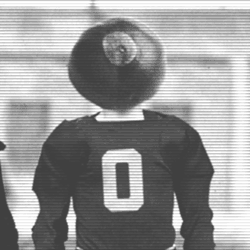 CptBuckeye24
---
MEMBER SINCE November 27, 2012
Favorites
SPORTS MOMENT: Kenny Football tying the game against Purdue to save the undefeated season with the drive, 2pt conversion, and the overtime TD.
COLLEGE FOOTBALL PLAYER: Carlos Hyde
NFL TEAM: Cleveland Browns
NHL TEAM: Don't watch it....but I hate Pittsburgh...
NBA TEAM: Cavs....only because it is a Cleveland team; I hat
MLB TEAM: Cleveland Indians
SOCCER TEAM: N/A
Recent Activity
Because they aren't 7 feet tall swatting away passes like Shaq blocking shots.
Browning has been playing more meaningful snaps. Borland is playing a LOT less than last year and there's a reason for that. Browning plays more meaningful snaps in critical situations
If Ohio State wants to win a national title, Borland can't be getting most of the snaps. That's the general consensus on this site and the coaches apparently have that feeling too.
So no, it's not a mental issue, it's an observation that's been supported by his performance and snap counts.
Most of rhe B1G isn't running I formation like they were 10 years ago. Northwestern, Minnesota, Illinois, and Nebraska got away from that. Look at how many spread out and run the majority of their snaps from the shotgun and run with the QB. Iowa, Wisconsin, and Sparty are about the only teams that don't play this way. Even Sparty is running option plays and getting their QB to run. There are way more athletic guys lining up at skill positions in the B1G.
I'd argue most teams want to play in space rather than in the box and that's where Borland is a liability. Sparty wanted to play in space with quick routes and free up their receivers to play in space. And that's the shift. Maybe teams look bland doing it and some still play smashmouth football, (hello Iowa and Wisconsin), most of the conference doesn't. Maybe Minnesota and Northwestern don't have the best athletes, but they force teams to play in space and make open field tackles. That's the shift and maybe it seems bland and not as dynamic as our offense, but we still have plan and prepare for that each week.
Browning has a nose for the football too. I'm skeptical of Borland coming off the edge in the 4th quarter and sacking Lewerke. Borland is a step or two slower and that takes away from the defensive scheme of playing fast, keeping things in front of you, and swarming to the ball.
But Borland is a backup at this point to Browning. I understand what you are saying about Iowa and Wisconsin backers, but those teams typically get exposed against speedy, passing teams, and that's the difference on defense from winning B1G championships to being a 9 or 10 win team
Borland would be an all big ten talent at Iowa, Wisconsin, etc like 10 years ago but the game has evolved where his skillset is exposed.
If he played college football 10ish years ago in the B1G, he would be having 120 tackle seasons against teams running the I formation. Nothing against Borland, but that's his strong suit and unfortunately, the game has shifted from that.
It's hard to justify him being on the field, especially in passing situations against fast teams. He can't be covering anyone with speed.
Perhaps intangibles since he is a captain. Borland can tackle and that's one of top skillsets. He can play in the box but he's only a 2 down linebacker in college.
To answer the latter part of the question, Browning is going to continue to play more. He's outplayed Borland
Why would you leave Ohio State for the NFL?
Money, ego, and less demanding schedule. With recruiting and other things, there isn't as much of an off season as there is in the NFL.
This conference seems to be so antiquated in its offensive schemes. Iowa-TTUN was just so vanilla and bland. Some of these teams just want to play football as if it is 1982
Georgia and LSU have some signature wins with wins against ND and Texas, respectively. We take of business, it doesn't matter what they think.
This might be Sparty's best team in a very long time. They are legit
And he got blown out and followed that up with a 3 win season.
Don't discount the effect of playing a road night game. Champaign and Lincoln are nearly 8 hours apart. I'm sure they flew, but still, it has an effect. Illinois put some hits on them and it was physical. They are a step behind in their prep for us.
Coan a threat in the sense if you don't respect him, he will beat you. He won't singlehandedly beat you but we already know what the threat of Taylor and the running game is. With Coan, he elevates this teams potential. If we don't pressure him and contain him, we could be in big trouble.
Being a Michigan fan is the definition of insanity....by keep doing the same old thing over and over again and expect different results each season. If you keep beating your head into the wall over and over again and keep expecting not to have a headache....well shame on you
Dantonio is a motivator who gets his teams ready to go and fired up. He's not an in game tactician and the results have shown that since Narduzzi left. He can't manage his staff, his offenses are vanilla, and he gets out coached time and time again. Herm completely out coached him. Sparty got beat at home by a freshman QB.
To me, Coan is the biggest threat. He's a dual threat guy who can make good throws. You can't sell out and stop the run. He won't win a game all by himself, but he's dangerous enough to make good throws and succeed with play action. Wisky isn't a one dimensional team and you have to respect Coan. Hornibrook didn't have that to his game.
The Bro or Manzier
Well, it's 2019 and they are just realizing that, even though the rest of the world realized that at least 10 years ago.
I'm not convinced Sparty is the third best team in the conference. Northwestern looks pretty bad and Sparty got pushed around on both sides of the ball by ASU. Michigan's problems are very deep on all sides of the ball. Poor discipline, horrendous assignment based football, outschemed, outcoached, and no identity. This isn't a one-off game for them. This is a season long trend of sloppiness and poor play all around. And a bye week didn't have them prepared either. That's not something that's going to righted over the course of the season.
At the absolute worst, beat them the second time. I think we can afford a loss to them, albeit a 3 or so point loss, and win the B1G
Wisconsin is a legitimate threat and that team is dangerous. Coan is actually a good QB and a dual threat.
I thought every B1G team had to have a night game.