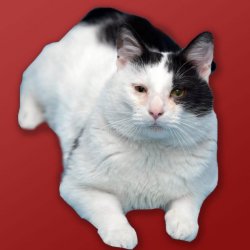 CowCat
---
MEMBER SINCE January 29, 2012
Recent Activity
** POST OF THE YEAR A++++++ ***
I'll never root for TTUN, but I'd like to see a final score of TTUN 2, ND 0. ND is defeated and TTUN is still demoralized with no offense.
Disclaimer: I'm an old-school curmudgeon who doesn't want a playoff at all, but since we're stuck with it ..
Make it a 6 team playoff. 3 through 6 have to play an extra game, 1 and 2 get a bye. This would allow all 5 power conference champs plus one (probably ND or an AAC team). This would: 1) make the conference championships mean something, 2) be large enough to handle the 6-ish teams that are close every year and 3) be small enough to limit rematches.
Yep, I'm fine being 3 or 4. We're getting enough hype as it is, we don't need more. Let Alabama or Clemson deal with that.
Social media existed then. Facebook was founded in 2004, Twitter in 2006. Remember Friendster and Myspace? It's just that the mainstream media has greatly exaggerated their importance these days, especially Twitter.
I'm a huge fan of what Ryan Day has done so far. He's clearly in command and we never lost a beat. He's a great representative for the school. As much as I appreciated what Urban did for us, it's refreshing to not have the media circus and controversy this year.
But I don't think we'll really know what a Ryan Day team is for a few years. He's clearly built upon what Urban left behind. Can that be sustained? Who knows? I hope it can. I wouldn't want Day to be the next Helfrich, the Oregon coach who rode Chip Kelly's success all the way to the NC game, but lost his team after that.
Very large man can also run. Do not stand in the way of very large man running.
This team has no glaring weaknesses, but there are areas where we're not dominant.
QB = dominant, but a drop off after Fields.
RB = Completely dominant
OL = Dominant in run blocking. Good-but-not-great in pass protection. We've been relying on Fields' legs and athleticism more than I'd like.
TE = Great, but not dominant. They're blocking well and getting more passes, but they don't strike fear in opponents.
WR = Great in total, but inconsistencies and no-one is really the go-to guy. Olave is getting there, but we don't have a Michael Thomas or Devin Smith yet.
DL = Dominant
LB = Much better than last year, but still not Silver Bullets dominant.
S = Can't really tell. We haven't been tested much.
CB = Dominant.
Special teams = Dominant
Looking at it this way, I think our biggest concerns are pass protection, finding a clutch WR and LBs in coverage. If/when we face Bama or Clemson, we will be facing much more disciplined defenses with just as much depth and athleticism as we have and offenses with very talented quarterbacks.
PSU looks legit. That TTUN receiver has to be hating life right now.
It's not very bad for us. Wisconsin only lost by 1 point. They're still a very good team. They just got caught sleeping and looking forward to playing us. They'll still be a top 20 team when we play them, if not top 15.
I'm just fine with the Buckeyes being elite all by themselves.
Yep. Given that 4 of the best 5 teams in the B1G are in the East, I'm perfectly happy if MSU, UM and PSU all have a down year.
I like how you didn't even say ACC, just Clemson. LOL.
He reminds me of Beanie as well. He doesn't have Beanie's stiff arm, but he definitely has the breakaway speed and he's like a greased bowling ball once he gets going.
Mr. T. I like it!. It will be a fun year when our 3 RBs are Mr. T, Mr. Crowley and the Man of Steele.
After a warm cup of decaf chamomile Jim Tressel slept well. Images of 54 yard field goals and 1/2 yard punt placements were abundant.
I loved the call. As Ramzy says, situational. Prepare.
I was surprised Munford made it all the way through the MSU game. Rest him up to get ready for Bucky.
Yeah, that is complete and utter BS. The kid is going to graduate, let him do it wherever.
The multiple questions to Shaun Wade about his future / mock drafts were obnoxious. He obviously didn't want to talk about that, but the reporters kept badgering him. C'mon people, we haven't even played game 7.
You might try disposable blue and yellow man diapers in the meantime.
Day has mentioned before that he prefers to teach concepts rather than plays, so I'm pretty sure Justin has learned all the core concepts, formations and protections.
Not to say we won't see a surprise here and there. I personally loved the tuck-and-throw we used against Michigan State. It was a clever payback to MSU for the 4th and 1 stop in 2013.
Welp, if we're using ESPN's numbers, here are the important ones:
Top 100: TOSU 5, TTUN 1, PSU 2, WISC 1
Top 300: TOSU 16, TTUN 8, PSU 8, WISC 3
Dang it. 95.3% was my best. Thanks for the time waster!
You bring up a fair point in that 6 teams is about the maximum stretch for "they should have been in there" -- but that sentiment is grounded in the current reality that there are only 4 teams allowed in now.
Even with 8 teams there would still be the same problem. With the Power 5 conferences as they are currently, there will be 5 conference champions, 3 division champions that lost their conference championships, the winner of the AAC and probably ND. So again we would have 8 spots plus 2 outliers AND there would be a much higher likelihood of rematches.
It's never-ending and it dilutes the meaning of the regular season as it exists now.
The real root of all of this is that teams on the outside don't trust human polls (If your team makes it in they're perfectly logical!). Before the BCS it was the polls that decided the champion. So we created the BCS to have computers slightly mediate that. Now I believe we've taken a step backward because the playoff committee is just another human poll. Humans picking 1-4 is no different than humans picking 1 and 2. In fact, it's far less statistically reliable because the committee doesn't have thousands of votes.
Get rid of the playoffs, get rid of the conference championships, put Lawrence Welk on my AM radio and GET OFF MY LAWN.
I need a red and white #12 DC Defenders jersey ASAP.