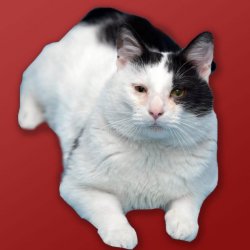 CowCat
---
MEMBER SINCE January 29, 2012
Recent Activity
Yup. Welcome back, Doctor Earl. We missed ya!
I agree that UA isn't a shoe company. But it's puzzling that UCLA ignored that and signed the deal anyway.
It's gotten to the point where I almost feel sorry for any kid who commits to TTUN.
Almost.
Some sourpusses don't understand sarcasm
Yup. As long as they don't go to TTUN, best of luck to 'em.
Still a head scratcher given Coombs' resume and ties to Cincy.
I just hope the players get to play the games, fans or not. It would suck for seniors not to have a chance to showcase themselves prior to next year's NFL draft.
COVID is small enough in micron size to get through a N95 mask. N95 is better than a cloth mask, for sure, but not bulletproof.
I wonder how DJ Byrnes feels about cats and their effect on dating chances ...
... says the guy with a spotted cat in his profile pic ...
"Dual threat" vs. "Pure passer" is too simple, IMO. It's more about the balance of passing vs. running.
With the exception of Troy Smith (evenly balanced) and Haskins (almost all passing), we've slowly been moving from dual-threat quarterbacks that are run-dominant (Pryor, > Miller > Barrett) to ones that are pass-dominant (Jones > Fields > Miller/Stroud > McCord).
So, we're definitely recruiting pass-first now, but that extra mobility and ability to get yards when necessary will always be important. Fields is scary good not only when he breaks a run, but also when he rolls out and throws a laser like an outfielder.
I like how the overall scheme is simple, but it adjusts on the fly by reading the back, reading the phase alignment on the blocker and swapping responsibilities if the Y runs across the formation.
Phew, we got lucky on that one. Covering up the north dome? Really?
That said, we need a new Governor's bet between Ohio and Michigan so we can remove the blue and yellow paint from the flowers that line the top of the dome.
I'm most curious about Schiano and Rutgers. Schiano is recruiting well for his first year, and he's a good defensive coach. They don't have a chance against OSU or PSU, but it wouldn't surprise me at all if they were to sneak up on TTUN or Sparty.
This is darn good news, apart from me being 7 years older when it starts. LOL.
Can you imagine the scalper prices for Bama @OSU? Whoa nelly!
We'll never know I guess. Bizarre nonetheless.
That's true about Day's recruiting.
I was thinking more about the challenge of running the whole organization, outside of coaching the team. There's all of the charity work, dealing with the boosters, dealing with all of the APR stuff with the university, TV interviews, etc., etc.
I liked it. Good, straightforward country. Not overproduced.
I agree, LilTrautie.
This document should just be plain-spoken, e.g. "We're in a pandemic. Be aware. Be careful. Please don't do stupid things like go to a crowded dance party because it risks your health and the health of others." 'Nuff said.
MSU was also doing better in Michigan itself, while Rodriguez and Hoke were running a clown show in Ann Arbor. The arrival of Harbaugh closed that window for the most part.
The only way MSU gets back to legitimacy IMHO is if they establish an identity. Dantonio was able to do that, essentially by copying Jim Tressel's blueprint: Dominating defense, no-mistake ball-control offense and superior special teams.
That's true. Unfortunately not all leaders are the best :)
What's cool about it all is that Urban overhauled the infrastructure while maintaining the continuity and spirit of the program. He kept Fickell. Then there's the fact that both Urban and Mick were GAs together under Earle. Urban also made it a point to reach out to the marching band and to invite former players to visit.
All one has to do for comparison is to look at what's happened with That Mess Up North since 2008.
It was a great call, but it was also pretty gutsy call in hindsight.
As much as we all love Day, the truth was he had never officially been a HC coach before. He was young. Ohio State is not a starter job and there wasn't evidence that he could handle being the head of such a large, complex organization. But luckily for us, he's been all of that and much more.
Conversely, Gene Smith easily could have hired the first well-known name available. That happens all the time in business because you can't be blamed for hiring a known entity, but you hold the bag if you take a risk.
Oh well, can't get them all.
The perfect schadenfreude anti-TTUN article for a gloomy day in Seattle. Thanks, 11W. That hit the spot.
It's always good to get the story from the person involved, rather than paint them with assumptions. Good read.
Yawn.
The White Out is loud, it's good for optics, I guess, but we've won there more often than not since the Tressel era. Plus, we're the team wearing white during the game. Thanks for the support, Nitt fans!