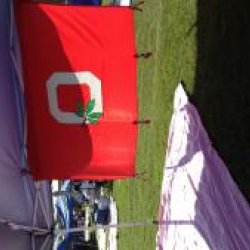 countrybuckeye
---
MEMBER SINCE September 28, 2013
Favorites
SPORTS MOMENT: Tie between Chris Speilmann losing his hat as he zeros in on a tackle, and Keith Byars losing a wheel as he sprints for a TD
COLLEGE FOOTBALL PLAYER: Chris Speilmann
COLLEGE BASKETBALL PLAYER: Aaron Craft
NHL TEAM: Kings
NBA TEAM: Celtics
SOCCER TEAM: U.S.A.
Recent Activity
not a theory in 2019 as Coach Day and staff are making reality hurt for opponents
and yet, that's what they got
Buckeyes were already preparing for Wisconsin before today's kickoff. And now I would guess they now know they must deliver a beating on Wisky because they have been exposed and removed from the group of undefeateds
true, a loss of focus is possible — in the Alternate Universe 2018
and remember, the Buckeyes do not do 'Revenge Tours' because they aren't wired that way. They may, however, try to top past great teams' results now they can review their own film and believe in their potential (not yet met).
I preferred to set backside picks just to punish those little scatty guards chasing 'round after my guys
it was sooo much fun
a Man who Can with his Plan
darned O-line is slackin' I tell ya!
"pitch 'n catch" has been berry berry good to THE
we fans of the Buckeyes accept the challenge of watching in wonder what the other teams of the B1G really offer as their "identity" halfway through the season — comparing and contrasting of our games' performances and their inconclusive offerings
it appears all 3 ranked teams left on our schedule have a pulse, with flashes of quality.

that's all I got
or, instead of 'wait(ing) for it' they can have him come up and "get him some."
recruiting the right fit at every position will continue with Coach Day. There will be quality players to reload the Buckeyes with these coaches on staff
again I say all that film from Sparty game and more time to review it and drill on it is quite the gift to these Bucks
is it just me who sees the new D coaches sincerely giddy about the players they have to coach and mold into elite units?
Absolutely the film from Sparty D will help. And to have extended time to review it all and drill the O-line on it is such a blessing
curious to know why they aren't revealed
did anyone think to give Baker a call??
the B1G is not easy, with solid teams that have discipline over talent (save for Rutgers and Maryland). And I would hazard a guess our conference members don't care about conference unity chants (Ess Eee Cee).

The Buckeyes earn every victory
they have an excuse — we stole their QB
agreed. But as fans, excitement is part of the job
for Coach Day's team, they will be focused on applying all of the foxes they deemed necessary from the prior 6-weeks worth of game film
they want to see the results of 2-weeks of that practicing
amirite?
remember, the travel squad is smaller, so I'm not sure they have enough players for full third-string platoons
LOL ;)