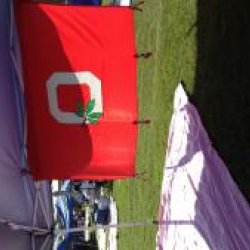 countrybuckeye
---
MEMBER SINCE September 28, 2013
Favorites
SPORTS MOMENT: Tie between Chris Speilmann losing his hat as he zeros in on a tackle, and Keith Byars losing a wheel as he sprints for a TD
COLLEGE FOOTBALL PLAYER: Chris Speilmann
COLLEGE BASKETBALL PLAYER: Aaron Craft
NHL TEAM: Kings
NBA TEAM: Celtics
SOCCER TEAM: U.S.A.
Recent Activity
winner winner chicken dinner
sarc game skrong with this one
or free copy on a clean site
"incase" as I understand it, is a new option of alcohol consumption
record has it he gave '2-shits', because
Joey Lane
Change My Mind
Lane Kiffen
You've Lost Your Mind
Lane Avenue
I Do Not Mind
All the best to any Buckeye golfer to forge their way onto the PGA Tour
it is possible Werner improves with more coaching (position & Marotti) and those behind him improve also, and so they are all better and Werner is still ahead of them
how dare you reserve your opinion on Mr. Fields until he has a chance to show his talents leading the Buckeyes?!
that's just wrong on sooooo many levels
smh
;-)
I'm curious, why in this new era where all players know what everyone is doing across the USA in Power 5 conference college football, do a significant number consider their work done when they see success? The elite sure don't, and then they get their just rewards - top honors and top salary in the pros. That would be the next step for tOSU program -- getting all of the players committed to elite excellence during their entire careers
tl:dr
he do fall down a lot :-/
We have similar experiences
I believe the coaching staff are equipped to create an offense to maximize the talent they coach up, because they have the keys to a program built to an elite level by those who came before them, and they will not fail. They know full well failure is not an option. Only massive misfortune of crippling injuries will derail their plans. Every college team has 18-22 year olds, and all the top teams must deal with the cards they have.
why a DV came to your comment is puzzling
for some reason I like your brain
I likey
Quantity with Quality
succinct
I already drank what I found in your fridge
if your 'tell' is a 'Beck', then I would call
it is a New Day era upon the landgrantholyland, me thinks
wasn't that Tupa doing the punting?