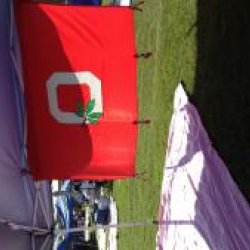 countrybuckeye
---
MEMBER SINCE September 28, 2013
Favorites
SPORTS MOMENT: Tie between Chris Speilmann losing his hat as he zeros in on a tackle, and Keith Byars losing a wheel as he sprints for a TD
COLLEGE FOOTBALL PLAYER: Chris Speilmann
COLLEGE BASKETBALL PLAYER: Aaron Craft
NHL TEAM: Kings
NBA TEAM: Celtics
SOCCER TEAM: U.S.A.
Recent Activity
I am not sure where Wisconsin would find a high-octane offense this late in the season, so a lead of 14 points in the 4th Quarter for the Buckeyes would be adequate.

Unless I missed something during the regular season, there are precious few teams with a switch-flipping offense play-making gear, especially against a disciplined elite-stud-manned defensive scheme
The Buckeyes have evolved and become more dialed-in on The Rivalry since the Dark Years of Cooper. God bless the coming of The Vest. Fate delivered the Conqueror Urban. Weird Happenings have given us The Transition Master. Behold the distance created through all of that to What Was that Wanders Aimlessly in the CFB Desert (M, The U, Nebraska, Texas, SC, Tennessee, ...)
by the defensive coaching staff making the adjustments this week and letting the defense return to playing loose and fast again, that is how they are going to do it.
"The Game is in their stadium this year, its really really loud, we haven't been tested, Justin Fields has only played tough games in the 'Shoe, that team up north is playing really great ball since the halftime break loss of their Penn State game!"
if this is any of you here on this site, there really isn't anything I can do to hep you conquer your fears.
I drink bourbon, and I don't have these problems.
at 12-0 for the regular season, there are unsatisfied fans lurking about 'round these parts
thankfully I do not know these people personally, or my enjoyment of bourbon might suffer listening to their back-bencher laments
God bless this coaching staff and the direction they have given these young men to navigate through this 12-game regular season games gauntlet
commenters like "Scorpio" — new to the forums — are what suck the life outta enjoying the college game
from pre-summer "Can't wait for the season to begin!" to "OMG what a ride this has been!!" we are now on the cusp of another crack at a CFP Championship
Enjoy it all, my fellow Scarlet-colored glasses wearers
Every. Last. Play.

O-H!!!!
Scorpio —
College football is not professional football. I make that statement for clarity. So when I read your comment history, I can figure you may be a harsh critic of our18-21/22 years old young men, measuring them against the elite players of the pro leagues.

That said, I am a college football fan, and an unabashed Buckeyes homer. The performance today of this iteration of the Silver Bullets was such that they played well enough to keep the opposition (MissedAgain) from scoring more than their brethren on the offense unit (Buckeyes).

Yep, pretty much what I like about college football.
Smithy —
You bring up a good point, and we do need to discuss and clarify what a 'transition' to a new regime means in college football. Coach Meyer recruited at an elite level. Coach Day schemes offense at an elite level. The past two years the Buckeyes beatdown their arch rival — worse in 'their house' than the year before
Excellence in preparation, elite recruiting, and stellar player development appears to be the 'continuity' plan moving forward
O—H!!
step away from the stuff, it is clouding your vision
"Take the Sack" and "Take a Nap" all on the same play
oh, they have some 'stuff' for sure — just not the right stuff
they put them on the inside of their helmets
It's almost a carbon copy of PSU, but with hate.
priceless
well done
it is perfectly okay for you not to have the secret marker in your DNA
I do have it in my DNA, and so too my progeny for eternity
certainly no bourbon for the_, for life!
makin' room for those recruits every year -- it is the beauty of the college cycle!
but to make it 'non-personal' personal, I prefer "clownstomping" will apply to Coach Franklin
that would be in the TBDBITL practice area ...
to your point Analyticalguy -- without those 3rd & 4th starters to put into the game because the Travel Squad is limited in members, those second on the depth chart all across the roster will play probably 1/2 the game, translating to more misery for a hapless, and certainly out-matched Rutgers Scarlet Knights team.
IIRC the last portion of the game against Maryland the Buckeyes had 3rd & 4th string starters on the field, and there were points scored