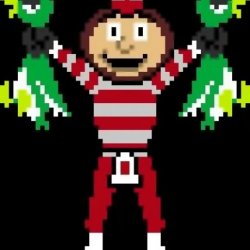 Count Chocula
---
MEMBER SINCE August 27, 2015
Recent Activity
Second stringers score more points than the starters. Heard it here first.
How is Bollman still employed at any p5 school much less MSU? I just don't get it.
I LOVE noon kickoffs. Never did in my 20's, but now with kids getting me up before 8 AM and with more and more weekend evening obligations, I don't want to wait around for 8-12 hours for the game to start.
If I can remember correctly, the offense completely sputtered towards the end of the season. Also, we had almost no depth on the o-line. Michael Jordan (who was starting as a true freshman) got injured early on in the Fiesta Bowl and Clemson's d-line was epically good that year and just ate our lunch. Barrett who was already struggling on throws longer than 5-10 yards had no time and we turtle-shelled up with option runs all game. It took a 2OT miracle to beat Michigan that year.
I'm sorry. I usually take Ramzy's internet words as gospel... But how the hell does this solo not slap? I pegged this for a top 25 matchup sax solo at the very least.
The loudest I can remember Ohio Stadium is the end of Michigan's last drive in 2002.
*Cit-aaaay
https://www.youtube.com/watch?v=zhFU41XCEkA
I was a TERRIBLE student in undergrad, especially early. Then slowly and steadily I became a better student (still not a good student) and graduated with a B-ish GPA. Took two years off for military stuff (OCS and a deployment in the reserves) and by the time I applied to law school had finally learned how to study and ended up doing really, really well. I tell people all the time, and I'll tell my kids the same, there is nothing wrong with taking a year or two off if you're not a mature student yet. No need to anchor yourself down with a bunch of bad grades (and paying a lot of money for it) if you aren't ready to be a professional student.
I absolutely LOVE Harbaugh as the Michigan head coach. He's a good (not elite) game manager, a good (not elite) recruiter, and good (not elite) at bringing in good (not elite) assistants. He's been good at keeping Michigan relevant up until they play Ohio State (I know some people don't want that, but I'm a beat Michigan when their hopes are high kinda guy, esp. in the four-team playoff era when its all about our resume). He seems pathologically incapable of hiding his emotions and I love it. I love watching him lose his cool on the sidelines and in pressers, and the cherry on top is he's just plain goofy a lot of the time.
That said, I would NEVER want someone like that coaching at Ohio State. I can name 3-4 coaches at OSU that make me want to go run through a brick wall when I hear them talk about football. I cannot say I've been anything other than amused watching Harbaugh on the sidelines or in front of a microphone.
As an OSU grad from Cincinnati, what we all witnessed that day was the real-time birth of psychotic-level little brother syndrome. Little brother had the chance to beat big brother but swung and missed. I'll never forget being down at UC visiting HS friends while the OSU-Illinois game was on later that year and the entire house of UC fans were cheering against OSU.
Never underestimate the amount of "grown man strength" you gain each year in your early 20's. If the o-line is serviceable, this is going to be a great year for him hitting gaps and getting chunks of yards on secondaries tired of trying to bring him down.
I grew up on the West Side of Cincy, went to OSU undergrad and then moved back to Cincy and went to UC law school a few years later. I would have NEVER guessed the level of little brother syndrome in Cincinnati until I moved back. I had nothing against UC until I went to school there. It blows my mind how much irrational hatred of OSU there is here. I've tried to trace it back to the source and I think half of it stems from the 2002 game in Paul Brown Stadium when UC had three chances to win the game on goal-to-go and couldn't do it. The other half is OSU pilfering Thad Matta from XU.
Haha. I was going to say that since I read all of the articles anyway, maybe it's a fair trade to check for typos in exchange for early access.
I know Arnette gets some criticism by buckeye fans, but I'm glad he's coming back. He's reliable enough, athletic, and will have a few new people helping to coach him up for the next level. A team needs senior leadership, especially on defense.
I'm so, so busy... But still managed to spend like two hours reading mgoblog. It's like main-lining schadenfreude.
I buy tickets when they go on sale in like July, I've always been able to sell them if OSU doesn't make it...
Haskins-led offense scores on every other drive through the night except for sitting on the ball in the 4th quarter up big. Our back 7 have a few breathtakingly bad plays, but improve over the course of the game. 42-23 bucks with no points scored in the fourth quarter. Michigan makes another "statement" by running up the score on an outmatched opponent. No one mentions who Bama is playing today...
595
It's more fun to watch when you aren't betting the rent...
Bucks go up by 24 in the first half. Run the ball all second half to win by 31.
404
I could be wrong but I think OSU essentially has to beat back uses like this or they lose the right to enforce the trademark in the future. I'm sure a better lawyer can explain it more clearly...