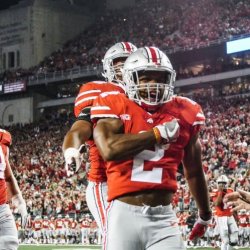 CorchUrb
---
MEMBER SINCE November 29, 2015
Recent Activity
Basically all of the above
I can't comprehend why these top recruits go there year after year. They obviously aren't developing their players very well.
I don't think you realize the competition he is facing out there
Was wondering this as well. Definitely not a good sign that's for sure
The DE depth is concerning. Another thing very concerning a not knowing what's going on with guys. How bad is Taron Vincent's injury? Could it be something really bad or just something minor? Wish I knew, has me a bit worried about the DL depth.
You guys need to realize they already play a lot of music at the games. Adding a DJ is all about making the game atmosphere cooler for recruiting. You won't notice much of a change. You'll still hear the band
Can you imagine if we took Bachie in the 2016 class. And Micah Parsons didn't decide to stay home. He was all buckeye until we had to stop recruiting him. Those are two kids that could be buckeyes right now
I was really excited for a second and thought it was Arkansas
Wyatt Davis is a bad boy. He's going to have a breakout season
No. Go look at the official Ohio stage football website rosters. He was listed at 239 both years. And 239 is a huge stretch here. I'm not here to argue with you about a guys weight, but from my point of view, he just didn't look like an OSU linebacker. Looked more like a safety. And it showed in games when he got swallowed up by offensive lineman, and couldn't get off the blocks. He also had a hard time getting running backs to the ground. I hope the kid balls out and I'm going to be his biggest fan. We'll see how it all plays out
I trust Mattison and I hope Pete plays good. The dude still looks like a safety which is very hard for me to comprehend. Exactly why he struggled to tackle last year. And yet, he looks exactly the same as last year and is listed at the same weight. What do you think would happen to him against Bama or Clemson? They would run him over
This injury to Munford has me concerned. If I remember right, he was hurt last year, and in the spring. He needs to be out there getting game ready right now and breaking off the rust. Hopefully he'll be ok. Same with Mitchell. He needs all the reps he can get. I'm pulling for him to get that starting MLB spot
Most of my focus is on to football now and not recruiting. But thanks to spooner and everyone who contributes to these threads. Really appreciated
Did we even finish 2nd with him? This kid seems pretty enamored about playing in the SEC
The RB of the future might already be on our roster in Marcus Crowley. People don't realize how good this dude is just because he was a 3 star. He's going to show out this year
I understand the staying closer to home thing for his grandparents, but what exactly is his ultimate goal playing college football? I'd imaging it's getting to the NFL. And guess what, when you get drafted you have no say in where you're going. Still going to have to fly to see him. Might as well get used to it now
Even when he commits to Texas this week, there's still a long ways to go until he signs. It will be interesting to hear what he has to say about why he chose Texas. Once Day comes out kicking ass this year, recruiting will get even better than it already is.
I should've been more clear, the front 7. Yes Fuller and Okudah are both locks.
Even if Robinson commits to Texas. this one won't be over until pen hits paper. Recruiting is one of those things that's really frustrating at times, and you can't count your chickens until they hatch. Robinson could be the next Reggie Bush. He could also be a huge bust. We won't know. Same goes for Lower rated guys like Trey Leroux. He could end up being an all B10 LT and first round pick. We just don't know until they get here. I guess that's what makes it fun to follow as they go through their careers
The only thing I can think of is they pay a lot of money.
Id say the only two locks to start on defense are Chase Young and Malik Harrison. I still wanna give Tuf the benefit of the doubt for being injured last year, but man he looked terrible at times. I would hate to see a talent like Teradja Mitchell enter the transfer portal if he doesn't start. Hopefully they rotate them. But if Tuf plays the way he did last year, this defense will be terrible. Washington is going to earn his money this year. A lot of young talented players in that room, they need coached up.
I hope the young guys at DE start to emerge. I'm really excited for Smith, JJB, and Friday. I think they'll all play a lot. They should move Landers it Hamilton over to the 3 tech and start both of them. They're clearly the best two interior DL we have.
Ohio talent in general has gone down big time compared to 10-15 years ago.
You'd have to think with the depth at WR, we move Gill back to RB full time during camp and give him a look. Already plenty of bodies at WR this year with Victor, Mack, Hill, Olave, Wilson, etc.
This is a big loss anyway you cut it. No need to meltdown but let's not act like Michigan fans and say it's no big deal. If true, we just lost a 5 star and another top 100 back in Knighton. Yes we have Teague, but let's not forget he was behind Snead on the depth chart last year. Getting guys like Robinson are the difference in some games.
Let pump the brakes here first. Kurelic has been wrong before. Let's hope he just got some bad info. Now if others come out and change their CBS as the day goes on, then I'll panic. I wanna see what Wiltfong, Givler, Bank, etc. have to say about this