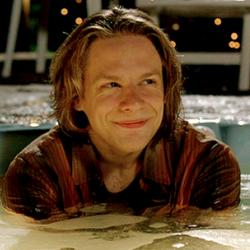 Cooper
---
Member since 26 February 2015 | Blog
We're the Manchester United Fan Club... from Ohio.
Favorites
SPORTS MOMENT: Game 7, East 4th St watching Cleveland's 52 year title drought come to an end. 1/3/03 and 1/12/15 in Dallas watching the Buckeyes take home the National Championship.
COLLEGE FOOTBALL PLAYER: Braxton Miller
COLLEGE BASKETBALL PLAYER: Ron Lewis / Jerry Lucas
NFL TEAM: Cleveland Browns
NHL TEAM: Columbus Blue Jackets
NBA TEAM: Cleveland Cavaliers
MLB TEAM: Cleveland Indians
SOCCER TEAM: Glory, Glory Man United / USMNT / #SaveTheCrew
Recent Activity
Slade has some some weird running form.
There was absolutely nothing wrong with the flag planting, but don't try to justify it by saying "well, Ohio State played their fight song at OU the year before." 1. They sing Carmen Ohio in front of the fans, every single game, no matter what. 2. Just admit you're a bit of a dickhead with a thirst for competition. The best players tend to be that way.
With how much of a freak Bosa is, he could definitely come back in 4 weeks. However, he will not really be needed until Michigan State, so he can take time with his rehab. I'm glad he was able to get surgery immediately instead of trying to play through it.
With the motor he plays with and energy he brings, I have a hard time believing he would shut it down if the Buckeyes are fighting for a playoff spot.
Minimum 4 weeks for something like that. Michael Thomas got a sports hernia surgery while at OSU and came back fine. It's becoming a much more common injury and the surgeries are getting more and more productive. I had that surgery done in 2011 when it was still relatively new for surgeons. I spent over a year and a half visiting five different specialists and getting multiple MRI's; turns out, all I needed was surgery and I was ready to go in six weeks.
Alabama looks truly invincible right now. They mirror Ohio State, except their safety and linebacker play is superior at the moment. I would put OSU and Georgia in the next tier of elite teams, with Clemson and Oklahoma closely following them. That Georgia/Alabama SEC championship game is going to be something else.
I think half of the coaches expressing they need to do better with paperwork is a decent indicator that they believe these reviews are trivial matters.
I couldn't stop laughing at the 5 rating for "adheres to university's core values."
I saw a lot of people lambasting the media for making emotional arguments... and then these same people made emotional arguments when you published those photos. Humans are Fickell, man.
That safety position has to be fixed if they want to contend for a national championship. At this point, I don't care who they put there, but I would prefer it be someone with any sort of speed and pass coverage abilities.
Depends if he wants surgery or not. He gets surgery, he can be back at full strength in six weeks. If he wants to miss a week or two and play through it, he surely will not be 100% for the rest of the year. Groin injuries do not magically heal on their own, they linger.
Groin surgeries take about 6-8 weeks to recover from. I was running again by the 4th week after my sports hernia surgery. Hopefully Nick's strain isn't too serious.
If the first two games have shown anything, I think Bin Victor is the odd man out for the heavy WR rotation this season.
I share YouTube TV with a couple friends and we pay $12 a month for cable. Pretty damn good.
Haskins might have the best release and accurate ball of all time
For Ohio State quarterbacks, for what it's worth. Too late to edit the post.
The kid went 45-0 in high school, 19 of those games coming against nationally ranked teams. No, he is not the thrower that Haskins is, but who the hell is? Haskins might have the best release and accurate ball of all time, you can't expect the next guy after him to have that same ability. What I found extremely impressive was that Tate was able to run the same offense as Dwayne when he was in the game. He won't have the same zip on the ball or replicate his throws, but as we found he can make the throws the offense needs and then is an absolute playmaker with his legs. These past couple games have really helped Tate's progression; this offense is in good hands for a long time.
I have been to the area twice and I have not really enjoyed either time. Granted, I went in January for both instances. When I went to the Championship game, there was not a lot to do in Arlington. No bars within walking distance of Jerry World, everything is corporate chains, and you're a 20 minute drive from Dallas. Who knows, maybe they have changed it in the three and a half years since I have been there.
The Buckeyes love Jerry World and they love indoor stadiums. I have been saying for months the Buckeyes would beat the brakes off TCU, and nothing has changed my mind.
I'm proud of the guys, but this still feels like a loss.
Just hit the seams and then spike the ball. What an under thrown piece of poop thrown by Taylor.
This offensive line might be the worst in the league.
That's not roughing the passer, what in the actual hell.
Guys, this team is really freaking good.
End of an era, boys. Rutgers finally scored a point against the Buckeyes.