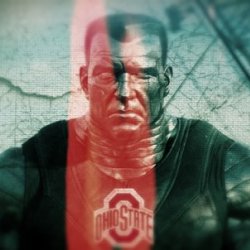 Colossus
---
MEMBER SINCE September 15, 2017
Recent Activity
I'm a conservative, and this is just dumb. Be better than this.
Coach Day has also just said that the Buckeyes are, "waiting for one more" commitment this afternoon.

Mr. Dawand Jones - COME ON DOWN!
Lose the #6 ranked OG in the class, and you get the #7 ranked OG in return. I like this!
Nothing listed on his Twitter. I also did not see anything on Periscope.
Good point! I believe you are probably correct!
Also, as of about 45 minutes ago, Nester has signed with VaTech.
Vimahi is scheduled to announce first. Perhaps a good sign?
Also of note - coming into today, Ohio State has the third smallest recruiting class in the B1G. Only Illinois (13) and Rutgers (14) have smaller classes. Despite this, they have the highest player rating average in the conference, and third highest in the country, trailing only Alabama and Georgia.
Looks like Wiltfong has CB'd Vimahi to the Buckeyes as well. He said he did so after speaking with "a couple of sources Tuesday." Ohio State now holds 67% of the CB's for Vimahi on 247. I also love that on 247, Vimahi is noted as having "a nasty streak as a blocker." GIVE ME MORE OF THAT!
Yes! Jones is another; however, there does appear to be less questioning surrounding his decision. Jones will be announcing tonight at 6:30 PM! Looks like 92% of the CB's for Jones have been cast in Ohio State's favor. Someone with the measurables as Jones, moving the way that he does - count me down as being intrigued. I imagine Coach Mick salivating over the thought of having someone like that in his dojo!
Nester is all but gone at this point. I must agree that him choosing a middling Va Tech squad is much better than him ending up at PSU. Jonah Jackson is a MUST in my opinion, but the fact that he is talking about relationships with coaching staff, I have to give the edge to Oklahoma. Stud is a liability in recruiting, which is crazy given how many recent OSU guys he had a hand with (Dallas Gant, Wyatt Davis, NPF, Harry Miller, etc.)

Really hoping Vimahi picks Ohio State - hoping there is some fire where there is a little smoke when it comes to his CB to the Buckeyes.
It has to be. A large reason he was kept around was to keep Nester in the fold. He is a liability when it comes to recruiting, and the offensive line development has been subpar.
Nester to VT doesn't sting nearly as bad as if he were to end up in Happy Valley. With that, Dawand Jones hopefully picks the good guys over Franklin's bunch. I'm not holding my breath on Vimahi, so I really hope the staff is making Jonah Jackson priority #1.
Big boom. Literally! Good to see the Buckeyes getting Ohio kids!
Franklin thinks they aren't elite yet.
ESPN posted an article, where the Clemson players cheered the move and absolutely loved it. Link: http://www.espn.com/college-football/story/_/id/25762856/white-house-offers-clemson-tigers-fast-food-feast-championship-celebration If they enjoyed their time, who cares?
This news day rules so much! KJ Hill, you're next!
Don't you tease me like this, Dwayne.
After everything, thank you Coach Meyer. Coach Day, it is your team now. Buckeyes forever!
Shit.
I heard Zach Harrison is going to be tweeting his live stream today or tomorrow and will be announcing or maybe not announcing his intentions to enroll at The Ohio State University, Penn State University, or the University of *ichigan.
I want to be excited, but this old, senile heart of mine says otherwise. Hoping for the best!