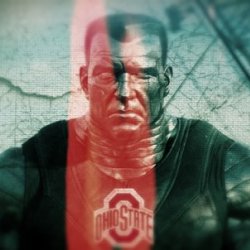 Colossus
---
MEMBER SINCE September 15, 2017
Recent Activity
This will have no impact on Michigan football - they cannot catch a thing.
#PlantingFlagsEverywhereInMuskegonToSeeMrFootball
OR
#MondayIsTheJabroniDayOfTheWeek
I see the announcement coming this afternoon, or tomorrow. Perhaps Coombs is spending his wrap up meetings with the players and coaching staff, saying goodbye, and will then make his way back to Columbus.
Great question - Wrestling, women's softball, men's baseball, or men's hockey would be a dream come true for me. I've had the chance to watch multiple games from all of those teams, both home and away. Seeing any of them bring home a national championship would make me extremely happy!
Eh, this dude tries to derail every thread on this site. If you have to talk about it, and tell everyone about how great/successful you are; it is always the exact opposite.
Down vote, move on.
I usually dont tell people, because it's embarrassing and I was a complete piece of shit. Anyway, I was going to Ohio State, but drove up to Lima to visit friends from the area, and who were taking some classes at the regional campus there. Well, I got hammered drunk, but wanted to go home. No one else was sober enough or conscious enough to stop me. I know I made it onto 33 and made it to about Marysville, between Bellefontaine and Marysville near Honda. 33 was down to one lane at the time. I fell asleep at the wheel, drunk, and hit the construction barrels. I ended up over correcting and pulled my car off of the road, through the ditch, through a fence, and into trees. I was partially ejected, and was found by a dude who hunts the land. I dont know what time I crashed, but it was estimated that it was sometime between 4-5 AM. I was going an estimated 70 mph when I went off of the road. Never again. I was so incredibly fortunate to not have died or killed someone else. I haven't had a drop of alcohol in 12 years. I regret that night and that decision more than any other night in my life. Thinking about it now makes me disgusted at myself. So selfish.
Comment removed for violating the site's commenting policy.
I don't mind all of your other comments - troll, contrarian, or otherwise. But this one crosses the line and you are a complete fucking scumbag.
I blame OP because I watched the same interview and pointed out to my wife when he pressed his lips. She now thinks I am crazy.
I went to Youtube and watched a few press conferences with Dabo and yeah your wife is right. He does point to himself quite often and also presses his lips. The sentence fragment thing I didnt notice until I rewatched and definitely picked up on his speech patterns. Kinda cool your wife gets to help catch the bad guys through cool psychology know-how. Sounds like a fun holiday get together.
Ah! Thank you! Weren't Blair and Williams drafted as DB's? Don't know how I forgot about Weddle, who is probably the most recognizable name out of the bunch.
Marquis Blair w/ the Seahawks, Marcus Williams w/ the Saints, Eric Rowe w/ the Eagles are the only ones that I know of.
I have never thought or have spoken the words "I would rather be a Clemson fan today."
That isn't going to start today - the day after Ohio State won the B1G Championship. The day after Ohio State beat their third top ten team in a row by double-digits. The day after we witnessed three other former opponents play in their own conference championship games, with two winning. The day after the Buckeyes finished the regular season 13-0, with a dominant win over TTUN in their house as a part of that record.
The nation knows that Ohio State is now more battle-tested and has the most impressive resume out of any four teams that are in the CFP. The talking heads try to cast doubt, because that is what those in positions of no control do - they cannot control or stop this train, so they try to control or stop the narrative.
Bring them on. OHIO AGAINST THE WORLD.
They typically get pulled down quick. Try searching for rtsuploads. That user usually has them up - at least the no-huddle version.
A fat older woman and her bald husband, with shitty tattoos and a bandana were wearing their TTUN gear here in Florida, at the same bar my wife and I went to yesterday to watch The Game. He loudly played their fight song on his phone, grabbed a Miller Lite out of his bucket of beers and said, "Hey buddy Go Blue." I laughed and made up my own lyrics to the fight song. He wasn't happy, and said "Fuck you" before picking his phone off of his table and turning it down. The fat loser wife of his told my wife she had shit on her shirt. We mostly ignored them, especially after the first touch down and they both stood up and ran around the entire sports bar yelling Go Blue and trying to high five people. After OSU scored, then took the 14-6 lead, we made eye contact and I said, "I hope you enjoyed that lead for the few minutes you had it. You don't have the horses to get it back." He said "we'll see about that" and then when TTUN made it 14-13, he said "Ha! Told you fucker!" I just laughed and told him math must be hard, since they were still down. We ate our food while they made constant trips outside to smoke. I got up after OSU went up 42-16 and passed him in the hallway to the bathroom. I asked if he needed me to bring back some paper towels so he can wipe his tears. He just put his head down and walked by me. I decided that was it and I wasn't going to make fun of him. He was pulling his bandana over his eyes and holding his head in his hands, which was good enough for me. On their way out, they tried starting some shit with Florida fans that were there, and were told by one of the bartenders to just go home. We were left with a dirty look, so I just laughed as they walked out. Seriously, fuck that entire state, and their sister-fucking fans.
Bitchagain
IT IS TI*E. DO NOT LET THAT TEA* STAND IN THE WAY! "There is no harmony in this rivalry's refrain. Only clashes of speed and strength, and will. Movements that build to a crescendo, and will be written in history. Moments that define the season. Moments that uphold tradition. Moments that cement a legacy. In the midst of all the chaos, one kind of love does remain - TOUGH LOVE." GO BUCKS - BEAT *ICHIGAN! FUCK THAT ENTIRE STATE TODAY.
TTUN
That tells me that there are other factors in play, right? This clearly shows that guys like Bijan want to be here, but didn't want to stray too far from family.
Recruiting teenagers is a fickle thing, friend.
How do you ensure your family never sees a wolverine? Move to Indianapolis.
What do you get when 32 TTUN fans get together? A full set of teeth.
OUR HASKINS WILL ALWAYS BE BETTER THAN YOURS!
SHEA IS A GIRL'S NAME. FUCK OUTTA HERE!