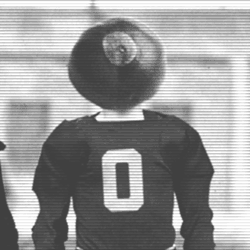 Colortv1967
---
MEMBER SINCE July 09, 2018
Favorites
MLB TEAM: Dodgers
SOCCER TEAM: Barcelona
Recent Activity
Continuing to add to the backer group is an essential part of a reload program versus one that must rebuild. Good work.
Same here. If that is a matchup, then leave no doubt.
I completely agree with you but I imagine a lot of recruits outside the OSU/ Michigan footpath see early playing time, quality of the running program, and making It to NFL ahead of which team owns which rival team whe choosing colleges.
A place to start would be the career of Josh Jacobs from Alabama. Out of HS haws 2-3 star and was recruited by many schools. He was drafted in the first round, earned offensive rookie of the year, and rush for over 1100 yards in 13 games. He is a good example for what you are talking about. If you find a study or do it yourself, let me know.
If given the choice, Robinson would have been head and shoulders above Milton. Forgetting about geography as a determining factor and early playing time the dominant factor, I can't understand why any of the top tier teams would standout more foe early playing time than OSU. Factor in the development advantage why would any of them be more alluring than the Buckeyes?
Why is he as negative as he is?
I think Victor was miss use in 2019.
I agree. The players seem to be saying, " I don't want to hurt any feelings ".
But some five stars don't fit the OSU standard.
Sure you can. Dave Aranda just completely his 4th season as DC at LSU. Look at Clemson and how long they have had their DC. If you pay enough and offer stability upfront, they will come (and stay).
I was thinking the same thing.
Score touchdowns instead of kicking FGs and no one would be having this conversation. I not saying Clemson was better, but the Buckeyes didn't put the ball in the end zone when they were playing better ball and it cost them. No one to blame but the image in the mirror. LSU would have done the same thing to OSU.
Yes we should have. Should have scored three more TDs also. Can't blame that on the officiating.
I agree with the question, why? But I don't agree with the adjective you used.
It's hard to imagine but a Day and his staff has actually been better than the Urban Meyer recruiting era.
I get your reference and think it's funny.
This makes a lot of sense. If a position coach leaves, more than one relationship has been established. This way a recruit can be saved.
Unless they want to deal with a potential locker room disaster, don't go anywhere near Evans.
That is some of it. He is committed to Ga Tech at the moment. The two Georgia schools really can't stand each other, even at the player level.
Can the team that they signed with keep them out of the games?
If Stroud continues his growth, I see him coming out ahead of Miller.