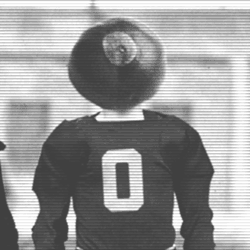 Colortv1967
---
MEMBER SINCE July 09, 2018
Favorites
MLB TEAM: Dodgers
SOCCER TEAM: Barcelona
Recent Activity
Looks like the Buckeye admin were just as slow then as they are now.
Not showing a bit of jealousy, are you?
You are right about 17 year olds having no clue. That goes for everything.
Great article, but why does it take Dayand staff so long to make offers to some of the best ranked at their positions?
I'll go along with that, although OSU head to head with the bullpups would make for a special game also. Fields would mop up the Georgia grass, out playing Fromm in all facets of the game. It would not take much for Day to out coach Get Smart.
He has proven that he is the backup. If he is completely healthy, what is Day and staff waiting on?
The Badgers will also be a tough game for the Buckeyes.
Earlier in the week many of you question whether or not the Buckeyes would ever have a running game. Now you are gushing all over the idea after today. I believe it to be somewhere in between.
Cincinnati should never have left their hometown today. I though that the bears might be able to give you guys a gene. After Nebraska's debacle today, there will not be any team to give you a game until Michigan State shows up on the schedule. Penn State will not be much of a match either. Itmappears that you will have a cakewalk.
Historically, 100 yard games yielded success.
I have. N
o thought about it.4
I have. N
o thought about it.4
I have. N
o thought about it.4
A,lot us need you 5o do That.
Why not say " Michigan "? Petty. I never did like W. Hayes.
Other than a kid just wants to go to Notre Dame, why would Kelly ever win over OSU?
Glad to hear that he has won the job. I always pull for a comeback kid.
He will be gone after the season is over.
It also means coaches not taking their foot off the gas.
Yeah, that is Miller's problem, staying healthy.
Fields must prove he is the real deal against big time programs before he becomes the real deal. I think he was short changed by the Georgia staff, but there is a reason why he did not see much playing time last year.