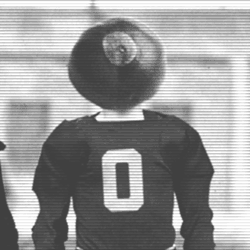 Colortv1967
---
MEMBER SINCE July 09, 2018
Recent Activity
Cry, cry, cry. The reason for a season full of penalties is not being disciplined.
Good for him. Colorado is an up and coming program. Jake will be able to help.
I've been in the "wait and see mode" since day one. As an old timer, I believe that everything must be earned.
Yes you can. Right now it is dreamland.
The big "if" is whether the big uglies can do their job. That is the most important question mark to be answered.
There have been several waver requests denied.
Let me understand. He has an offer from Michigan but committed to Northwestern while waiting on ab offer from Ohio State. This kid has logis all over him. Buckeyes, move on as fast as you can.
This just goes to show that none of the Crystal ball or other predictions have a clue what thie players are going to do.
Agreed. But how will value be determined?
Yeah your right. With a few exceptions, most of the players today don't have a clue about what it means to be honest. Look at Carson Beck, the Georgia QB commit. Originally a Bama commit, then he played Florida like a fiddle in order to get a Georgia offer. And he was proud of it. Not many go that far.
Agree with your post. The OL of 2018 took too many plays off.
Day's dip into the HC field means nothing. This is now his team and all the expectations are on him. Until he wins and wins big he is and unknown. Show me on the "wait and see" list.
I am in agreement with you one point of exception. I think McCarthy is the better of the two.
I couldn't agree more. I have an eighteen year old grandson with CP. he can't speak or walk but he loves, people, sports and is a blessing to all. Thanks to the Buckeyes for participating.
It seems he can't by a break, but being a Buckeye will have nothing to do with how his body heals.
I have been saying this since the hire in some form. The only difference is I would have left out the expletive.
Where is the evidence that makes you think Day will be part of that company? He has a resume of 3 games as interim HC. He might be great and he might not. Wait and see.
The one thing you left out is the inherent pressure to win big immediately at big time programs. Not many people can handle it. Meyer didn't. He internalized that pressure and it created or added to his health problems. If the pressure becomes too much, the NFL is an easy out for Day. I don't see him lasting more than four years.
Pulling for Dobbins to break as many as he can. Not interested in the others.
None of them are underpaid.
Could not have said it better. I'm in the "wait and see" mode.
Why are you still reporting this stuff?
Oklahoma is coming down the interstate at breakneck speed. The sooners May break into that top 4 moving a big ten team out.