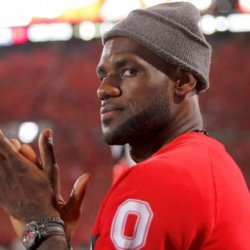 Colorado Buckeye
Denver, CO (via Norwalk, CT)
Member since 14 December 2011 | Blog
Graduated from THE Ohio State University in 1993.
Favorites
SPORTS MOMENT: Each and every time we beat TTUN.... and that College Football Playoff Championship run was pretty special!
COLLEGE FOOTBALL PLAYER: I'm a fan of the RB's - Archie, Eddie, Maurice, Beanie, El Guapo and Zeke!
COLLEGE BASKETBALL PLAYER: Jimmy Jackson... from back in the day when I was at OSU.
NFL TEAM: Denver Broncos - Trust in John!
NHL TEAM: Avalanche (Bluejackets came after I left)
NBA TEAM: Cleveland Cavaliers & Denver Nuggets
MLB TEAM: Colorado Rockies & Cleveland Indians
SOCCER TEAM: Colorado Rapids???
Recent Activity
and seriously with the pulled up hoodie.... come on man
I have been waiting on this exact article for years... Love waking up and having my mind blown!
love that I do not know where they re going with this story line...
but their a team of destiny!
I'm literally in shock watching this and hearing them talk about how there is a national skew AGAINST the SEC.... when literally all you can find on ESPiN is bobble heads spewing how great and powerful the mighty SEC. Once we finish taking care of business against Mich St, i hope Mizzou beats the crap out of Auburn. None of these SEC trolls are talking them up and I would love to just see them explain how great the SEC is when a mid-level Big XII team can go in and win the conference in their 2nd year!
just got an update from Bleacher Report... I consider them like daytime drama for sports :)... that he signed his letter of intent with the Buckeyes (according to DAngelo's father)... also saw a tweet from Land-Grant Holy Land confirming he has signed.
Its the Ohio Bobcat mascot Rufus... who tried to take out Brutus a few years back.
winner, winner... chicken dinner! or in this case, a hot dog! Jabba going hungry tonight!
the details are in the fine print... nicely done!
10. Brutus will not see any playing time.
and if mid 2nd round for DT is accurate, I hope the Nuggets grab him with the 42nd pick!
Would love to see the Broncos grab Hankins with the 28th pick... we need some Buckeyes on the team!
I've been over here all "Go Big Ten"... thanks for the slap across the face, I needed a good wake up call... what was I thinking? I could never really want them to win. Go Louisville, Screw Blue! Ahhh, that feels much better!
Would have loved to see him stay so that same group could make another run at the championship next year... but that is just me being selfish :) Those young Bucks are gonna need to step up to fill the void. Good Luck DT!
LaQuinton "Cold Blooded" Ross
LaQuinton Boss! Somebody get me a Doctor...
OSU, MSU, UM, IU... sounds like the perfect Final Four to me. Haters be Damned!
Love that is was Georges "cheap shot" Niang that was guarding Craft when he sank the 3 pointer for the win... paybacks a bitch my man and so are you!
I never understood the suit and tie thing for coaches.... do they need to look pretty on TV when they are running up and down the sidelines or berating a ref? I'm all about casual comfort. Let there be sweat suits for all of my men!
looks like Robert Morris should have been in the tourney...
Robert Morris.... nuff said!
also in Denver... and confused. That comment from the article is superb!