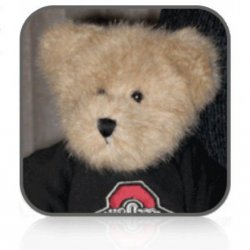 collisionbend
Canton, Ohio (via Rocky River, Ohio)
Member since 11 September 2010 | Blog
Favorites
SPORTS MOMENT: Any time Ohio State beats Michigan.
COLLEGE FOOTBALL PLAYER: probably J.T. Barrett, at the moment...
NFL TEAM: Cleveland Browns
NHL TEAM: Seriously?
NBA TEAM: Cleveland Cavaliers
MLB TEAM: Cleveland Indians
SOCCER TEAM: What?
Recent Activity
I'd like the helmet better if it at least had the buckeye leaves on it...
I'd like to see them run to set up the pass rather than pass to set up the run. And I don't mean run J?T., I mean mess'rs Dobbins and Weber. Then hit 'em with play action to freeze their linebackers.
My understanding of this situation is that he had some running issues while in high school that were covered up. Can't say too much more here, but odds are that he will be gone and will probably not find a new school. Just a prediction on my part, though...
Kinda bittersweet. On the one hand, my nephew plays defensive line for Butler football, but on the other hand, his father and I both went to tOSU (today, I root for both). Good news, bad news. I guess I'm OK with it...
We should launch a new reality TV show called "Extreme Douchebaggery." Harbaugh can guest star - weekly.
It's the miracle of modern medicine, man. Arthroscopic Menisectomy takes about 75 minutes, and you walk away from the procedure.
I haven't had the surgery, but I've blown out the meniscus in both of my knees. Never stopped walking, though I was slowed a bit when it happened. Occasional popping and pain (especially after walking a round of golf), and getting on my hands and knees to set up new equipment on the home theater is somewhat painful/tricky, but most of the time I have no issues.
He'll be fine in a month, and in prime shape by mid-season, when odds are we'll need him more. No worries.
Need some ointment for that burn?
Gee, one quarter when I was at Ohio State, I took Ping Pong 101...
First game I've attended in years. Had a wonderful time. I have serious questions about the person playing music over the P.A., though: there were times where the music was inappropriate, either in selection, or in simply playing anything at all. I kept wanting to tell him (or her) to STFU.
Bell's pick was not a pick, in my opinion. Replay is supposed to fix these things, but they don't always play out that way. Not sure why.
But the clock is another matter: the official clock is kept by the referees, NOT the TV station - and there's no connection. If the refs start the clock a second or so later than the TV guys do - as I've seen happen many times - it could appear as if there is a delay of game. I'm not sure about 2-3 seconds, but a half second or so isn't unheard of. I'm willing to say that ESPN was incorrect, as they usually are; I'd rather trust CBS's or NBC's timekeeping before ESPN's - and even the on-screen talent at CBS and NBC will point this potential discrepancy out when talking about it.
I agree that our prosecutors need to spend their time with more important matters. Given the state of our society today, that much is clearly apparent.
However (there's always a "however," isn't there?): he's clearly guilty. He hired a lawyer - same one who defended Messrs. Mewhort and Stoneburner for what we up here in the Eastern 'burbs of Cleveland have come to know as "Liquid Littering" (thank you, Willoughby Police Department), and "demands" a jury trial.
And he wants to be my mechanical engineer!
If I were the City Prosecutor, or County Prosecutor (oh hell, it's state ground, I know an Assistant State Prosecutor - why not?), I'd prosecute him all the way to the jail for being an insolent smart@$$. He could've just waived the complaint and paid his fine, no harm, no foul. But nooooooooooooo...
Hang him.​
Thanks for the use of the sarcasm font.
It's the uniforms. We've lost more than we've won in them. We should burn them in the middle of the Oval. Something.
Some people just walk on a different plane of reality. I have friends like that; they're mystics in tune with angles and dimensions unseen by us regulars.
In tune with angles... Not to be obtuse about it, but would that be oblique or obtuse?
Couldn't watch the game, as I was driving with the wife from Canton to Connecticut. I was forced to listen to the game on Sirius, and it wasn't old friend Paul Keels, either - it was the Navy home announcers. It sounded horrible - especially when their color guy started talking about how the Navy defensive players were so good playing "in precision" "in space" and trying desperately to sound intelligent, knowledgeable, coherent - and failed miserably. What the hell is playing "in precision"? WTF? I've heard "in space" before, and I know what it's supposed to mean - and understand, too, that it's gibberish used by color guys who want to sound good...
Anyway, the second half sounded much better to me, as their announcers stopped their incessant gloating and lived up to the realization that their pipe dream was over. If you listened to the Navy announcers, you'd have come away with the idea that Navy blew the Bucks' o-line open instead of the Bucks breaking down. I knew better, of course, but still...
Seriously, guys, you have no idea how good we have it with Paul and Jim; I wish we could impress on tOSU how very large Buckeye Nation truly is so that we can get better national coverage on FM and satellite.
Is that Mack? I was going to say it looks a whole lot like Baker...
They say that JTB4's not as good a runner as Braxton, and therefore not as good, but this kid seems to have enough of an arm and a Krenzel-type brain that could make him more unpredictable than Braxton, in the end - defenses will always have to respect his arm, too. And, after all, that's what made John Elway so damned effective. Everyone in the country knew what Braxton was going to do before the play game season started.
I feel for Braxton. I'm sure Urban & Co. will do the right thing by him and the team, so I can only wish that Braxton heals well and can get on with his career - be it as a football player or not.
The possibility of losing Braxton for the year (or, in the worst-case-scenario, his career), raises a question: shoulder issue notwithstanding, from the team's standpoint, what if Braxton had opted for the NFL this year?
So was it Michael Sam who came out - as in the initial statement - or was it Michael Smith, as stated in the following two statements? I'm confused...
At first blush, I likey. The comment editor could be a little better-behaved in iOS 7, though...
Would it save you a lot of time if I just gave up and went mad now?