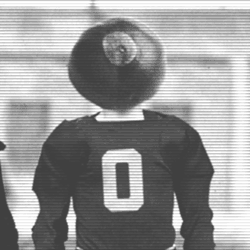 coke
---
Member since 28 March 2013 | Blog
Favorites
SPORTS MOMENT: Watching the Buckeyes win the 02 National Championship
NFL TEAM: The Browns
NHL TEAM: Blue Jackets
NBA TEAM: Cavaliers
MLB TEAM: Indians
SOCCER TEAM: Crew
Recent Activity
Franks>Tabasco, but my personal favorite is Ohio's Own-Pittsburgh Sucks
1) Bridesmaids-They tried so hard to be funny, but it was awful.
2) Most Oscar winners and nominees (Million Dollar Baby, Titanic, Mystic River, the Green Mile, Apollo 13, etc.)
3) Superbad-The cops and McLovin were entertaining, but the two main characters just sucked.
4)The Wedding Crashers-It was funny, but it was not as funny as many people made it out to be.
5) Dark Knight-It was good, but I always thought Batman Begins was so much better.
6) X-Men 2-Thought it sucked.
7) All of the Tobey McGuire Spiderman movies.
OSU's offense put up huge numbers last year against weaker competition. When they faced comparable competition against MSU and Clemson, Herman was thoroughly out-coached. So far this year, the same thing can be said. Outside of the deep pass to Smith against Navy, the play calling has been terrible. Yes, OSU lost Hyde and 4 o-linemen, but OSU has struggled because Navy and VA Tech have strong coaching staffs and Herman no longer has Braxton's freakish play making ability to bail him out of his horrific play calling.
I realize Tom Herman led an offense that scored a lot of points, but I thought his play calling against MSU and Clemson was terrible and ultimately lost OSU both games. He should have run Hyde 40 times in both games.
I hate 8pm games b/c they end at midnight. I wish the Buckeyes would play more often at 6pm like they did against Penn State a few years ago.
I miss a portion of the 3:30 games to go to Mass because I hate going to Mass on Sunday.
Schlegel was terrible, most of his defects were covered up because he played next to Hawk and Carpenter. He was slow, stiff hipped, and a poor tackler. I never remember him driving driving a ball carrier backwards, I only remember him getting plowed over by them. There is reason why he rarely saw the field with the Jets and Bengals. Schlegel played particularly poor in OSU's losses against Texas and Penn State. In my opinion, if Tressel played Laurenitas as a Freshman instead of Schlegel, we probably would have beaten Texas and Penn State
Also, he was not a late transfer, he left the Air Force after his sophmore season.
Underrated-Pittman, Mangold (elite), Sims, Ballard (under-utilized), Hawk (great throughout), Kurt Coleman (terrible Sophmore, but great Junior and Senior years), Germaine, Pryor (production), Sanzenbacher, Galloway, Glenn, Boston...
Overrated-Schlegel (Laurenitas should have started over him), Nickey, Hartline (very good pro career), Robinski, Shazier (had a very good career, but he did not show up against MSU and Clemson)..,
This is why the Cavs didn't want to sign him
I have a hard time questioning Chris Grant. He knocked it out of the park with Irving, both Waiters and Thompson have played well and still have a lot of upside, and Tyler Zeller is a solid player. My only question is whether or not Bennet can play SF?