Codeezy
---
from Toledo
Member since 29 September 2010 | Blog
Favorites
SPORTS MOMENT: Gambles pick return against PSU. Galloway taking a punt back toward the south stands and changing my life forever.
COLLEGE FOOTBALL PLAYER: Joey Galloway
COLLEGE BASKETBALL PLAYER: Scoonie Penn
NFL TEAM: Seahawks
NHL TEAM: Pens
NBA TEAM: Bulls
MLB TEAM: White Sox
SOCCER TEAM: USA!!!
Recent Activity
Knox with a tipped ball touchdown catch above two defenders.... ummm yeah
Not going to DV this, but the saying "As iron sharpens iron" is referring to one man sharpening another man. Whether it's dull iron or sharp, it's referring to becoming better by working against the real deal. So to compare opposing football payers practicing against each other to "iron cutting paper" seems off.
No matter the competition, going against the best will make you better. I think that's the point being conveyed here.
Always very appreciative of kids like this. No drama and no spotlight superiority complex. Welcome to the family!
It's probably a high school ball since that was their competition
The first year I really started following recruiting online instead of just reading Buckeye Sports Bulletin, there was a tape I watched that has still stuck with me, DeSean Jackson.
No one even wanted to try and tackle him he made them look silly.
I'd bet that man has a lot of regret.
They will battle with Boston.
That's big daddy chasing down Bobby Hoying if I'm not mistaken.
And women! My fiancé turns 24 today. Happy birthday!
An elite physical kid who's main focus was basketball before football was his path? Raw but smart and eager to learn? I wonder if Ohio State could develop a kid like that?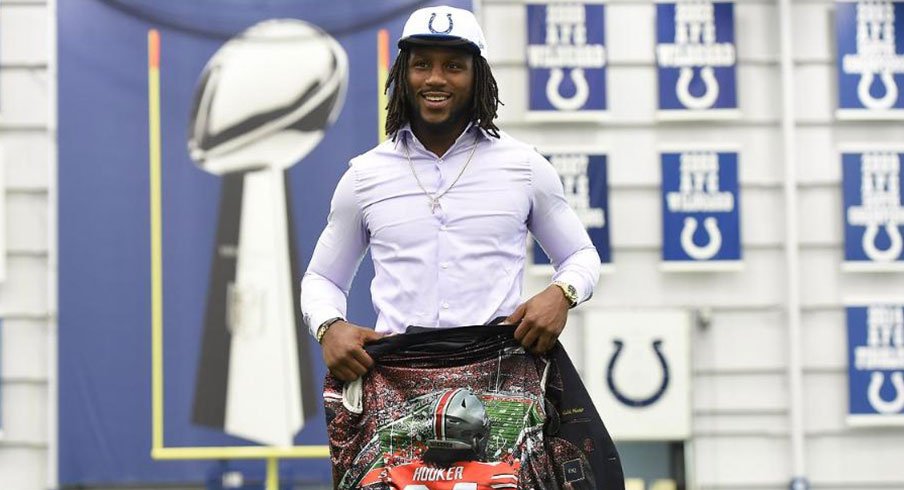 ...oh wait
This is not getting any less glorious
Exaaaaaaactly. That's what Urban knows too. These kids think they'll stay the same physically and that's why the tight end talk turned him off. Get him here and to buy into the system and he will be just fine.
A lot of good chatter on this thread. It's hard to know who to add/subtract or what a solution is, but fun to talk about. A few points that stick out to me:
Golden State is amazingly talented and stacked, but far from unbeatable. KD was the entire difference. Without KD the cavs are a better team. And even saying that, it's not like Cleveland had no business being there, the Cavs could have won this series. Cleveland had a lot of underwhelming performances but that is to be expected. Just because Klay Thompson didn't score 30 a night doesn't mean he wasn't valuable, so why say the same for Love? He was not a liability on defense and he was Cleveland best rebounder next to TT. Plus he stretched GS out on defense and his passing is second to none.
I think Thompson and D Williams played better than they are given credit for. Role players, D Williams is a smart PG and that's invaluable with Kyrie dinged like he was.
People keep saying Korver is one of the best shooters in the game but I don't see it. Not on the clutch. JR Smith can be that guy but can't do it with another liability on defense like Korver.
Hey man I appreciate the response :)
Just wondering why Tavion Thomas is the forgotten man in this RB haul? Teague and White are just that much better? Not hearing anything really...
Joey Galloway would change the Ninja Warrior game forever.
"A little birdie told me we should draft some receiver out of Ohio State..."
Typical White Sox bats cold as ice. Not taking anything away from you Tribers just frustrating as a sox fan to see them appear offensively dismal.
Alabama also can sign 29 every year so....