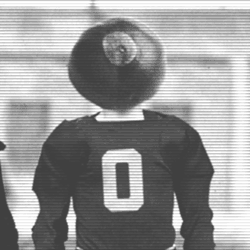 Clown Baby
---
Member since 30 August 2010 | Blog
Recent Activity
DJ - Coach K is a basketball coach and hairpiece enthusiast.
BuckeyDan75's comment on the Dodd article, for the win!
Couldn't be more happy. A kid who worked his ass off to get an OSU scholarship and nearly cried when he EARNED it? And people are questioning it? Watch the tape, or better yet take one of The best coaches in the business' word for it. We just got a lot better. It's a celebration!
We can finally ridicule Kansas State without fear of being overrun by Wildcat fans and K-State goes out and beats Okalahoma. Stupid universe.
Isn't this the plot from Superman I?
Even Turner? As a fellow Evan I must register my protest!
I'm going to need some time to get used to seeing Tressel in blue and gold.
From what I've read, Meyer is evaluating Vrabel's recruiiting prowess before he makes a decision.
I think Meyer should consider offering Green's entire O-line.
The article that ESBS linked about the MSU incident was great because it says the players were arrested after they "punched an Englishman." USA-USA-USA!
There is something really weird about this Yahoo thing. Per the allegations, somebody was concerned enough about potential OSU violations to contact Tressel and give him a heads-up on what his players were up to. The tipster knew the players were breaking the rules and instead of going to the media, notified Tressel so the violations could be investigated in-house. Suddenly, this person who was looking out for OSU's best interests goes to Yahoo in an attempt to completely destroy OSU and Tressel's reputations?
That seems really odd and I guess somebody could always fall on hard times and need a little cash, but this a SEVERE 180 with this person's attitude and actions towards OSU. Even if it wasn't the original tipster that went to Yahoo, it would still need to be somebody with knowledge of the situation, inside the program. Tressel being the man he is, I'm reasonably confident we'll be fine.