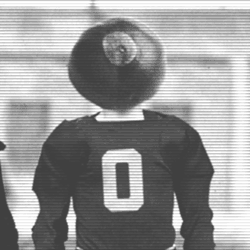 clevelandfan1
---
MEMBER SINCE July 03, 2017
Recent Activity
I don't think we missed out on much at all... eight point scorer for one year.
The difference between Turner being a journeyman or a valued starter is his inability to consistently hit the three-point shot. Wherever he goes, however, he'll be a valuable player.
Don't they ever have full contact practices? If "yes", why cant this be one of them? If "no", maybe that's why they have trouble tackling when the season starts.
Love the Les McCann mention. I stopped in a bar back in the day and heard a band I never knew about... Les McCann Limited. Great night.
I saw some high school highlights where he was considered a four star recruit, but have not seen how he's progressed the last few years. Still, I'd take a hard look at him and he should probably take a hard look at the Buckeyes. We don't know for sure, but it's entirely possible that Kaleb is just one more stumble away some serious down time... maybe forever. Also, it's probable that Kaleb will be more effective if he's only playing 20 minutes per game because of his conditioning. I don't mean this necessarily as a criticism. With his body type, he just might not be able to get into effective 30-35 minute shape. Going 20 minutes for each guy may actually be best for the team. The probability of playing 20 minutes on a very good team, for a coach he likes, while working on a graduate degree from a very good school, should look pretty good to him.
When he signed, I was able to find two full games of his JC team online. In both, he played two guard and basically stood around on defense while taking a bunch of long three-pointers. Don't think I've ever seen a player change so much in terms of effort. He gave every bit of what he had to the Buckeye team and I'll respect him forever.
You can't fool me. That's not Coach Holtmann... it's Jimmy Chitwood.
How about sitting Jackson and Young out this game so they have a week to heal up before the conference tournament?
I for one have those high expectations. This year we've been in every game except yesterday and have had woefully weak talent at the most important position in college basketball... point guard. The two guys replacing Jackson and Woods are much better ball handlers and penetraters. If you recall, last night Dakich must have said 100 times that you have to go north and south and get into the lane to beat Purdue. Our new guys can do that and it opens up everything up on offense. Not only can they score in the paint, but more of those forced three point shots will be wide open. Then add two front court guys who are more highly rated than anyone we have now and the future is very, very bright.
I imagine we've got some... maybe a bunch... of OSU students from Senegal and they probably hang around together. Perhaps we should make sure he meets those students on his visit.

I don't remember Winfield being much involved in the incident. It was mostly Behagan and Turner.
Not kidding. I think I heard somewhere that he is now a model in Japan. Guess they don't have a lot of 6'5" white guys running around, so his novelty gets him a modeling career.
Wow... a Jody Finney reference! You must be nearly as old as I am. Allan Hornyak could also shoot a little bit.
Actually, not as bad as I thought.
Wow... didn't think we'd hear from him after college. Good luck to the young man. It's a tribute to his hanging in there and continuing to work hard to follow his dream.
Actually, I think Holtmann's bitching to the league office about the horrible foul calls on Kaleb just may be bearing some fruit. During the last couple of games I think I've seen a number of cases where Kaleb got the benefit of the doubt like he never got before.
Good thing about LeDee is that he has a natural nose for the ball when rebounding. Another year of working on his hands, strength and skills and he should do well.
Of course it's bull and always has been. Happily, all 40,000 members of our perfect student body would be appalled by any racist comment. If this was the team up north, we'd be screaming. That said, I'm happy we are the ones getting the benefit from the always corrupt NCAA. Welcome aboard Mr. Fields... let's play some football!
Not to nitpick. but I think you've got your "ownee" and "owner" a bit backwards. Okay, I guess it is to nitpick.
Matta used to play zone defense when the other team had the ball out in it's own end... usually under the basket. This kept our big guys near the basket. I guess that guy knew a little bit about coaching basketball.
Bunch of wimpy snowflakes.
Last year was a bit of a mess for the home boys. I also hope they get things straightened out and add a good player or two... no more Mullens. If that Penn State point guard is back, I hope Sconnie lets him on the court more... even with Craft.
Not just fouls. Early in yesterday's game Wesson received a pass right in front of the hoop. He pivoted moving his left foot, but his right foot stayed glued to the floor as he put up his shot. Got called for traveling. I've now watched it six times and his right foot never moved.
I guess we can give him a pass this time because this head coach thing is still pretty new, but he will probably want to stop saying... " I think the guys on offense are really excited and there's a lot of energy and positive momentum on our side of the ball." Ryan, both sides of the ball and special teams are your side of the ball now.
How highly rated was Fromm... the guy who already beat out Fields? Perhaps Fields actually belonged in a lower stratosphere when it came to playing the game.