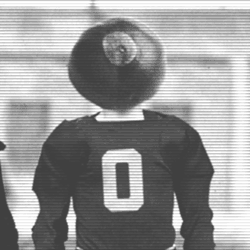 cledaybuck
---
MEMBER SINCE December 09, 2015
Recent Activity
That was some terrible play calling.
Who knew our fan base was this whiny?
Can we stop grouping together Borland and Werner. They are two completely different players, and their play is nothing alike.
He had that issue a few times last year too, especially against Maryland.
Except it isn't Craft's athleticism that is keeping him out of the NBA.
I wonder what Saints fans think of that fumble?
And in the possibly more important game down the street, 10-1 Tribe.
You should look who snuck into the bottom of the top 25 in 2014.
There is no way I am taking UM's OL over UW's, and I don't care how many stars they had coming out of High School. I also don't care that your QB was a 5 star coming out of High School now that he is a SR in college with plenty of college stats.
Pitt 0 top 25 votes in coaches poll, A&M #21. Virtually the same schedule and results, but because of favorable scheduling one is considered demonstrably better than the other
You consider losing to PSU and Virginia virtually the same as losing to Auburn and Clemson? Because I don't. The win over UCF is nice, but a 10 point win over Ohio doesn't say much.
Houston losing didn't help them either. That said, nine of it matters. Just keep winning and the rest will take care of itself.
Does anyone here actually think Michigan (20) is actually better than Michigan State (UR)?
Ehhhhhh, no they are not. Notre Dame thinks they are too good for the Big Ten, or any conference for that matter.
Because they are playing Notre Dame.
Ballgame! Tribe wins 5-2. Red Sox tie up the the Rays in the 9th. Sure would be nice to gain a game here.
I hold no hate for the Rays, but I want them to lose now.
That and Joe Carter's HR to win the 1993 World Series.
Funny. Musberger was widely viewed by OSU fans as anti OSU in the 90's.
That doesn't matter. Ties are broken by a tiebreaker game. Also, I believe the poster above is a Rays fan.
4C Row 21 (3 tickets). Not great.
23. And they lost to UNC. And their head coach is Will Muschamp. Looking at their schedule, bowl eligibility looks very iffy.
I'm pretty sure Peyton Manning can't sprint.
To be fair, it's easy to do since they are not that good.