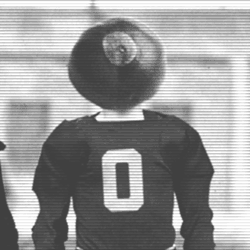 cledaybuck
---
MEMBER SINCE December 09, 2015
Recent Activity
It's could be down to Fields and Burrow.
No it's not. Burrow is going to win.
His hip overcompensated
What? I'm no doctor, but this sounds like bs to me.
This is why you are Indiana.
The reason Al Kaline stayed with the Tigers for 20 years was because he didn't have a choice. I have some bad news for you, the whole world is all money and numbers, and it has been that way for a long time.
No. I'm am not trading Lindor now unless I get an offer that blows me away. I would probably keep him the whole time and let him walk if I have a championship caliber team.
You realize you are on a college football website, right? There is no sport that favors the rich more than college football.
Not to mention the Nazis (I believe that was played at a neutral site).
1944 Army isn't a bad comp to have no doubt. Six more to go to make true history. O-H
Ohio State can't compare to what Army did in 1944.
What did the doe says when she came out of the woods? That's the last time I do that for two bucks.
I'll ask again. Why is this team so dumb?
Why is this team so dumb.
The Indians season is over. They didn't win (again).
Texas A&M hasn't been ranked on the CFP rankings this year.
I know sarcasm
Are literally the first three words.
BTW, Indiana not being ranked ahead of Texas and others is ridiculous.
Is it though? IU's wins are against Ball St., E. Ill., UConn, Rutgers, Maryland, Nebraska, NW. Not a single one of those teams is even .500 and several as just awful. Texas has three wins over winning teams La Tech (8-1), OSU (6-3), and KSU (6-3).
Did you watch that show about the beavers last night? It was a great dam show.
I feel the complete opposite. Give me Minnesota over IU.
Smith will meet with the media at 5:30 to "address some of the processes involved regarding our reinstatement request."
Why? These never seem to go well.
Nope. Just ran the empty set QB run on 3rd and 1. Still got 2 yards.
Can we stop with the hyperbole.
Apparently not.
You don't think he is coming back for his senior year? :)