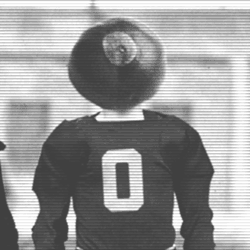 Classof97
---
MEMBER SINCE March 15, 2017
Recent Activity
Any idea whether Jared Sullinger is still playing in China?
252
He got an injury settlement. It's right in the article.
I read the transcript from Big Ten media day. It reads like Urban didn't know anything about a 2015 incident. Maybe he was confused. But he should have corrected himself or clarified his comments immediately instead of waiting until two days after this story blew up.
The remaining question is why neither Urban Meyer nor Gene Smith corrected the statement made at Big Ten media day. Even if Urban was confused at the time of his misstatement, he surely realized his mistake soon after he left the podium. Gene Smith knew Urban's statement was incorrect. Both share the blame for leaving Urban's "lie" uncorrected and allowing this to become a story.
Tate had attributes of a great post player, including good hands, touch around the rim, and a high motor. He never quite made the transition to elite wing/guard. But I can't fault him for being 6'4" instead of 6'11". He's probably destined for a long and successful career in Europe.
I find it hard to believe that Nebraska, Florida, or another top program will just hand unproven Joe Burrow its starting QB job. If he's going to compete for an opening, why not stay and compete for his dream job at tOSU? Am I missing something?
Meyer's MO is to hire a mix of "whiz kids" and "grizzled veterans." Since Schiano and Coombs fall into the latter category, I wouldn't be surprised to see one of the vacancies filled by someone with head-coaching experience.
I don't think you can blame yesterday's loss on a lack of horses. We were the more talented team (and looked like it for 38 minutes), but we couldn't close the deal during crunch time.
My point is that college age men are more likely than other groups to engage in bad behavior. I don't agree that the fraternity system promotes or exacerbates the problem. The University identified a problem with the marching band a few years. It shook up the band but didn't shut it down. And the University didn't suspend other unrelated student organizations because of concerns regarding the band. It was an overreaction for the University to suspend activities at all 37 fraternities when 26 of those fraternities are in good standing.
This is an overreaction by the University that penalizes hundreds of young men who've done nothing wrong. Of course, some groups of 18-22 year old men (including those in fraternities, in dorms, on sports teams, etc.) will engage in drug use, alcohol abuse, hazing, and/or general shenanigans. In other words, "boys will be boys" whether they're in fraternities or not. We can't send them all home to live with their Mamas.
He was mostly just picking up loose balls and rebounds in the paint, and scoring on layups, against physically overmatched opponents. He may have a post-up game and a jump shot, but he didn't show either on Sunday.
I was underwhelmed by my first look at the team. Our point guards (Jackson and Dakich) went a combined 1 for 14. There wasn't any flow to the offense. Our post players didn't show much even against an overmatched Wooster team. I was more optimistic before I went to the game today. We appear to be headed for a 15-win season.
Despite the low attendance, there is no opportunity for fans to purchase season tickets in the Schott's lower bowl. After a few years of buying season tickets, I've worked my way up to the front row of the upper bowl. That's the best I can do. All of the lower bowl seats are earmarked for students, faculty, seat license holders, and individual game purchasers. Even for poorly attended games, there are hundreds of fans sitting in the upper bowl, while lower level seats (many in the student section) go unfilled.
Which returning player is poised to have a breakout season? KBD has shown tantalizing glimpses of star potential. Tate has had a nice under-the-radar career and deserves to go out on a high note. Potter might flourish in the right system. It should be an interesting year.
I would have preferred for Holtmann to keep at least one assistant from the prior staff (Paulus) to provide some continuity for the current players and preserve relationships with recruits/commits like Goodwin, Ahrens, Francis, etc. At the presser announcing Thad's resignation, Gene Smith indicated that Thad (the winningest coach in school history) would be involved with the program going forward. Now that Holtmann has cleaned house, it seems unlikely we'll see much of Thad around campus.
I hope this is the first, last, and only time we compare the RichRod and Holtmann eras.
I was afraid this would happen when Holtmann brought in his entire staff from Butler. Keeping at least one assistant from the prior staff (Paulus) would have been a nice hat-tip to Thad, while providing some continuity for the current players and preserving relationships Thad's staff had built with recruits/commits.
So you're saying: If I blame the people who commit the crimes I'm a racist and my only other option is to blame racist institutions (i.e. the government, the police, the schools, etc.). There are lots of non-racist explanations for crime in black neighborhoods (e.g. drugs, poverty, gangs). The suggestions that either (1) blacks are predisposed to crime or (2) our institutions are designed to keep them down are equally ridiculous.
Outspoken athletes often pay a steep price for their activism. Ask Tim Tebow, Chris Kluwe, or Colin Kaepernick. I hope the folks who are advising this young man (like his older brother) keep that in mind.
The world is political enough. We don't need football camps to become social/political forums. Thankfully most of the young men at these events are focused on the task at hand (i.e. advancing their athletic and educational goals) instead of using their modicum of celebrity to help family members sell shirts to promote social issues.
I'd love to see this kid become a 2-sport star at OSU. But it's unlikely to happen in this era. Holtmann should be recruiting him as hard as Meyer.
Personal preference, mostly. But Ken Johnson was a terrific shot blocker. He averaged 12 pts, 7 boards, and 4 blocks his senior year. Dials averaged 15 points, 8 boards and 1 block his senior year (under Matta, not O'Brien).
I'd take Ken Johnson over Terence Dials in the O'Brien era.
Gary Bradds was AP POY in '63-'64 and averaged 30 pts and 13 boards. Pretty hard to leave him off the Fred Taylor squad.