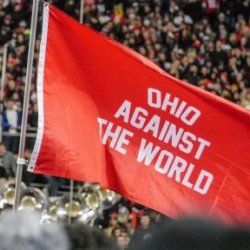 Clarky
---
Indianapolis, IN (via Indianapolis, IN)
MEMBER SINCE July 05, 2019
Favorites
COLLEGE FOOTBALL PLAYER: AJ Hawk / Braxton Miller
NFL TEAM: Bears
NHL TEAM: Blackhawks
NBA TEAM: Bulls
MLB TEAM: Yankees
SOCCER TEAM: Manchester City
Recent Activity
Running backs aren't fighting for extra yardage, and we can't win the LOS.
I understand that we lost key players on defense but I'm really disappointed in seeing all of these score predictions. I think people are giving the opposing teams too much credit and our defensive coaches/talent far too less credit.
I'm confident with who we have and what we have, apparently not only do the Buckeyes need to shock the world but they need to shock their own fans as well.
Go Buckeyes 52-10
I thought Adeleye was going to be a Buckeye until I saw the photos of him on Instagram wearing Alabama clothes while working out. I made a comment on a post about it and it was written off as if it was nothing and that the Adeleye de-commit rumors were a joke and just hyped up by Bama fans.
Leigh choosing to wear this and choosing to post that he wore it means more than you think. He's letting the world know where his mind is and putting it out there as a feeler.
This is actually huge and if we can get him to Columbus again we may just end up with him for good.
Yeah, you'll be a "fan" of his for about a week when you start to hear his other opinions.
Feel free to sign: https://www.change.org/p/the-big-ten-fire-kevin-warren-as-big-ten-commissioner?redirect=false
Even in this illustration, you can see the fear in Harbaugh's eyes.
Yeah you need to double down on this and let us know where you heard this. This is the first I've heard this rumor.
To be fair, I hope every other conference fails every time bowl season comes around.
Downvotes and upvotes entirely, same energy for both can be applied.
I'm still in the depression stages of the Fiesta Bowl man. With all this recent news, I have to talk about something else potentially constructive before I lose my mind.
Controversial topics could definitely make it tricky. Even then though, could make people think twice on upvoting or downvoting simply to be a troll towards even a controversial topic.
Perhaps the option could be decided to be either enabled or disabled once the thread is being made by the OP if they deem the subject is too touchy for transparency to that degree.
Wishful thinking I suppose.
To be fair, that already takes place. People will argue over anything for forever, but an option like this (in my opinion) could at least put any pettiness on display.
Fair opinion, definitely thought of that outcome. It certainly would either go down the path of making people act more honest or respectful, or the opposite in such as way as you described.
I'd like to believe, and give more credit, to my fellow Buckeyes that this wouldn't cause more problems but add solutions.
Nope, he's goin' to Bama. This was mentioned as a possibility a while ago but labeled as an over overreaction.
Unfortunately, on to the next.
2020 is really testing my patience...
Are you out of your mind? Browning was a beast last year.
Soo.. is there any real worth to the Tunmise Adeleye flip to Bama rumors/comments I've been seeing?
Attempted to scroll through and see if anyone has made any statements but hadn't seen anything.
Semifinals
1. Ohio State vs 4. Texas
2. USC vs 3. Notre Dame
Championship
1. Ohio Sate vs. 2 USC
Winner: The Good Guys
My ideal final involves (some) old school power houses and 0 SEC teams.
This almost feels impossible, not mad about it, but I have so many questions as to how this will work out in the end.
Words of advice: Do not venture out of the Broad Ripple strip area if you go there, do not stick around the Butler area after dark. You will get robbed or worse.
Indianapolis itself has a lot of good areas to go for bars/food. Just stick to that.
(I live in Indianapolis)
Columbus Bobcats (or Coyotes - top predators in Ohio, population wise)
I should have clarified, when I said "both will make the CFP" - he was saying Oregon and Ohio State will make the CFP. (Along with Clemson and Alabama.)