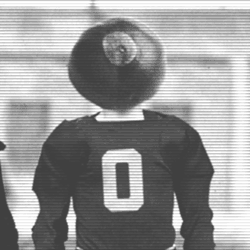 ClarkGrswld4
---
MEMBER SINCE August 30, 2014
Recent Activity
actually, it was $4.3 million he got on the rentention bonus in mid-January, not $150K
1. Yep, having his great personality on TV will do nothing but help us in recruiting
Big ask of a freshman but what if Paris Johnson blows everyone away and starts at LT...then does Munford go to RT and NPF gets left on the sideline again?
He gave us everything he had and more on Saturday...Buckeye legend as mentioned many times here.
I thought it was interesting the comments about coach Mick at the end...not that we didn't know already, but goes to show how important Marotti is to our success.
you would think so but Cardale did the same thing at Glenville to announce he was coming back
Justyn Ross has hands bigger than my head and he had both hands on the football without trying to pull it in and took 3 steps before it came loose. Should we start teaching our receivers to just catch the ball and hold it away from their body and then if it gets stripped say it was incomplete?
Well if we had gone for 2 and didnt get it then a touchdown now for us would have still made it a 1 score game. Now we can make it a 2 score game, let's go ahead and do that please
If this game doesn't define Ohio against the world then i dont know what does. Commmmme onnnnn boys!
Lots of missed opportunities but just keep the pedal to the metal and we'll be fine
13 year old the wisest person in the family lol
Thanks, i downloaded the app for 97.1 the fan and will airplay it to my sonos sound system then sync it up manually with the dvr broadcast. Just didnt know if there was another way i was unaware of.
prove it men, leave no doubt tomorrow night
its actually been that same way on the depth chart this entire season
I'm guessing PJ was not pleased about this and may have just sent him on his way
Taylor had 13 yards rushing in the 2nd half
Not what any of us envisioned at 7:59 tonight but what a 2nd half performance. What a 2nd half! Championship teams respond to adversity in a big way....
Our tackles are not good in pass pro but pretty good in run. Guards and Center are very good players
Ash was a good defensive backs coach for us so I'm sure he would do well again. I bet Texas Tom may be looking at him for his newly open DC position though
we can do that without him...he's better off healing some more and playing against Clemson IMO
really? I can't remember who we were playing but just a month ago he called 2 or 3 timeouts with less than a minute to go in the 1st half when one of our opponents was backed up to their goal line so we could get the ball back and score again...we were up a lot already
edit-it was against NW and we were up 28-3...he used all three timeouts to get the ball back and then Haubeil kicked that long FG
do you think Day will "run it up" if he gets the opportunity?
I was thinking that as well and hope it comes to fruition