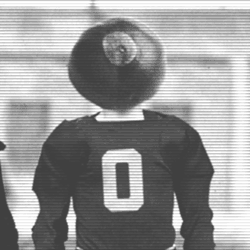 ClarkGrswld4
---
MEMBER SINCE August 30, 2014
Recent Activity
United knows Buckeye fans move the needle financially, surprised this hasn't been done up until now
that would be alright i guess lol
thats one hell of a bonus to get to the title game, they should definitely be motivated. I wonder if these are stackable, like if they win the B1G East, win the conf champ, make it to the playoff, etc, do they get them all?
I'll take him on the Bears lol
agreed but I think he was better than Nuerenberger which makes me wonder why he wasn't the starter before Sean got hurt to begin with. Not as extreme but kind of a Brendan White situation if you ask me
let's keep the ball rolling and improve our punt return game coach. glad to hear it will still be a priority
it is all kind of pointless until they sign the NLI anyway...just because a guy commits, it isn't as if other schools stop recruiting them
this guy seems awesome for OSU's program
is it August 31st yet?? I'm jacked up and love what I'm hearing from this coaching staff
This kid seems to have the short man's syndrome...cocky yet self conscious all at the same time. I'm good with him leaving, starting twitter wars with your potential teammate is not the kind of leadership I want from our quarterback.
people don't usually move from the NFL to College for the same position though
has Taver Johnson already been let go? I must have missed that news but this article makes it seem that way
https://lettermenrow.com/scarlet-sunrise/ohio-state-football-staff-coaching-hires/
I'd like to have another Mike Nugent, I miss that guy
who knows what will happen with the coaching changes but this board was rife with #firefickell a few years ago...funny how things work out sometimes
why is that? Stover has already signed
doesn't affect his legacy but it was nice to see him get his ass kicked for once even though i don't like clemson either
they never list odds as what they think will happen, its because so many dumb scUM fans will bet them at that crappy price anyway
i have 2 words....Thank You....will always be a legendary Buckeye
speaking of which, wouldn't you love to just job shadow Ryan Day for the past week and until he completes his staff? I bet it is nuts how fast and furious he's working
replace Taver with Corey Raymond and call it a Day(pun intended)
not familiar with him but if he's great, lets go get him