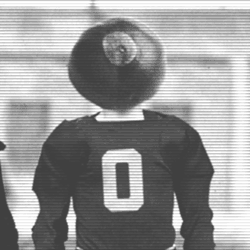 ClarkGrswld4
---
MEMBER SINCE August 30, 2014
Recent Activity
Does Chrisman have the yips or something? He's been awful for about 3 games now
this one is by far the most concerning to me
?? Detroit's stadium is indoors
Essentially, but I don't believe the school actually has any say in it. I'm pretty sure it is the committee or whomever that decides what they THINK is more advantageous for the #1 seed. It is plausible in the current scenario that LSU may actually prefer Atlanta over Glendale despite Georgia's close proximity because it is shorter travel for themselves and their fans. If LSU had that mindset, they would still go to Glendale.
They aren't pre-determined. It depends on who #1 and #4 are. The #1 team plays in whichever game is more geographically advantageous for them vs their opponent. For example if OSU was 1 and Georgia was 4, it would be a disadvantage for us to play Georgia in their backyard so that matchup would go to Glendale.
ugh, i just want a final answer dammit!
because you can't advance an onside kick, you can only recover it
not even close to the worst P5 team...2015 Kansas was horrid and Duke didn't win a single game for 2 full years in the early 2000's
they are pondering whether to force Rutgers to forfeit or not....
we are truly blessed to have him
didn't seem to bother Olave
I'm surprised they haven't tried to groom Jameson Williams for this role, or maybe they've been trying already
Hoak has been an "OR" all year
he's a pretty sure thing to be a top 5 draft pick...whether he should be or not is debateable
as Ben Affleck said in Boiler Room-"they say money can't buy happiness? Look at the f'n smile on my face, ear to ear baby!"
to answer the question for me though, multiple 7 digits at a minimum, 8 digits and bye bye football
Who do you see as the next up and coming linebacker at OSU? I really like what I've seen from Dallas Gant in his limited opportunities
Dallas Gant has elite speed for a LB, he was great in mop up duty
Why do people like Saunders so much? He's literally never done anything for us in a meaningful moment.
Gant is very fast, i like
Me either and I'll go one step further...we upgraded at the head coaching level
love the podcast, he does a great job
beating Clemson in the semis and Bama in the final...or two SEC teams
I don't feel great about Haubeil. The kicker at OSU should not be missing 30-39 yard field goals hardly ever and he's missed two of them already this year.
he's really improved a lot and I also agree his ceiling is very high. There has been a handful of instances in coverage downfield this year where he had no idea where the ball was though