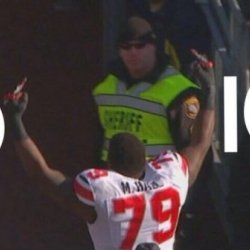 ckennard22
---
Columbus, OH (via Franklin, OH)
MEMBER SINCE November 08, 2014
Favorites
SPORTS MOMENT: Being on the field for Urban Meyer's first Michigan game as head coach
COLLEGE FOOTBALL PLAYER: Braxton Miller
COLLEGE BASKETBALL PLAYER: Aaron Craft
NFL TEAM: Cleveland Browns
NBA TEAM: Cleveland Cavaliers
MLB TEAM: New York Yankees
SOCCER TEAM: Team USA
Recent Activity
Your sacrifice is greatly appreciated. No one ever sees the behind-the-scenes heroes.
The ceiling: Urban Meyer
The floor: 6-6
I'll probably get killed here, but to me it's Lee Corso. I watch Gameday religiously, and yes I ignore the certain bias ESPN has, but to me it's going to be different to me when Corso isn't throwing on the headgear. Just my personal opinion.
And if I know Cincy fans like I think I do (lived in the area for the first 20 years of my life), they'll say the officials screwed them after a 42-14 curb-stomping. No team in Cincinnati has legitimately lost a game in over 100 years. They've always gotten screwed.
Ohio State after Ryan Day wins a couple national titles and takes a HC job in the NFL:
HC - Luke Fickell (learned and grown a ton since 11)
OC - Brian Hartline
DC - Marcus Freeman
Beals gets fired when Gene remembers we have a baseball team
Nothing happened. I remember nothing that happened that day.
Now this hire makes sense.
Well, my 2 favorite TTUN coaches are available for college head coaching positions. Mr. Rich Rod, and Mr. Brady Hoke. Either of those would be welcomed back with open arms by me. Hell, I'd even consider springing for a parade for them.
I don't care who loves him or hates him. He's gone and we're better for it and that's what matters.
Thank you sweet baby Jesus! A win-win. He makes lifechanging money and we get him off the field
So Kingsbury obviously still wants to ignore the defensive side of the ball.
My assessment: He is good at football. My follow-up assessment: WOOOOOOOOOOOOOOOOOOOOOOOOOOOOOOOOOOOOO!!!!!!!!!!!!!!!!!!!!!!!!!!!!!!!!!!!!!!!!!!!!!!!!!!!!!!!!!
Don't let the door hit ya where the good lord split ya. His piss poor secondary will be perfect in the Big 12.
If I could give you 1,000,000 upvotes here I would
I really hope he goes pro. He was a liability this year. Any time there was a big play in the passing game, dude was always the one getting beat.
My wife and I got married on September 15th of this year which was the week of the TCU game. We had a TV set up with the game on.
That looks like the Horseshoe of liquor stores
If we're looking for quality, I say add them and drop some of the dead weight we have in the conference.
I was actually on the field for that one. I worked for the athletic video services office in college. It was incredible. That place EXPLODED at the end