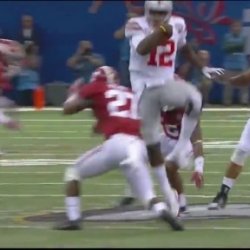 cjzarecki
---
Michigan (via Toledo, OH)
Member since 15 July 2012 | Blog
Pharmacy Student. Fraternity Gentleman. Buckeyes, Buckeys, Buckeyes. USA Hockey.
Favorites
SPORTS MOMENT: Kenny Guiton 2012 vs. Purdue.
COLLEGE BASKETBALL PLAYER: Bob Knight
NFL TEAM: Not the Browns.
NHL TEAM: Red Wings
MLB TEAM: Detroit Tigers
SOCCER TEAM: The United States of America
Recent Activity
Not gonna dv this, but shame on you for comparing our 02 team to this years Iowa squad.
"Ya kiddin' me?" - Jim Mora
Something to think about:
a few years back Alabama (who didn't win the sec) got into the bcs title game and won against LSU.
I don't see OSU making into the 4 team spot. However, crazier things have happened. It will take a couple of top 4 losses to even have a chance at seeing it.
I'm sorry, but there's is very little that is "unique" about harbaughs offense. I've watched Michigan all year and their "big" wins; aka dismantling of Rutgers .. Aka a win over Rutgers, every team under the sun with decent talent should do this. Their stats are grossly inflated by beating mediocre teams; similar to what happened with Brady Hoke when he entered in his first years: "Michigans back!! Look at this Michigan scheme". YAAAAWWWWWNNNNN. Down vote this, fine, there's no reason for me to flinch and think this team is something different from what Brady Hoke ever put on he Field, there's nothing, absolutely nothing on their resume other than their super bowl winning losing coach. You'll see a basketful of trick plays from Michigan because they know their offense won't be able to win against us straight up.
Go Buckeyes ... I expect a blowout, I have no reason to believe otherwise. There's no way Ohio State will have another performance like last week; Urban is too good to let that happen.
I was searching and searching for a player response that was along the lines of "doesn't _atter _Ichigan is next week" ... However losing a ga_e which likely puts us out of playoff contention is understandable... but...
The issue with the offense wasn't Cardale Jones. IMO. Coming off of two 275+ yard pass games and had a mediocre couple of quarters against Penn State. That was reason enough to make a change in my mind. But I have faith in Meyer that he's doing the right thing.
THE ILLUMINATI !! THEY'RE COMING FOR THE BUCKEYES!!!! IT WAS FORETOLD !!!
Yeah, well... it sucks to suck.
Yeah... whatever, pal. Thad 4 life.
Due to the constant nights spent with a bottle of Jergens and 2014 highlight vids on replay, I am also in need of surgery on my wrists..
#BuckeyeBationStation
http://www.elevenwarriors.com/blogs/catch-5/defining-oversigning-part-2
They flipped that Iowa commit, program saver.
JUST HAD AN #AMAIZING PHONE CALL ! ! ! JIMMY JOHNS IS ON THE WAYYY! ! !
Battery life on 4% tells you all you need to know...
That is indeed reading very far into that lol
Upvote for your realistic opinions, although I don't see it happening. If he chooses michigan sobeit .. We have Kareem Walker in the 2016 class who is for sure a RB who will see the field day one, the kid is an absolute monster.
Well.. shit.. And stuff..
If worst comes to the absolute worst .. Ttun isn't going to beat us with Weber if they somehow pull it off. That's my opinion and silver lining if that happens..