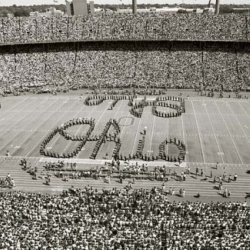 Cincy_Bucks
Ohio State (via Cincinnati)
MEMBER SINCE November 30, 2014
Favorites
SPORTS MOMENT: OSU winning the 2015 National Championship.
COLLEGE FOOTBALL PLAYER: Chris Gamble
COLLEGE BASKETBALL PLAYER: D'Angelo Russell
NFL TEAM: Bengals
NBA TEAM: Pacers
SOCCER TEAM: USMNT/Messi
Recent Activity
I think JT has dethroned DLo as my all-time favorite Basketbucks player. I'm gonna miss this guy so much and I'm so glad he gets to experience a season like this after all the crap he's had to endure the past couple of years.
I thought Boals was pretty good. It was all the others except maybe Jent that were the problem.
Man this team just keeps proving me wrong and I couldn't be happier about it!
I just think Purdue has too many weapons that you can't stop them consistently and it also really hurts not having Kam. Unless Andre or Musa really step up tonight, I don't think we have much of a chance.
Purdue - 79
Ohio State - 71
Definitely...on the road against a competitive team. Will only help us once March comes around.
This team just showed they can win even when Keita has a bit of an off night.
I get the other side of the argument that you should play for your brothers but I just try to envision what I would do in that situation and I would probably sit out if there was a lot money on the line.
I would feel different if a player sits out The Game but that's a different situation. It's still the regular season but a bowl game, in my eyes, is a celebration and reward for the players who had to endure the regular season.
I don't know what being a millennial has to do with it but you never really know the financial situation that some of these players and their families are in. Maybe they can't afford to pass up first round money.
I don't know but if so good for him. I would certainly regret playing if an injury in a bowl game cost me money on a rookie contract.
Go get paid. I think we all remember what happened to Jaylon Smith a few years ago in the Fiesta Bowl.
I'd put money on Alabama personally.
Hard to win without your starting center...
Hey guys, how about we give Holtmann some time to clean up the mess that Thad left. Butler was favored by one point in this game anyway so it's not like this result wasn't expected at all. This team is already better than last year's and there will be some growing pains along the way because this team isn't used to winning. Obviously we made plenty of mistakes today that could have been avoided but it's still early in the season and this team will be better when March comes.
There's usually always a live stream on YouTube.
https://www.youtube.com/watch?v=Gb9FiXgZGNA
The returner still has to be aware of how close he is to the sideline as well. And there are other factors involved like wind; it's not like the ball is going to end up in the same spot every time but ideally anywhere between 0-10 yard line between the side hash and the sideline. As for returning to the wide side of the field, the coverage unit is supposed to have that blocked off and contained with all the cover guys staying in their lanes. If you watch the kick return, #19 over pursued too far inside and that was the hole that Barkley took to break free so if executed properly the Mortar kick can be a pretty good advantage.
Also, it's not like the Mortar kick has sucked consistently for OSU, all of last year and the beginning of this year we were frequently pinning our opponents inside the 20 but for whatever reason (and I think the main thing is guys not staying in their lanes) our kickoff unit has crashed and burned the past few weeks.
As for the risk/reward, of course there will be increased risk since there's also the chance for increased reward but since OSU should theoretically have the more skilled kickoff team 9 times out of 10, that risk should be lessened.
Not really. The point is to force the returner to make a quick decision if he is going to let it bounce or catch it. It's also supposed to be kicked high to allow coverage to get down there quicker. If the placement is on point and arch of the ball is high enough, it doesn't matter if the returner knows it's coming because the coverage is already in their face and almost half the field is eliminated.
The "Mortar" kick is proven to be a superior kickoff compared to just going for a touchback. The problem with the kickoff is that they overpursue and don't stay in their lanes. Nuernberger placed it perfectly on the opening kick; it's just that the coverage didn't contain on the outside.
For a further explanation on the Mortar kick: http://www.sharpfootballanalysis.com/blog/2016/why-mortar-kicks-can-win-games-in-2016