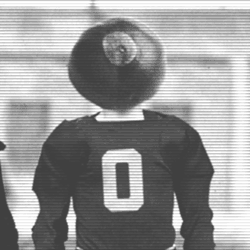 CincyBuck87
---
MEMBER SINCE August 05, 2019
Recent Activity
Makes no sense whatsoever.
This is true. While I shake my head at ridiculous this thread is, I can't stop refreshing it.
Upvoted but also have to compliment. Awesome.
Agree. This year's LSU is last year's MSU.
Interesting thought, Freeman being UC HC. Counter thought: Does UC go after Coombs when Fickel leaves? I don't have an opinion, honest question.
Speaking of Brent Venables, did anyone see him jawing with Trey Sermon after one of runs? Curious what that was about.
Herbie didn't help the narrative by repeatedly saying that Clemson thought they could exploit Wade. Sometimes the media speaks things into existence.
Great list, missed a big one:
Stock Way Down: Brent Venables.

Go Bucks!
Urb drawing this thing to twist the knife in Herman. Payback is a bitch. Savage.
What else is he gonna say? "Yup, Herbie is right."
Dude, relax. He didn't say he was anti-science. He simply said he had to laugh at this process. No one can deny this has been an evolving, confusing, learning experience. Stop looking for a fight.
BS. Harbaugh may be a short timer but this blog is as big a piece of trash as the UM football program. There are multiple references to road bloacks and the administration not being on the same page but no examples. What are the road blocks? Not allowed to cover receivers?
He can't get some kids because he is a goofball. No evidence or examples are provided to suggest that the administration is hindering recruiting or preventing greatness.
It is also one of the worst written blogs I have seen. Among the gems: "I'd love to have better insight for you, but this is wear things appear to stand right now." This guy is a clown. I would pay more attention to Sir Yacht.
The apology by Ryan Day was a set up. That way, when he hangs 100 on Michigan, there will be no apology. People will make note of that. Silent assassin. He is always thinking three moves ahead.
A student athlete following team protocols is much less likely to contract COVID than your average knucklehead hanging around High Street. So this is good news! Save lives, get them to the Woody! Let them play!
How about my son not telling me that his profs are lazy and mailing it in? Impactful profs are the minority at most large state schools.
I do. I just think they could do a better job with more accountability and less tenure.
Students and families of student athletes? 100% on board with that. Staff? Maybe. Faculty? Absolutely not. Those lazy cats have been stealing from the University for decades. Screw them.
I love the Shoe. Big games in the Shoe can get no bigger. Great big game atmosphere.

That said, they ruined the classic look in the 90s when they expanded and wrapped the classic Pantheon style with a plastic looking shell. For the life of me, I can't imagine who thought that was aesthetically pleasing. Otherwise, awesome.