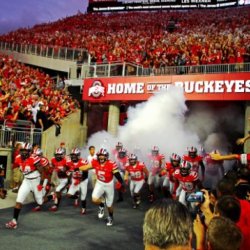 Cincinnati Buckeye
from Cincinnati
Member since 02 April 2013 | Blog
Born and raised a Buckeye fan
Favorites
SPORTS MOMENT: Watching Cie Grant come off the edge and ending the 2002 National Championship and watching 12 Gauge bring another title home
COLLEGE FOOTBALL PLAYER: Mike Nugent, Troy Smith, Carlos Hyde
COLLEGE BASKETBALL PLAYER: Brent Darby, Sconnie Penn, Jared Sullinger
NFL TEAM: Cleveland Browns
NHL TEAM: Columbus Blue Jackets
NBA TEAM: Cavaliers
MLB TEAM: Cincinnati Reds
SOCCER TEAM: Everton
Recent Activity
I feel like this is just a big joke...timing seems too off especially with a fight scheduled.
Seems like Maryland is really starting to put a fence around the area with Kaindoh and possibly Young trending toward them. Ash just got himself two highly rated players today too. The gap between the East and the West seems to be growing by the day...
It had to be real hard for Smith to hold in those feelings for troll Mark May
I cannot agree with this enough!! The ONLY time the Buckeyes get coverage in the papers or outlets is when they get hit with a big scandal or a player does something stupid. Things like the first pitch are just another excuse for them to incite the local "UC fans" (they can't even show up to support their team).
"They never recognize UC players," "When are the Blue Jackets going to host UC player," "This is Cincinnati not Columbus." The cycle never ends!
Glad I get to see Darron Lee throw it out tomorrow night!
It still blows my mind that more and more kids today are committing and/or signing with schools that they haven't even visited yet. I understand the money factor but that shows the influence that coaches like Urban and Thad have..
I am pretty sure that the losing team from the Spring Game has to at least re mulch the grove which I think would really help it out.
He coached the defense but I still think this is a win-win for both sides.
He was due to get a HC job as I have always felt like he was our top assistant. This could work out well for both parties though as he finally gets his shot and Thad can use this as an opportunity to inject some more life into the program. Congrats Jeff!
Its going to be very interesting to see which DL Urban values the most. We got so many highly rated guys interested in us and cannot take everyone. I just cannot believe we could say sorry to guys like Josh King.
This cannot hurt the Buckeyes already extremely high chances of landing Sibley either
That is a picture of Ivey correct? That would certainly qualify as a signing day surprise!! Urban special.
I totally agree I think sometimes my view of this team gets clouded by the lack of progression from the seniors. The future is very bright its just a shame that D'Angelo isn't on one of those teams like 2011 that complimented a great senior class with strong freshman like DeShaun and Sully.
It really is a shame that we are wasting our year with him with a team that really isn't that great. It would have been amazing to see the senior class grow and compliment his talent.
Everybody is mentioning Johnnie Dixon and I completely agree if he is healthy his talent will be on full display but one guy that quietly got plenty of snaps was Noah Brown. I would love to see him build off last seasons mainly blocking role and be a bigger part of the offense after getting some big time snaps in the post season run. I also am very excited to see both Marshon Lattimore & Erick Smith. Erick Smith was a hard hitting contributor on special teams and played very well ableit mostly in garbage or mop up time; and it was a huge shame that Lattimore had that hamstring injury if he is healthy that duo will be special in the back end.