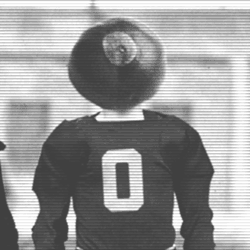 CieGrant_Blitz
---
MEMBER SINCE January 08, 2015
OSU Football fan for as long as I can remember. Old enough to clearly recall every season since the early 90s. The best game I ever attended was against TTUN at the Shoe in '02. The worst game I ever attended was V Tech in '14 but man did it make the rest of the season that much sweeter!
Recent Activity
In most cases non competes are not enforceable. There is no legal recourse for your employer.
Totally agree. I always tell UF fans (travel to FL a lot for work) the difference btwn you and us is our program is much bigger than any one coach. They bitched endlessly after Spurrier left and then obviously the Urban stuff is well documented.
Word is Jaelen Gill is a Parris clone and can absolutely fly also... Also, I'd venture a guess Olave runs in the 4.4s and can always get faster in Coach Mick's program.
No one inherits a perfect a situation if your predecessor is fired. Even Urban Meyer inherited a 6-7 team with a bowl ban. Fleck has done little to prove himself at this point in MN and to shit on the regime before you no matter how bad or inept they were is always wrong. Take the high road and focus on the future.
True but Fleck inherited a team that went 9-4 the year prior and he's acting like they were 0-12 and didn't know how to line up or go to class before he got there. And he's sub .500 in 2 years overall and in B1G play.
Yep it seems like their stupid computer model likes Michigan because they pound bad teams to prop up their stats... but then lose every big game under Harbaugh like clock work.
Interesting. Thanks for the intel... Upon further review looks like his family moved and he may wind up going to IMG for his SR year:
https://www.azcentral.com/story/sports/high-school/2018/11/11/darvon-hubbard-transfers-chaparral-willow-canyon/1967329002/
Curious as to why you think Hubbard is out? He is HS teammates w/ Miller, right?
Would have 100% agreed with you until this last season. Tom Brady got tapped on the shoulder in AFC championship and got a roughing the passer called. Clay Matthews was flagged twice for simply sacking the QB. The league is systematically taking away the ability of the defense to rough up QBs, every year getting a little worse.
Murray only ran 140 times in 14 games or 10 per game. College game includes sacks and scrambles as rushes and considering he attempted 377 passes I don't think the designed run needs to be a big part of his game in NFL. For reference JT Barrett had 3 seasons of 165+ rushes with a career high of 205.
Agree he is not the next Mahomes but I believe you will be proven wrong about his arm strength. Dude has a flat out rifle hence why he was such a highly coveted 5 tool prospect in baseball. He will grade out with a stronger arm than mayfield in pre draft measureables albeit likely not nearly as accurate.
Exactly. And people need to stop with the Big 12 nonsense. The MVP of the league was just in that conference 2 years ago and Baker looked pretty good as a rookie while SEC QBs have made little recent impact in NFL.
I would have agreed 5 years ago but between the rules of the game protecting QBs and the offenses being run now, a QB of any shape, size or age can now thrive in NFL.
Not to dwell on the past but losing Little Bear kept us out of the playoffs and with him healthy we would've matched up OK with anyone in the field. Not saying we would have won it but we were robbed of a shot at it.
I think it's fine if you trust your defensive staff and don't need to be fully immersed on that side of the ball. Obviously its been a double edged sword for OU as Riley calls plays, they score a ton but can't stop anyone... Lots of good NFL teams have HC calling plays like Saints, Rams and Chiefs all playing this weekend.
Exactly. The biggest selling point for Kingsbury to the NFL was probably Patrick Mahomes. Hats off to Andy Reid for evolving his offensive philosophy too- guy deserves to finally win a SB.
Not if he is able to hire a great DC. The NFL is different in that other than Belichick and maybe Sean Payton there really aren't any CEO type coaches anymore. You're either an offensive guy or defensive guy... look at the offensive guys paired w/ great DCs and you see a lot of success-- Matt Nagy + Vic Fangio, McVay + Wade Phillips, Doug Pederson + Jim Schwartz, Frank Reich + Matt Eberflus in Indy....
The blowout was surprising but Bama giving up 44 should not have been. Outside of Quinnen Williams their D was hot garbage down the stretch- Gerogia, OU and Clemson all put up big yardage/points against them. They feasted on terrible SEC West offenses who lose to the myth of Alabama before even stepping on the field.
Exactly. People label it conservative but nothing better than breaking a team's will by pounding it right down their throat when everyone expects it.
Its been rare under Meyer, agreed. But not really at OSU... Even then, we've had Dobbins, Olave, Jordan, Bosa's, Noah Spence and a few others have major contributions as true freshman in the Meyer era... I suspect Day will be a bit less loyal to upperclassmen (how could he not be?)
And Rodgers new contract is almost fully guaranteed through I believe 2023. There is no way they are going to invest in a 1st round QB for him to sit the bench the next 5 years.
He's certainly loyal to a fault so I'll agree on the point of guys continuing to get PT when they should likely be pulled but a C to C+ game coach is laughable. You don't get the highest winning pct in modern football by being an average game coach. Georgia has recruited at the same level or better than us and Kirby Smart already has more losses (10) in 3 years than Urban did in 7 years at OSU.
As long as we keep Miller in next years class, we're in good position at QB. With the early hype coming out about Baldwin in practice and Miller looking like a big time passer, Mathis was possibly the odd man out regardless of Fields transferring in or not.
If some of their juniors in Secondary and Bush declare for the draft, they might legitimately be terrible next year on D as their D line was already not returning much.
Nick Saban's bowl record is not 10-4.. He's been a college head coach 23 years and including the playoff championship games he is 13-9. Wikipedia is wrong.