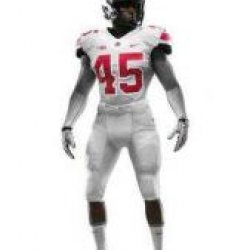 CHUCKMEGA
---
Horseheads, NY (via Horseheads, NY)
Member since 04 December 2013 | Blog
I live in upstate NY but I was born and raised a Buckeye Fan and my son is being raised the same way.
Favorites
SPORTS MOMENT: Ohio State Winning the 2002 National Championship and Krenzel's pass to Michael Jenkins verse Purdue.
COLLEGE FOOTBALL PLAYER: Chris Spielman
COLLEGE BASKETBALL PLAYER: Allen Iverson and Aaron Craft
NFL TEAM: Raiders
NHL TEAM: Penguins
NBA TEAM: Sixers
MLB TEAM: Indians
SOCCER TEAM: no
Recent Activity
what ever happened to Jashon Cornell? I really liked him out of high school.
What is the possibility of moving Malcolm Pridgeon to RT and Prince to guard?
I am going to the Cornell Ohio State match this weekend are Sndyer and Stieber going to be there ?
Is there any chance we could steal Eric Morris away from Texas Tech
think Urban puts Samuel back at running back. First, I think he wants and experience at the position. Just because a player was a 4 star out of high school is no exception for game experience. I don't believe he will have two freshman carrying the load especially with the trip to Norman coming up soon. Also, with Samuel's speed he is the best home run hitter on the team. This would compliment Weber perfectly and it's a lot easier giving him touches at RB. Finally, there is already experience at HB. I think you get as much experience as you can on the field and hope Dontre and Parris can step it up.
Tuf Borland DNP still had 20 tackles, 2 Sacks.
I see your point however I think he will be are most explosive player nex year. At RB he would see more touches and more opportunities for big plays. Plus with him and Weber it would almost feel like a Bush/White combo.
I think he starts at RB next year. He is a threat everytime to take it to the house any time he touches the ball. Also, I think fits better in the spread read and with JT better then Weber does.. I do think Weber and one of the Freshman will see reps and to keep the position fresh but I love Sameuel's speed and burst.
Man no stats for Borland I was looking forward to Reading 36 tackles in the first quarter
This is sad news. He seems like a great kid. He switched db positions without complaining and is very polished.
I agree. This is also the reason why we must continue to land 2-3 DT a year. ScUM is not going to change from a power running team and signing big o-lineman
27 tackles are you serious? BOOM!!!!
I thought Josh Perry looked like a liability in pass coverage. However, this is the first game and he will fix it
With the graduation of Evan Spencer and now the unfortunate injury to Noah are the Bucks worried about the setting the edge? Mike Thomas is a beast but will the oposite reciever Jalin, Johnny, Terry be physical enough to be an effective run blocker?
Completely agree I can't believe he got slighted
I loved when he stuck Kurt Kittner and his head bounced off the hard turf knocking him out
I totallay agree. I thinkg what Sparty is doing and signing a boat load of defensive lineman is in preperation for this. I would love the Bucks to get some Hankins sized DT to stop TTUN power run plans
I think Schutt and Hale are the most important. I don't care what stats they put up but they need to keep busy and keep lose lineman off Raekwon.
Every time I think the Buckeyes are going to roll to a championship, 1998 and 2006, i end up crying in my cheerios. So, maybe like last year I will expect a few losses and see how it turns out!
He reminds me of Devin Funchess
Is it just me or is everyone just concerned about replacing Devin Smith and not Evan Spencer. Without Spencer's run blocking I don't think OSU would have beat Bama. OSU young WR's have speed but who besides the freakish Mike Thomas will be able to crack back an outside LB and knock him on his but. Also, with KJ Hill not being here in the spring I don't see him contributing that much on O. He is going to need to earn his bones on special teams.
With Harbaugh up north I imagine one of the first things he is going to do is sure up their offensive line. I hope besides Gary, OSU could land a DT with some gerth similar to Big Hank. To help against the run and keep those lineman off our young stud linebackers.
Does anyone else feel osu would be better on passing situations to have bell and burrows in there instead of Powell?
Does anyone else feel like Tyvis Powell is a liability. I know he got an interception that was thrown right at him and yes he had the play of the game againt scUM last year but in the last two weeks it looks like he is a liability in the run game and is scared to hit these bigger backs? He had the angle on Coleaman 90 yard and pulled up.