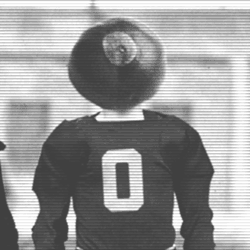 Chuckeye Buck
---
MEMBER SINCE September 12, 2017
Recent Activity
Is this a reply to my post?
Two words...……..who cares?
Everyone is missing something here. The motivation for the "whistle blower "was not any single game ie. Maryland or st. Penn etc. Said whistle blower has been watching this season progress and this jugernaut team absolutely destroying everyone, coupled with Chase Young getting all of the Heisman talk and finally with four regular season games left decided, well watch this folks, we'll show them. Whoever it was thought they could single handedly derail our NC chances.
I get tired of hearing talking heads say OSU hasn't played anybody yet...……..guess what....we ain't gonna!!
My question is why are we calling this an appeal when the NCAA hasn't even made an initial ruling yet?
I was referring to 419's comment about Chase getting millions either way so he didn't give a shit what happened.
Screen name checks out......you are very quick at spewing shit out of your mouth!!
Two years from now people will be getting loans from college players of Chase Young's stature...….
Q....you are missing Worthingtons point.....you are talking about the results after the fact. He is talking about the mind-set of 18-20 year olds going into a game after they just lost the team leader whom they have looked up to for a couple years and he lets them down.
If this is the case then what the Fuck happened to his leadership role in this new found brotherhood?? I'm going to reserve what I would like to say right now for future threads once more details are revealed.
You saw that USC just hired Mike Bohn out of Cinci as AD right?...…….after Urbs turns them down I think Lukes gonna get a big promotion.
OMG Harley...….that S&M album is the best live album ever made. It's in my top 5 album of all time and I've seen them all. Check out Outlaw Torn off of that album.
Another one bites the Dust
Thanks 7. For me not much analysis is needed. I just think that Minni's record so far has been smoke & mirrors. Sure they've looked good lately against some doormat B1G teams that have been beaten to a pulp all season by the top teams but look at their first four games. They have had a beneficial schedule that has allowed them to have an inflated national persona but I think it is about to come crashing to the ground. This may not be your father's Minnesota but it is still your mother's Minnesota. Just my $.02
Explain what....Penn St., Northwestern, Iowa, Wisconsin. 1 win and 3 losses. (I'll let you decide which is the win/s)
Don't waste your $.....Gophers are going 1-3 the rest of the way
I would like Zach to get on here and clarify. thanks
Jack Miller is a sniper...love how he leads receivers to open spots with his throws. He also threw a couple in the air at least 50 yards in those highlights with what appeared to be relative ease. His arm strength and footwork remind me of John Elway.
Oh wait, they have Keandre Jones??…...so we only have the first 84 picks now
Well...…..you are the Waterboy so.....that's a little different than being in the program
I've noticed something about JF when he runs and I suspect it is something he has been taught or figured out himself along the way. At the end of the run when he knows it's time to end it he almost always gets his legs up off of the ground usually by diving forward or just dropping. This way he doesn't have a foot planted in the turf, very important to avoid serious leg injuries. I still cringe though.
If you want a preview of what Justin Fields will look like next year compared to this year just look at Joe Burrow's first year at LSU compared to this year. Then compare this year Justin to last year Burrow. That is going to be something next year folks.
DJ just looks like he'd be a fun dude to hang with
I think the OP's point is he won't even be an NFL prospect because he won't be able to start until his senior year, if then, and to be honest I happen to agree with what he is saying. +1