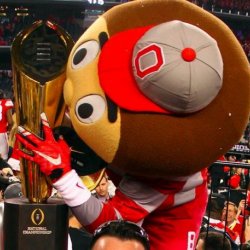 ChristopherBarnhouse
---
Orlando, FL (via Massillon, OH)
MEMBER SINCE May 01, 2014
Recent Activity
"My mother raised me to be a Buckeye."
Smart mom.
Catch on 4th down in Maryland. Booyah !
Hafley isn't coaching at Utah either....
Why would anyone transfer to Rutgers ??
":Ohio State listed wide receiver Kamryn Babb, safety Ronnie Hickman and defensive tackle Ronnie Hickman as unavailable"
Ronnie Hickman a clone ? Twins ?
It's not the strongest strength of schedule poll, it's the best team poll. LSU defense is good, but not great. I have them at #3 behind OSU and Clemson.
ESPN has 3 Buckeyes in the top 6 of their Heisman watch ! Good times.
I don't think Meyer coaches again. He has a physical issue with his brain that isn't going away. He left because he couldn't tell a recruit he was going to be still coaching in 4 years. That hasn't changed. I don't see a top tier program hiring him.
I hope they find a cure for him that will allow him to return to coaching, but that doesn't seem realistic.
This poll needs to go. It doesn't affect anything and the coaches aren't the one's filling out the poll.
It's the "Alabama and Georgia both in the playoffs" nonsense that irks me.
Remember a few years ago and some clown named Zach Smith was our WR coach ? My how things have changed !
Facebook feed says "Court Couch"...
Nice ! WR room has made some major strides over the last couple years, looks like the momentum is going strong !
"Corcoran said his recruitment has come down to Oklahoma, Nebraska, Kansas State and Kansas."
Kansas ? Really ?? He must _really_ want to stay close to home...
I disagree. Like I said, it's not that hard. He wasn't boxed into a corner, he was chosen to speak to the media and he gave a cocky answer. If you respect your opponent, then it's not a matter of _saying_ the right thing, the right thing just gets said naturally.
Also, it betrays his mindset. If you think you are so good as you can guarantee a win, then you don't have enough respect for the opponent. And if you don't have enough respect for an opponent, then you don't practice like you could lose the game. And if you don't practice like you could lose the game, you will.
Sorry Higdon, the only correct response is to say something along the lines of : great respect for our opponent, alot of confidence in my teammates, going to give %110, etc. It's not that hard...
Another roster spot opens up !
"allowing more points per game (25.5) and yards per game (403.4) than any previous season in school history"
And we still ended up 13-1 and ranked #3. Crazy.
So Georgia ahead of Texas in "coach" poll. I guess the assistants who fill these out didn't watch the bowl games ??? Or maybe they are so full of themselves as to stick with their bias and ignore reality...
I lost all respect for Herbie after his "Georgia should be in the playoffs because they lost to Alabama !" nonsense.
Working at ESPN has rotted his brain.
Wait... Oklahoma has a defense ?? Who knew !
Joe Tessitore, Booger McFarland, Jason Witten and Todd McShay.
Hard pass. Those guys are clowns.
They still have a shot. If they are better, they will play.