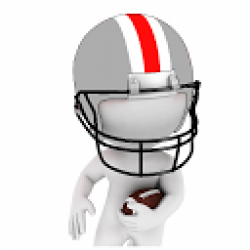 chris
---
South Carolina
MEMBER SINCE November 21, 2015
Went to ohio state for 11 years from out of state. Earned four degrees, but my Fandom is the most important thing I left with.
Favorites
SPORTS MOMENT: Rushing the field after we beat TTUN to go to the Fiesta bowl against whiny Miami
COLLEGE FOOTBALL PLAYER: Braxton Miller
COLLEGE BASKETBALL PLAYER: Conley
NFL TEAM: Cowboys fan...
NHL TEAM: Hockey?
NBA TEAM: Memphis - Go Conley!
MLB TEAM: None
SOCCER TEAM: Leicester City
Recent Activity
"get your mid-November snowy outdoor ice cream cones ready"
I wonder how honest the perspective is versus how much of it is built in the bias of resentment surrounding how PJ is trying to rebuild the program. I don't know much about how PJ treats his own guys, but clearly Jerry doesn't like how his former players were getting the short end of the stick. Regardless, I would think that a new coach should use just about whatever tactic they need to (within reason) so that they can get that boat rowing in the right direction - or whatever non-Fleckian analogy you'd prefer.
lol, nothing like that - was gonna meme him over Teddy Valentine.
does anyone know the name of the ref that gave them the ball after they rolled it out of bounds?
I guess things are going so poorly around ole Rocky Top that all they can really do is imagine great talent in their own backyard.
Unless we presume we have 2 (or more) transferring out still to come... which would be par for the course it would seem.
Yeah, I agree with analytical guy. any news on that front, though, btw?
I think so. I think that it also has to do with Kaleb having to play less aggressively after early foul trouble. He seems to be playing full motor at the start of every half and then has to restrain himself.
It feels right, but neither of them are smart enough to pull that off.
No problem - I like breaking down each half into 3 sections like this. I usually do it whenever I watch and send a group text to a few friends about it. I cannot guarantee it is fully accurate as I probably screw up and count a middle 10 basket toward the first or last 5 or something like that.
Game breakdown: We are strong in the opening 5 minutes of a half (24-9) and suck in the middle 10 minutes (16-28). We tied (15-15) in the last 5 minutes of each half. 1st half: 1st 5 minutes: 11-2 Middle 10: 5-12 (we scored 5 points in 10 minutes) Last 5: 7-7 2nd half: 1st 5: 13-7 Middle 10: 11-16 Last 5: 8-8 55-52 F
Would not load in English on ESPN app... watching in Spanish until NC State ends.
If we could flip a kid from a dictatorship, then Day is more savage than I thought. Take that Kim!
I saw those two plays on Twitter. It's why I consider the NFL unwatchable most weeks. I tuned in for OT, though.
I remember that game, but I had forgotten it was Goff. Awesome!
Saw that - nice catch, too! I forget about the other Cowboy Buckeyes sometimes cause Zeke is like "the 1" - but Noah and Rod still doin' work... also that knee Decker destroyed plays for them. I dunno if that counts though.
I agree with you, but I also don't like UGA getting him either.
Oh, c'mon... don't you start whining about me whining about him whining about posters whining about Tathan whining!
Dak is a fantastic backup QB, and Jerry might give him a contract as if he's the next Mahomes.
That "in the grasp" call is one of the more ridiculous calls I've seen. Because his OLineman hugged him the play is dead? What kind of rule is that?
/s!
...whining about people whining about Tate whining. Shit gettin meta AF. They whinin about everybody up here!
Nester should've taken that visit and exposed them.
That's a good point - this wasn't Tate's position anyway. To me, the corporate "equivalent" would be if your supervisor retired and you felt you were a shoe-in for the position, but then got pissed when you heard they were interviewing others for the position and not just handing it to you.
That's true, our coaching staff had some sense about Hartline. He was still less experienced than Barnes and Day has experience with Barnes. I was excited about Hartline and being able to see what he can do. I feel similarly about Barnes.