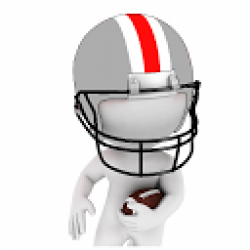 chris
---
South Carolina
MEMBER SINCE November 21, 2015
Went to ohio state for 11 years from out of state. Earned four degrees, but my Fandom is the most important thing I left with.
Favorites
SPORTS MOMENT: Rushing the field after we beat TTUN to go to the Fiesta bowl against whiny Miami
COLLEGE FOOTBALL PLAYER: Braxton Miller
NFL TEAM: Cowboys fan...
NHL TEAM: Hockey?
NBA TEAM: Memphis
MLB TEAM: None
SOCCER TEAM: Leicester City
Recent Activity
No no no, the problem is definitely us...
To be honest, your first post sounded like a disgusting Michigan fan getting excited that a rape may generate a roster weakness and seemed to deserve downvotes. This shows where you're coming from better. But follow your own advice with your "holier than thou" crap... The fact that your failure to fully explain yourself the first time made you come off to some as insensitive isn't their fault and doesn't make them "crazies" necessarily
Exactly. Given that context combined with the fact that Urban had 2 extra months (until February), I'd grade Day's as the more impressive haul relative to expected results.
Comparing a 1st year head coach's 1st recruiting class to an established national champ's on a triumphant 12-0 return (with extra months due to old recruiting calendar to seal players like Vonn Bell) makes me less skeptical.
0 from the southeast? If we can get the best from our area and poach the west coast and win natty's with 0 southeastern players, I'm gonna troll SEC folk so hard on Twitter.
DEFENSE BABAY!!!!! BOOOOOM
I like the approach to OLine recruiting - a few highly rated guys and several projects for Mick and Stud to sculpt. Only some need to be masterpieces (and certainly some will be). Those that aren't will still get developed at a top notch program and can either transfer for PT or provide quality depth with their loyalty. I think that's a powerful recipe. Best of luck to Leroux on his journey to being the next masterpiece!
They won't need to take the bus, he can just carry the class to the park for the field trip.
But from a legal standpoint the act of throwing a baseball into the stands would seem to indicate an initial act of physical aggression. What's different about this situation would be the Kansas player only attacked someone who shoved him first. Now... had he thrown that stool, maybe a different story. But, I still think it is a stretch even when compared to this baseball story.
So the advice is to hide in some shrubbery?
So he wouldn't have been allowed in our country if he had accepted an offer to play for a non-cheating school? The only reason he is here is because he cheats - otherwise not good enough for a college basketball scholarship at any level? Well, then, send him back to Angola or hire him onto the Patriots staff I guess are the only two options.
It is a fair point - I'm just trying to take my best crack at explaining it since you asked. Perhaps, additionally, by bringing up the word deportation, it points toward a hot button issue which could then be viewed as forbidden by the commenting policy. But, hey, people are sensitive on here... Hell, I apparently took -1 for giving your question an attempt at an answer... Now if these helmet stickers ever gain value for trade and I end up 1 HS short of a trip to Paris or some shit, my girl's gonna be pissed!
Some may consider calling for deportation over a courtside brawl in a rivalry game extreme. Although he clearly deserves suspended, I believe he did not make physical contact with anyone who didn't swing at him first as he was going after the dude who came flying off the bench to shove him. Explain to me why it would be reasonable to deport a student athlete who migrated from Angola under these circumstances.
I've seen that man. That's a lot of gold!
looks like even when he went low he had the facemask leading as best as possible. My guess is after watching Sunshine get the brady treatment, the defensive coaching staff went to work on coaching that up.
lol. coming on here to try to rain on the parade since you lost Partridge?
Could Auburn be the team? I dunno their roster well, but know their QB will be in his 2nd year and these weird SEC years seem to favor Alabama's lesser half.
Well stated TCM. Although, Cricejr has some good points as well...
Which ole witch?
Agreed. I think I have a new favorite Buckeye.
"Minnesota is one that can't and they lost a good coach to PSU" is what I was referring to.
While he wasn't hired as a CO-OC, we can't hire anymore offensive coaches - look for Hartline to most likely get promoted. Can't replace one guy with 2 because rules stipulate you can only have 10 coaches. We lost 1 O and 1 D so we can only hire one of each.
Already replaced Yurcich. The only position we have open is DBs.
It makes me want to not watch another game. If football can do this to me, can I ever really trust it again?
Who did Minnesota lose to PSU?