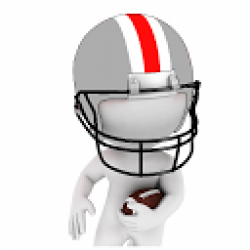 chris
---
South Carolina
MEMBER SINCE November 21, 2015
Went to ohio state for 11 years from out of state. Earned four degrees, but my Fandom is the most important thing I left with.
Favorites
SPORTS MOMENT: Rushing the field after we beat TTUN to go to the Fiesta bowl against whiny Miami
COLLEGE FOOTBALL PLAYER: Braxton Miller
NFL TEAM: Cowboys fan...
NHL TEAM: Hockey?
NBA TEAM: Memphis
MLB TEAM: None
SOCCER TEAM: Leicester City
Recent Activity
They're in the Citrus Bowl. You got your wish.
SEC SEC SEC SEC SEC! is prolly why, I assume.
Nah, I don't think his head is injured. It's his knee.
I actually think he's not as dumb as the words he uses would indicate. If I could generate a following by acting like a clown and make enough money to live off for doing so, I'd consider the idea. He prolly doesn't believe half the shit he says. But he knows what to say to rally people against/for him in a way that is profitable for him and those who engage (such as Joel Klatt). That's his game. This thread suggests he is winning that game.
and we may have at least 2 wins (up to 4) over NY6 teams if Cincy cleans up Memphis.
I think as long as we at least beat Wisconsin as well as LSU beats UGA (in game control, not necessarily exact point differential), the 1 is ours.
Finishing outside the top 10 of the CFP rankings? I'm gonna have to call Pawl to figure out what that's like. As a Buckeye, I have no f'n idea!
That's what I'm thinking- we may be able to keep 'em. But Urban is a hell of a recruiter and he'll be coming for them. I hope we manage to keep anyone Day wants to keep.
Who all do we lose if he heads out there? Mick? Pantoni? Others? Assistants?
SEC homers think Arkansas would win the Pac 12. They're delusion rivals Michigan and Tennessee. They believe Ohio State would be 5th in the SEC West because 30 years ago Tressel refused to play offense against Urban. Ignorance is way of life in the deep south. It's how they justify their small lives. Living down here, I've just learned to nod my head and tell them they're probably right. Nothing beats the toothless, ignorant smile and glazed look gazing back at me.
Thank you for this. I love it.
In this case Pride comes before, during, and after the fall. It's the Michigan way.
Welp, we are 2-0 in playoffs without our starter and 0-1 with our starter at the QB position. Time to chug along. Hoping Fields is alright, but it don't look good.
Do we have a pass defense?
Patterson's bailing Hafley out.
Could we just get White in there to get 4 DBs who have big game experience?
Replay shows a clear block in the Back. TUN fans: "The refs are screwing us!" - these guys are such clowns.
It's close. Go kick the shit out of them!
I usually do this when I can't watch socially, but we usually get a good crowd to come over and watch the game on our projector - at least Dad and Brother. It's a family get together and the game is at the center in many cases. But it is also nice having FFW button and a recliner on my own. That said, my fiancee's dad was a professor at Ohio State for 40 years and attended every home game. She grew up going to games with him. She and my dad shout at the broadcast more than any two humans I know. Our dogs come hide behind me because I have the calmest energy. My football habits are never in question with these people.
if you get a chance, look up the Russian commentary on this egg bowl. I dunno how to put tweets in my posts on mobile.
Stunned that Tinder isn't good for finding a partner. I swiped left on that article.
Coach should've been more specific when he said to go for the ball.
As a Buckeye fan I've been happily surprised that Harbaugh hasn't gotten it to the level he got Stanford or beyond yet. I remember a buddy of mine in Memphis laughing at me when he was hired -- "enjoy winning while you can" and after watching the 49ers, worrying that he might be right. But it's a new rivalry - Day vs. Harbaugh. This is what makes me more nervous this year. Throw out the records - there is no history to lean on. Day is breaking into this rivalry for the first time as a head coach with the keys to the #1 team in the country. I've been having flashbacks all week - some good (tress + urban), some bad (coop). I'm hoping Day gets started off on the right foot.
Agreed, gasser... confidence, yes... arrogance is never a good look. Fans don't play and arrogant fans look like Jack-asses. But this should not be confused with good ole fashioned ribbing of the rival fanbase - that's the fun of it. Talking shit and then rubbing it in or eating your crow...
More Nervous - Urban is a rivalry winner. I hope Day is too... but the proof is in the pudding. We'll find out Saturday.