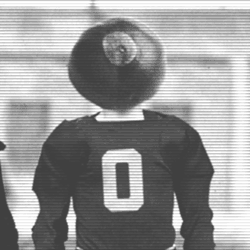 chowoon97
---
Member since 07 June 2013 | Blog
Recent Activity
He can coach. The Butler beat NO 1 seed Villanova twice. Can he recruit? Don't know yet.
I would like to have Frank Martin in South Carolina. He can recruit as well as coach. He seems to be a firece man but loves his players.
What happened to basketball program? Matta may be in danger of losing his job...
When MM arrived, he seems overweighted. But now his body is in a good shape. He is ready to roll. We don't need a lot of scoring from him, but his ability of assist and rebound will be helpful. Also, he has a great motor and a decent defense. The Buckeyes basketball got more interesting with him.
I expect that Kobi becomes a buckeye...
A guy, who received a work-on offer from Virginia Tech, just awarded the NBA regular season MVP. Let's see how he grows up.
People who only watch highlights of Dane Goodwin think he's just a jump shooter. Wrong. Best passer, shooter and rebounder I saw @ 15u level

— Zach Fleer (@ZachFleerLGHL) July 11, 2015
Lonnie Walker seems to be explosive and very skillful. I wish that Bucks get him.
Even Rajon Rondo is a phenomenal shooter in practice, and he rarely misses a jumpshot. How about he in a real game?
People cannot expect that WCS found a jumpshot from his good shooting during practice.
I wish him to be drafted by Lakers. He will learn much from Kobe for a year. All his games can be watched from Time-Warner SportsNet.
He decommitted several times and transferred to multiple high schools. I wish that he get it right at OSU!
JaQuan Lyle's recruitment is one of the weirdest. I wish that Buckeyes do not bring him.
Amir Williams's size + Tate's heart = NBA lottery pick
You saw that this team grew a lot during this game.
OSU buckeyes will run with their family late Mr. Kosta, injured Miller and JT, coaching staffs, and buckeye nations. They are not alone. On both shoulders, they have great supports and sacrifices from families and teammates. I believe that they will do their best in Indy, and results will follow.
Buckeyes BB team has a great family culture. 4 signees are great kids and have great passing abilities.
It means that many OSU games will be covered by ESPN/CBS?
His highlight reels are incredible, full of excitement!
Now tOSU has a chance to be a show-time team again. D. Giddens, Mickey, Austin, and A.J. are excellent passers!
Great kid and Great interview.
Let's bring Esa and Caltron!! Good luck to Mickey!!!
8th National Championship. 8th Heisman Trophy.
Then, will love the number "8".
Freshmen give some pressures on seniors.
KBD led in scoring. A little surprised.