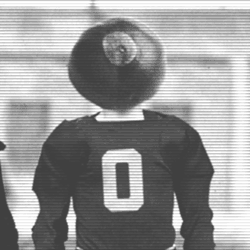 chimes3899
Member since 22 October 2012 | Blog
Favorites
SPORTS MOMENT: Ohio State beating Wisconsin on the last minute throw and of course the whole "Deal With It" game against Bo Ryan
COLLEGE FOOTBALL PLAYER: John Simon
COLLEGE BASKETBALL PLAYER: David Lighty
Recent Activity
Would it be weird if I wore one sitting on my couch watching the game...
Seems like a kid with a real good head on his shoulders. Looking forward to seeing him both playing and recruiting for the good guys
Thank God I got to do my final jump this year... I hope for Buckeyes everywhere this is just some sort of maintenance before putting water back in
I am very excited/ terrified to be graduating tomorrow but the last 4 years have been filled with memories I will never forget
So this 2 minutes and 38 seconds were all I needed to see to make sure I find someone to buy me a set of student tickets for next year since I am graduating in a week and a half and cant do it myself any more:(
Yeah I was pulling for sparty too for the same reason. Also I really like Tom Izzo... I have no idea why I do but I just have a lot of respect for a good coach like him. I was mainly rooting for the arena to collapse in the UK vs scUM game. Then Wisconsin vs Arizona didn't really matter but I like Miller so I was sorta rooting them I guess. Conference pride for 1 out of 3 teams....
Unless Williams, Mcdonald or Bell really develops (or we somehow land Turner) I think we should go small. It has worked for us in the past and gives us a better offensive line up that will run the floor. I would love to see the line up be
1:Scott 2:Russell 3: Thomson 4: Loving 5:Lee
I have a feeling this is the line Thad will have to turn to late in the season like he did with our small line up last season
Some of the best defense I have seen from OSU this year because a healthy MSU team is a very very good team. Q played one of his best games of the year and I thought Thomson played really well too cause he was tasked with guarding Harris (MSU's best guard) for the majority of the game. 2 things will continue to bother me though unless OSU can quickly change their habits. 1st is the missed free throws because 2-8 down the stretch is awful and 19-31 overall isnt very good either. Also Williams inability to catch the basketball on rebounds or post feeds cost a few extra turnovers. Fix those 2 main problems and making it to the sweet 16 and even further seems realistic but if those problems persist we will be knocked out quite early.
I think arizona's size would be problematic and that UNC is the most inconsistent but one of the best teams in the country. Virginia would be beatable and just limit McDermott and we would have a good chance. I think we could easily beat NM, Baylor or SDSU from what I have seen. They all have problems holding onto the ball which works in our favor so we can get out in transition
As someone who has played basketball all my life this video is even better then the football one. (Had i played football my opinion would probably differ but I love some good OSU bball highlights cause I know that sport inside out compared to football)
Smith has been playing horribly and I think Thomson should be starting over him. It would give us more energy, height, and someone who is more of a natural 3. Having Kam Williams redshirt really hurt our depth and I feel like he could have been someone who would provide more offense. Loving should probably be playing more minutes with his ability and it seems like he is the only other player for OSU besides Q who can create offense on his own.
I would like to see a line up of Craft, Della Valle, Thomson, Q, and Loving. This would give craft a lot of offensive weapons to kick it out to because 3 out of the 4 can hit shots and Thomson can slash to the hole fairly well. Unfortunately this line-up would be pretty weak defensively but it could be a line up worth messing around with.
The main reason for this losing streak in my mind is Scott and Smith have both been turning the ball over much more frequently and havent been forcing as many turnovers as they were at the beginning of the season
I gained a bit more respect for Penn State after seeing the how that chant came about. This game has always been one of the biggest for me (My dad is a Penn State grad) due to the family rivalry but I guess I wont cringe as much when I hear the We Are chant from my dad and all the other Penn State fans I see on Saturday. That said I hope we beat them 70-0
Well I worked out earlier but looks like its time to go back to the rpac...
This schedule is set up pretty horribly from the stand point of a student because Maryland is the night before finals and MSU is the Saturday of spring break so even though we would love to go to those games it really isn't feasible
Amazing video. Really well done and probably the best highlight video I have ever seen
Its great to see how much Sam Thomson has really become a mature basketball player both on and off the court. He is quickly becoming my favorite Ohio State basketball player with actions like this and what seems like a good head on his shoulders.
Also I wouldnt be surprised if Simon was drafted a bit higher then projected and some team just falls in love with his work ethic and motor and ends up our first drafted player
I believe shortening the shot clock would make the game more about 1 on 1 offense and less about team offense and running your system. I personally would hate that because then it would become like the NBA where it seems like no one plays solid defense. I would have no problem removing 1 TV timeout per half so instead of a break after every 4 minutes of play it would be after every 5. This would also cause coaches to have use their timeouts more often in the first half because of less TV timeouts which speed up the 2nd half of games
Although seeing Bo Ryans reaction to a shortened shot clock could end up being the greatest GIF ever so there is always that to potentially look forward to
Maybe but I am guessing Lighty will still have the record
Best of luck to DT. Going to miss yelling for him at the games. Hopefully he will get drafted by the celtics or sixers so I can keep following him, sully and turner easily. Great ball player and an even better person!
What a class act. Love seeing how much he has grown up in the past few years. He has a bright future and a good head on his shoulders. Hopefully that future includes 1 more year at Ohio State but if not it has been a great 3 years
This loss was a combination of a few "questionable calls", our inability to make a few wide open jumpers especially craft, and our lackadaisical approach to attacking the hole.
If we return everyone next year we could be very very good. In order to win a title though we would need craft and scott to develop a jumper, mcdonald or williams to develop, ross and thomas to improve their defense and thomson and smith to work on their offense.
I think with the addition of loving and i forget the other kids name (williams?) we could be really really good. Also della valle should hopefully develop too
Yeah I completely agree. DT is a great team guy. Now if he would only come back for his senior year...
Also i think it would very interesting if you took thomas off and put turner or sully on this team and see how osu's record would be. I think turner's team would probably have a tad bit better record just because he would be the vocal leader this team is lacking and could play great defense that would really be lethal with craft and and i think this team would probably be at the same record with sully because he could dominate the paint and we could have an actual inside prescene.
Ah what i would give to have all 3 of them back on this years team
True but he has the best chance of being a consistent shooter that osu desperately need. And McDonald at least seems to play with hustle and heart unlike amir who played very emotionless today. McDonald really needed to knock down those free throws though. That was pretty awful
Trey Mcdonald seems to have been stepping up and really seems much more deserving of some minutes then amir or ravenell. Also della valle should come in for smith jr to help space the floor. he could be a great shooter like diebler and help open up the lane. I think if you can put deshaun down in the post and della valle on the wing of the same side it could be very effective because deshaun almost requires a double team but you wouldnt be able to double down because della valle's ability to shoot. it would be pick your poison like diebler and sully
As someone who has watched almost every game (turned off the Illinois game in utter disgust) this team is a good team not a great team. They have the potential to make a run in the tourney this season because of how wide open it is. Now if they do not improve from how they are playing right now then sweet 16 is probably limit or elite 8 if a lucky match up or 2 works out for the buckeyes.
I think a big thing that could help the buckeyes is just to switch the starting line up a tad bit. I think you slid thomson up to the 2, and put ross in at 3. Have smith come off the bench for either one. It would give osu a bit more size and length to help with rebounding and an extra shooter in ross. I think as of right now Ross would have to step up his defense because he was burned many times over the past few games but thomson seems to be a better defender then smith and gives you a bit better of an athlete.
Also i was surprised osu didnt try putting thomson on oladipo more because of there similar high flying abilities and overall speed.