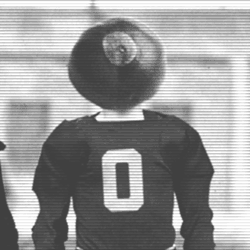 ChimdiCheckyaselfbeforeyawreckyaself
---
from Columbus, OH
Member since 04 June 2014 | Blog
Recent Activity
love this haha - Cardale is the man
yep - after beating #2 TTUN there was this feeling of it didn't matter who we played in the NC game and just came out on our heels
That's pretty remarkable. However - losing to Clemson was not good, but no loss will ever compare to that game vs Urban and the Gators....
As long as there is no Mark May, you can have Desmond Howard singing the intro with Big & Rich for all I care
Those helmets are awesome
interesting comparison - really have to appreciate the run we've been on
sooo Baker Mayfield humping a shark? Baker Mayfield getting body slammed by a shark-cop?
OSU's goalie played an incredible game - really kept Loyola from making a run early on in the game
Can't wait for the sea of McElwain-humping-shark signs at GameDay this fall
Malik Hooker is a stud - barring any setbacks out of his control, the sky is the limit...so much fun watching him play last year
" Florida's unrelenting defensive line in the 2007 Fiesta Fiasco will haunt my dreams until the day I die."
same (fighting back tears, rocking back and forth)
"A thousand showers can't wash that stink off, so don't put it on."
Cheers to that
Great intro on Mr Carpenter - thoughts go out to his family and the 11W team.
hey you misspelled OH I SEE WHAT YOU DID THERE
HAHAHA - yeah, what'd the school expect?
Yo........Troy Smith was so good
You're referring to the CFP rankings right?
we'll go with dece dude then - not the first time i've seen you volunteer a helping hand, just want you knowing it's awesome
You're a good dude, DJ
proud of the work Tylers Light is doing!
To be fair, a criminal wouldn't pay 1/2 a cent for "scum" gear either, they'd steal it
I know these don't matter......but A&M??