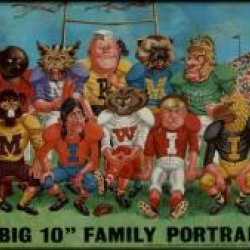 ChicagoFish
---
Member since 17 September 2013 | Blog
Favorites
SPORTS MOMENT: 1980 U.S.A. Hockey Olympic Gold & beating the Russians.
50-yardline seats for 2002 Buckeye National Championship game.
COLLEGE FOOTBALL PLAYER: Chris Speilman
NFL TEAM: da' Bears
NHL TEAM: Chicago Blackhawks
MLB TEAM: Boston Redsox & Chicago Cubs
Recent Activity
Forgot to include website:
www.buckeyewolverineshop.com
I lived in Cincy from 2008 thru 2015. There is NO Buckeye swag stores. As someone mentioned, Dick's carries a small amount of Buckeye gear but its run of the mill. They had the 2014 NC swag available, but if you really want something unique or just an impressive selection of Buckeye swag,.....On your way back to Ann Arbor, they reopened the old Buckeye-Wolverine Shop (used to be in Sylvania) but now in Maumee. You'll drive right near it on your way home. The old one was AWESOME. I'm sure the new one is sweet, too. Enjoy. New address:

Buckeye Wolverine Shop
1412 Reynolds Rd.Maumee, Ohio, 43537
Its gotta be photoshopped. The buckeye helmet stickers on the hood should change shape and go more oval or elongated at the top, but the don't. Can't be paint or vinyl. Its shopped.
I think Demario McCall is the 4th-ranked RB and Hill is the 13th-ranked WR.
Great article, Ross.
It seemed to me that our offense tempo was also much improved compared with the previous two seasons. I think the increased tempo wreaked havoc on the Bearcats' ability to make effective defensive adjustments. Hopefully this is the new tempo baseline.
Ross, what effect do you think the "new" tempo will have an future opponents?
"publishable" = punishable
Not to nitpick but the game was at Yost Arena in Ann Arbor. It was on BTN last night and was very exciting especially since their fans were jacked up after the Wolverines came from behind to tie it up and force overtime. Then the Buckeyes gave them the shoot out dagger.
Sorry just realized somebody already mentioned it was a road game at AA.