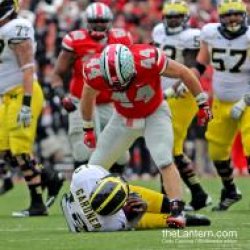 ChicagoBuckMD
---
MEMBER SINCE July 30, 2013
Favorites
SPORTS MOMENT: January 1, 2010 - Rose Bowl win over the Ducks
COLLEGE FOOTBALL PLAYER: Troy Smith
COLLEGE BASKETBALL PLAYER: The Villian
NFL TEAM: Pittsburgh Steelers
MLB TEAM: Cincinnati Reds
Recent Activity
Good for most players, would've been devastating for Corey Smith
I'm glad they're arrogant, makes it sweeter (and easier) to beat em
True but you can also get into Kent State @ Arizona St for 8 bucks so slightly different marbles here
https://www.captainticket.com/NCAA-Tickets/Arizona-State-Sun-Devils-Football-Tickets
Actually I'm very jealous - looks like both USC and Oregon are coming to ASU and you can get in the door for 40 or less
Hell yeah this exactly, they should immortalize these words inside the Woody
Until someone hits you with a fake! Knock on wood though it hasn't happened to me and I hope it never does
At the same time though, if you smell shit everywhere you go...the shit might just be on your shoe
Seriously. If any tailor in Columbus wants to make a mint just start making these jackets
Iowa - 2020
Purdue - 2021
Both home
The one issue I have is that he compared this situation to 2011, but at the same time, I also don't think he actually expects it to be anything close to similar. He just tossed out a recent cautionary tale about how things can go from great to bad quite quickly
This also totally ignores the fact that we had the worst offensive coordinator in the world basically doing whatever he wanted that year (hey Jim Bollman). Now we've got 2 of the best offensive minds in the game on staff, so I don't think we're gonna see 2011-levels of shit here.
They probably went to the other 42%'s houses to watch
Yup, that juxtaposition says everything. The men who were told they were Victors from day 1, and the guy who came to grind. Guess who wins that one?
Is no one gonna mention just how silky that polo is?
I love that Buck-i-guy is just labeled "Ohio State fan", nice pics as always!
Hello fellow BVCer, Leipsic checking in. I think we're still good
65 to 70 is one of the worst drives in America, but for OSU games it's well worth it. Have a good season brother!
What a wild ride these past few years have been! Just wanted to say thanks for all of the skullies which got my ass out of bed and got me through medical school. Best of luck and know that if I could you'd have my vote!
DJ you left out the best part of that David Jones write-up about michigan
The stadium? Yeah, the Big House. It's the most amazing giant featureless bowl in the world. It's not loud. The geriatrics sit on their hands until something wakes them.
Yeah were they fuckin drunk when they came up with that Nebraska price? I get 190 for Michigan, especially when the scalpers are charging 250/ticket minimum, but NEBRASKA? That's a hard pass
Yeah I was gonna say, the real question is when do these hit dhgate.com
Came for the yearly read, left with tears in my eyes.
Thanks Ramzy
It depends on the opponent, UM losing to App State will forever bring me more joy than OSU beating Akron or Hawaii or some other shit team. But of course, nothing beats OSU handing UM a loss.
Just checking, can you pick up an Uber from CMH? I'm moving back to Cbus from Chicago and I know Uber has only recently been able to pick up from the airports whereas previously it wasn't approved
According to dollartimes.com,
$250.00 in 1969 had the same buying power as $1,665.67 in 2016

Annual inflation over this period was about 4.12%
So maybe you could get a better deal today?