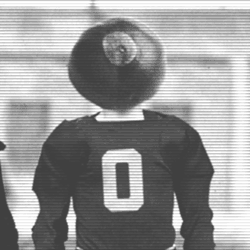 Chicagobuckeye1010
---
Chicago (via Chicago)
MEMBER SINCE March 29, 2016
Raised in Mansfield and later Michigan....in Chicago since '97
Favorites
SPORTS MOMENT: Browns comback in the playoffs against the jets
COLLEGE FOOTBALL PLAYER: Troy smith
COLLEGE BASKETBALL PLAYER: Kenny Anderson
NFL TEAM: Browns
NBA TEAM: Cavs
MLB TEAM: Windians
SOCCER TEAM: Force
Recent Activity
Damn, my favorite Buckeye after Jimmy Jackson
Yes, now let's do something for the program with this money. We are elite, it's time we act like it.
No bias Nickel Beer, games are won on the line. Gotta protect our qb and kill theirs.
He's gonna have these slobs ready for Urban's uptempo offense. Can't wait.
I'm hoping Thad can turn this around but this whole situation is ugly. I'd be willing to give him a long (2 year) leash but I believe u have to have a chip to escape the guillotine. 1 year, then off with his head.
Yup fuzzy memories of "almost winning it all". Thad simply doesn't finished the job. No big trophies. None. And as for Tressel-he's a legend for the chip he brought us but he coached the subsequent teams like they were the 2002 version; Pryor running the exact same plays T. Smith ran even though they were totally different players. He dominated the big ten but was too stubborn to change with the times and the SEC. Someone mentioned Urban's 1 chip in Columbus. Cmon man those 2 in Florida didn't simply disappear just because we didn't like the result. My point is: Urban and other elite coaches will get upset from time to time but they've built up a lot of equity because of the banners they hang in the rafters. Thad simply can't remind us of the time he took us to the promised land. We like to call ourselves the elite university in the B1G when it comes to the big money sports (football, men's hoops) and I believe we are but sparty is right there. Dantonio is recruiting the overlooked Ohio boys who will be difference makers and the gap is widening between the 2 basketball programs.
I see the Thad love is thick today. He's a nice dude; someone I'd like to have a beer with. But coaching an elite university? Na. He has health problems, he's rich; he just lost that fire in the belly perhaps. I appreciate what he's done and the warm and fuzzy memories about coulda shoulda woulda seasons which are aplenty being an Ohio sports fan. This is a chance to go get an elite coach while TOSU's brand is white hot (preciate ya Urban). I remember people still in love with The Sweatervest even when it was clear the game had passed him by. Change is hard but it has to be done sometimes.
I'll be amazed when SI writes an article showing all the national titles Uncle Thad has won.
I'm in no way comparing Thad to Izzo or coach K. That's not even a conversation. Those 2 develop talent and win games they have no business winning, in years they have no business winning. Sure they've both lost early tourney games but their track record is ridiculous. When's the last time Matta's name was mentioned when discussing the nations top coaches? Not ever. TOSU deserves more. Calipari is a showman, nothing more.
Thad's been good but not great when it's counted most. Nice guy but nice doesn't finish first a lot in college hoops. Nobody has ever charged coach K or Izzo of being classy or nice but they'll forever be respected because they get the job done.