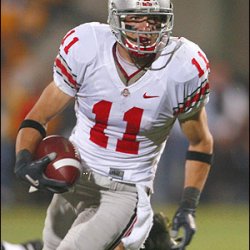 ChicagoBuckeye10
---
Chicago, IL
MEMBER SINCE April 22, 2014
Favorites
SPORTS MOMENT: Unlikely underdog champions - the 2002 and 2014 OSU teams, and the Cavs coming back from 3-1 to defeat the Warriors.
COLLEGE FOOTBALL PLAYER: Anthony Gonzalez
COLLEGE BASKETBALL PLAYER: Kevin Durant
NFL TEAM: Cleveland Browns
NHL TEAM: Chicago Blackhawks
NBA TEAM: Cleveland Cavaliers
MLB TEAM: Cleveland Indians
SOCCER TEAM: Cleveland St. Ignatius
Recent Activity
John Bacon is so good. It doesn't pain me to say that. Always writes good content.
"You can't go out and try to be what Dwayne was in game one," Day said of Fields Monday "You can't go out and try to be what J.T. Barrett or Braxton Miller was. You got to be yourself."
Which, who knows? Could mean a lethal dose of Dwayne, J.T. Barrett and Braxton Miller.
One can hope - dreams are written in August, and achieved at season's end.
One comforting thing (to me personally) is that these questions loom every year...
Apart of me thinks it's because the words are so close a part.
Love everything about this. I'm ready! #FTTE
Easy there. Lot of good folks, including Buckeyes, from north of the border.
Hey moron I said relevant or non-relevant.
Not sure if it is relevant, just my first thought when I saw the Pat Forde mention. Think it's allowed on 11W for me to share my personal relevant or non-relevant thoughts (politics aside), Chic. Lot of people do it on several articles without any harm, here included.
I wouldn't have any basis to answer that?
As an OSU football fan, college football fan, really, always thought of Forde as a clown. But I just, personally felt obligated to share:
Forde has three wonderful kids (two of which that went to my high school alma mater), and one daughter who currently swims for Stanford and is a near guarantee 400m freestyle swimmer for the USA in Tokyo 2020.
I've sat with him many times at swim meets across the Midwest, and he is a family man, he is a die-hard sports fan, and while he's a clown journalist, I really admire him as a father and person.
DV me and Pat's sports columns, but don't DV Pat as a person. Just my two cents.
24 days to go and counting - GO BUCKS
You're really bad at math, and you must not have watched the OT game in Maryland (2018).
Have some fucking confidence in the young man, yeah?
2017: 10-win ND (on the road), 9-win MSST (No. 17) on the road, No. 4 Auburn (conference championship), No. 2 Oklahoma (playoff), close loss to Bama (national championship).
2018: 10-win Florida (on the road), 10-win Kentucky team (on the road) the following week, close losses to Alabama and Texas.
They're pretty good.. no complaints with them being where they are. More proven than our team at least (as we currently speak).
And there's your classic example of not respecting the rivalry.
https://www.elevenwarriors.com/ohio-state-football/2019/07/105065/how-do-you-respect-a-rivalry-urban-meyer-final-gold-pants-speech
Who the hell downvoted this?
Yes, smiles on kids' faces and Go Bucks. +1 million
To be upfront, I 100% agree with you on 6 out of your 7 well thought-out points.
To be fair, Tom Herman's playcalling in East Lansing (2014) also won us the division, in my opinion. Shredded an elite defense (held 9 opponents to 20 points or less) for 49 points.
Puts a huge smile on my face. Go Bucks.
Offense: Brady Quinn (ex-2006 Fiesta Bowl, obviously). Talk about spiral.
Defense: Jadeveon Clowney. Talk about speed and power.
Best not to overlook anybody. The Meyer "How do you a respect a rivalry?" sentiment should apply to all opponents, week in and week out, and that goes for the fanbase too.
Just my opinion.
We played Northwestern last year.
Matt Millen will be back in the booth this fall after going through a heart transplant. He'll return for Week 1.
Don't love him as a game analyst, but really glad to hear he's healthy enough to go back to work.
Good point. Imagine how even more motivated our squad would have been to take on #4 TTUN at the Shoe.
No doubt. And it wouldn't be the first time Jim said something that was strange and unnecessary.
I'm just glad we never lost to this guy, and hope we never do as long as he's manning the Maize and Blue.
Not a huge deal. And he didn't say anything inaccurate.
Bottom line, Meyer left it out on the field. Nothing more to say. And Harbaugh acknowledged that, too.
It's a completely new era now (Day v. Harbaugh), and it's important we start 1-0.