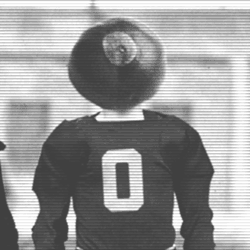 ChicagoBuck
---
Member since 11 January 2012 | Blog
Recent Activity
Mark Dantonio mumbles curses to relax.
When I was too young to know the meaning of the words, we played "smear the q****". And in the fall, we pranked our neighbors by "n***** knocking".
I hope children no longer use the later term. And the Ohio would be a better place if all children played "smear the wolverine".
Thank you 11W for not ignoring this topic.
Football is not played in a vacuum. It occurs in a society with complex and often conflicting belief systems. This issue won't be solved on 11W. But it is better IMHO to acknowledge the situation than pretend it isn't there.
11W is at no risk of becoming a political site. Spring practice is almost here. Gibson should commit on his birthday (3/20). All thoughts will once again return to intelligent football analysis.
People complain about how PC society is. I think there is something worse, a dumb society. We need more intelligent discussion on complex topics not less.
An important thing to keep in mind is that no college or pro football players feel free to come out. Is the lavender jersey a big deal on its own? Nah. But in the context of a work environment that is viewed as hostile? Sure, I can see that.
We are too thin at QB to try this. You can't risk injuries at a position that is paper thin.
Pantoni's database is magic. I creates 40 times rather than records them. Now you know why Urban values Pantoni so much.
Alex is there an update on Friday Night Lights?
I am assuming Eli is invited. Do we know about who's invited? I mention this here, because it would be a natural time for him to commit (if that is his plan).