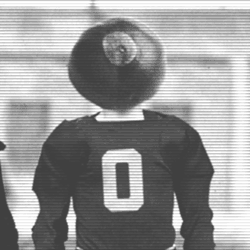 Chicago Connection
---
MEMBER SINCE June 10, 2016
Recent Activity
Can't argue with that, JohnnyKoz
If nothing else, Gray sure is going to have an interesting fall. The spotlight is on him, so it'll be interesting to see how responds.
Thanks for the FYI, Andrew. I'm curious--I hear a lot of references to "soft" offers, and I was wondering if you could speak to what that amounts to these days, as well as how Day approaches the practice, if at all?
Didn't LSU sign a total stud RB? Can't remember his name--in fact, he might be playing this fall, and he had pretty impressive tape, which obviously could influence Milton's decision if he suspects his playing time will be limited for two years.
In fairness, Smitty, he's had two other close-but-no-cigar games with us, but in the end, you've gotta win those tossup matches, and so you're dead-on right--if he lost that 2016 game, he'd be gone.

The question is, much like Harbaugh, how many more can he afford to lose to us before he gets the axe?

In fact, what's your over/under on that one for either coach?
The kicker to that pic of Franklin is that every shirt on the rack says "Draw Play."

I guess when you're a hammerheaded playcaller, everything looks like a nail.
The general status seems to be patience on his part and on the part of fans then... maybe 2020?

Basically, I guess we're all just hoping for the best and biding our time until he turns everything around as "Johnny Dixon redux."
Exactly! I just mentioned the same thing in a response before seeing your comment, Hoosier, and I totally agree. I also doubt we're alone.

I might add, I don't think it's a cheap shot for any Buckeye fan to have noticed the combination of Haskin's quick reads, fast release, as well as Day's helpful play calling were huge contributors to those stats.

For me, on the most basic level, the most disappointing thing about our line play per the eye test is a general inability to move bodies as much as you'd like to see (or as much as they're capable?). All too often, our guys were the ones getting moved by the opposition rather than the opposite.

I guess that observation plays into the reason why I'm so jacked up about seeing how this year's line unit performs--I think we've got a bunch of hungry, flesh-moving maulers ready to make a big impact.

While they not have as much aggregate experience as the 2018 unit, I see a significant upgrade in overall strength, size, speed, talent and nastiness, and I'll take my chances with that every day.

Should be fun to watch.
Yeah, it's rough to compare him to Coach Johnson. It kinda leaves a fella thinkin' that maybe the wrong coach has the nickname of "Stud."

All kidding aside, while Wray might or might not not be a big loss--I guess it's possible that we might never know--that sure wouldn't help any with our depth issues, especially since it once looked like we'd get a commitment from his brother, too.

I guess the silver lining (at least on paper, as well as per IMHO, for what it's worth) is that the starting O-line might be the most loaded in decades, and better still, this unit should remain largely intact for the next two years. So...

If they can stay healthy and do as much damage as I think they're capable of doing, we could easily see a big change of fortunes in our O-line recruiting for the 2021 class. We'll see. BUT...

At least for me, if this year's highly talented O-line doesn't perform markedly better than last year (not that the 2018 guys were bad), well, I might not be the only one suggesting that Coach Stud might want to consider taking his services elsewhere.
Bresse going to Clemson wasn't surprising, but it was a disappointment because the guy's so good and the Buckeyes seemed to have an early lead in his recruitment.

Oh, well... I guess it just means he'll be on the wrong side of the ball when the Day avenges the Buckeyes two big losses to Clemson with an unprecedented beatdown in the playoffs.
Thanks for the FYI, Cpt. Let's hope that June visit tilts things in the right direction.
Yikes, Phillly. I know he's still visiting other schools, but it sure would be a blow for the program to lose another top Ohio guy, especially one that has been such a huge Buckeye booster.

Of course, we all know wacky things can happen in the recruiting game, but, man oh man, I sure hope this one doesn't go astray.
Thanks, TomD. Personally, I guess I might just say that Stud's coaching (and recruiting) hasn't been quite as good as I'd like to see, or I hope it can be--and maybe not up to his paycheck--although it certainly hasn't been bad. Theres' just a really high standard around here, and I'm glad it exists.

I hope I'm not unfair in expected the very best from all the coaches and players, and I still hold out hope for improvement on Stud's part. If the current group doesn't deliver, I admit that my skepticism will grow.

As for last year's pass blocking, I did characterize it as "above average," and the stats you shared sorta fit that description, although it could be argued that the numbers equate to being excellent.

Maybe... but the reason I hesitate to go that far with praise is that I think the line got a lot of help from Haskins--i.e., his ability to read defenses quickly and then dump off, throw away, or deliver with an even faster release, not to mention the fact that great playcalling, including a helpful mix of short passes, crossing routes, bubble screens, and so on, contributed to the stats you mentioned.
Agreed, TomD, at least with the gist of what I think you're saying.

Of course, you want (and need) every position to be filled with talent, but you certainly want to avoid any imbalance, and we seem to have had a bit of that in recent years, even if the overall results were fine on the offensive side of the ball.

Thing is, the Buckeyes are especially strong at the skill positions right now, and the play calling is elite, but all of that can be compromised if the guys up front aren't equally effective.

That said, I'm not about to hit any panic buttons (not that you are). In fact, while I think last year's O line was above average at pass blocking but left a lot to be desired in the run game, I personally think they've got the potential to be a big-time upgrade over the next two years, assuming they stay healthy and coach Stud lives up to his name.

Frankly, for a while now, I've been salivating at the prospect of an O line that features Munford, Myers, Davis, Petit-Frere, and then, well, take your pick of a whole bunch of guys. I think they'll be a lot nastier than what we've seen, as well as more talented, and, well, they'll just be better at moving people, if not pushing them around.

I just didn't see nearly as much 'people movement' as I'd like the past couple of years, but I think a line-up of maulers is on the way.

Yeah, we need a little more depth, and Studrawa needs to prove that he can take his recruiting and preparation to the next level, but I'm actually pretty bullish about what we're likely to see from O-line starters in 2019 and 2020. Like I said, I honest expect it to be a major, major upgrade, which is awfully timely with a new QB.
Carmody would be a great addition and really round out Day's haul on the offensive line. I'm not sure where his recruitment stands, but with Zinter singing at TTUN, their chances of signing Carmody take a bit of a hit.

A best guess is that he'll focus on PSU, ND and OSU. He's a Pennsylvania guy, although his home town isn't far from the Ohio border, and I just wish I knew more about his allegiances.

Anybody have info on how or why he might be leaning in any given direction?
The Georgia trip never made sense to me--not if it was taking place on the exact same day that Julian was making his announcement--well, not unless he was committing to Bulldogs, which didn't match the insider information. So...

Boom!

Okay, it's not a done deal yet, so knock on wood, but I'd rate this one as a AAA-promising+. When you combine this news with OSU making Kendall Milton's top four list, there's a pretty good shot the Buckeyes land two more 5-star recruits.

If Day can just add Ringo to the mix, Day might bring 4 five star players, which is pretty darned impressive in any year, but especially in a transitional year for a new coach after the program received a lot of negative press off the field in 2018.

Werner was rightly criticized last year, but IMHO, also overly criticized. In other words, he was a mixed bag, but I see lots of potential there, especially with a new linebacking coach. It's going to be fun if he can take the next step and consistently deliver. Of course, except for Harrison, I guess you could say the same thing about all the LBs.
For a five-star guy and early starter, Okudah's ascent has been relatively quiet for a bunch of reasons, but given his experience and talent in the context of the new D, it wouldn't surprise me if we're all wondering who will be picked first in the top five of next year's NFL draft--Okudah or Chase Young?
Assuming Tate was asked to look elsewhere, it does beg the question... why? Typically, the two most likely possibilities are the player's discontent with playing time or treatment and/or the coaches thinking the player's talent either isn't good enough (or else enough of a schematic fit) to retain, or they have some level of discontent with the player's behavior. In Tate's case, I'm not sure we'll ever have a perfectly clear understanding of what happened, but the picture seems to be clearing a bit, and to me, it points to a little bit of both typical reasons for a transfer: It seems like Tate worked hard and was a good teammate, but he also rated his talent higher than the coaches, and I'm guessing that when he sat down with Day for a chat to see if they were on the same page, Day was honest with Tate and there was a discrepancy in their assessments about where Tate stood--probably not a big divide, but enough where the prospect of transferring was raised. For all we know, Tate might have been the first to raise the possibility of a transfer, but whoever brought it up first, I'm guessing that Tate's probably telling the truth that Day didn't mislead him and thereby suggested that it "might" be best to look elsewhere. Of course, that doesn't necessarily mean Day wouldn't have preferred to keep Tate around or that he wouldn't have given him a fair chance to start, but it does point towards not feeling the need to keep either his talent or his discontent with playing time at any cost.
It's a tough schedule but I wouldn't want it any other way. I want to know how good Day is ASAP, and I think he's gonna be great sooner than later. The talent is there, and if Day is as good as I think he might be, while there are a bunch of "scary" matchups on the schedule, I'm thinking that by mid October it'll be everyone else who's afraid to play the "scary good" Buckeyes, who'll still dominate on O but now have a D to match.
Cincy's D should be especially good while our O is just establishing itself. It should be a fun chess match between Day and Fickell--two OSU coaches going at it, and God forbid that Fickell wins, because you can just imagine some of chatter you'd hear if that happened.
No complaints; no fights or fight club; just an observation and some laughs. It's only a discussion forum and downvotes come with the territory. Heck, in mass media, that kinda thing is even desirable because it means higher ratings. Here, it's just an anonymous footnote.
Yep, Beantown, I agree we'd never get both--I was just curious if they were still pursuing both, which sometimes happens until the final papers are signed.
Yeah, you never what the coaches are hearing behind the scenes, and I don't pretend to know--I'm just watching tape like everyone else.

Again, I love signing McCord and think he'll be great, but it looks like someone doesn't want anybody to like him, or maybe they have an inside scoop on what a bad guy McCarthy is, and that's where the hate's coming from.

All I know is, I better not mention that I think Jack Miller looks like a terrific QB, too, or the downvotes might really start to rain down on me.
Spot on, MaineStrength. Agreed on 247. I like the fact they give you their rating plus an aggregate.