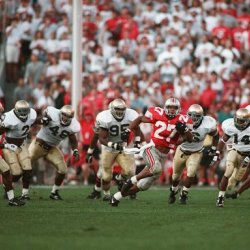 chibucks
---
Member since 03 December 2010 | Blog
Recent Activity
does the controller on the motherboard transmit signal to the hard drive?
have you checked your memory sticks to see if you have a bad one?
i've had issues on my laptop that it shows the dell splash, and even though the harddrive light is on, it won't load bios or OS - not sure what the root cause was but reseating the memory seemed to help.
edit to add: that's the extent of my experience. :\
good luck 75 - if you're starting to look already and it's shutting down at the end of the year, i think your chances are good. keep your head up.
Agreed. He's talented and had bad timing for this mistake.
That INT he had to turn the game around was a thing of beauty though:
i remember watching them on campus - one of my first concerts - loved it. RIP to a very talented artist.
i like kaleb wesson a lot - he's not afraid to bang around with the bigs - you could totally see him take out ethan happ (wisconsin) by making happ spend so much energy trying to keep kaleb out of the paint.
KMF and why? haskins, martell, burrow.
did you guys get married in the spring/summertime or fall? and if so, did you do it right on a bye week?
i did watch the alabama kicker choke... felt bad for him.
try out YouTube TV. i was pretty impressed with it.
this guy is good. he single handedly tried to keep iowa in the game against wisconsin as well. i may lean more towards him than our #12 as the first DB off the board.
always happy for the win.
some thoughts/questions here:
1. there was absolutely little to no running room for dobbins/weber - USC did a really good job having no holes exposed and tackled well - i'm not sure if they stacked 8 in the box or anything, but all dobbins/weber could do was duck their head and plow into the defender.
2. downfield passing game - i'm surprised we didn't throw anything downfield - i'm not sure if BV got targeted once - we became really one-dimensional and predictable.
3. defense was great - i think okudah will be a fine player and i liked seeing sheffield play pretty well. LBs were disciplined. DL as dominant. safeties played well.
4. playcalling - as previously mentioned by others - it was a tad predictable. hopefully we can open it up.
5. spots and reviews - i know i've my homer scarlet & gray glasses on - the JT spot was a little iffy - the catch on the sideline by USC where he bobbled it after his foot came up was a little iffy... but that's me nitpicking. i don't think harrison's push on darnold was THAT bad, but others seemed to have. at least it negated a first down. :)
psssst... italics = sarcasm.
what are your guesses for JT's stats?
uh oh... hopefully it's just rumors like LJ's retirement...
Did Baldwin get hurt in the state championship game?
Best of luck to the guys who felt more comfortable elsewhere... welcome to the family the guys who are coming home.
this is what i'm most excited about - having more depth and talent on the interior. should be fun.
for me, it's rooting for the guys we have signed and not looking elsewhere. i think it's a good philosophy in life too - be happy with what you have; otherwise, you're likely to be miserable all the time. you can be disappointed, sure, but move on.
with all the misinformation out there and experts and everyone wanting the inside scoop, recruiting is like a guy's soap opera. hope carman picks the best place for him and isn't swayed by everyone thinking they know him and wanting to prove them wrong.
Can't say anything bad about him - he totally destroyed us the last time Illinois beat us... probably 10+ years ago.
People who haven't been need to go watch a Men's volleyball match live. The force at which they hit the ball is insane - it's not your mom and dad's backyard volleyball for sure.
Not nearly as talented as Barf, but here you go... and is that HS supposed to be HJ? ;)
I thought our Borland wasn't a legacy - thought I read it somewhere...