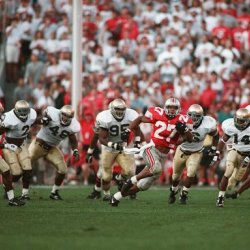 chibucks
---
Member since 03 December 2010 | Blog
Recent Activity
Dwayne Haskins will be our starter next year and Tate will transfer.
play it again sports or something like that usually have real nice sets for the casual golfer. I think I bought a king cobra set relatively cheap.
FMK - Urban, Tressel, and Woody... Choose wisely. :)
haha, the Miz was on MTV Real World and is from Ohio if I remember correctly. his gf/wife was a wrestler (Maryse) and is pleasing to the eyes as well. :)
congratulations pete! can you believe he's been our coach since 1985? 32 years as our volleyball head coach.
best of luck coach matta. thanks for everything you've done.
I think we need to all put in tickets that siri is malfunctioning.
DJ have kids yet? Sometimes you just need to get out and can't find a babysitter - not that I have done that. :)
any chance your current company wants to expand to c-bus? opening up an office that you manage in the area wouldn't be a bad gig, you'd stay where you're at without moving backwards. otherwise, listen to everyone else. :)
ugh. I always cringe to these type of posts. hopefully this "unfortunate" news isn't catastrophic.
Domination! Great job volleybucks!!!
go volleybucks!
played men's volleyball in HS, tried out for tOSU and got "redshirted" by pete, and played club for 4 years... so definitely a fan. bandwagon fan works too. :)
Great job Pete and the boys! One more opponent!
I've always used a nice letter thanking them for the opportunity and my last date. PTO pay out depends on what's in your corporate policies. no burning bridges as a lot of the industries are small.
Alcatraz!!! Oh, those cheap pitchers... now we have a time frame for when you were there. :)
we threw some crazy parties north of campus on Patterson at our rental house. I remember picking up kegs and renting mcdonalds jugs to make concoctions of 151, cherry 7up, pineapple, gingerale,, Hawaiian punch in those... I remember putting cardboard down underneath plastic bags in an attempt to keep our carpet safe... and then walking on squishy carpet the next few weeks. a fun time was had by all (and free for all participants). It wasn't until we went to different campuses that others charged entry? what's up with that? :)
doesn't Meyer's daughter gigi play volleyball? I'm sure meyer could relate with the players. :)
I enjoyed daredevil, luke cage, and Jessica jones. iron fist was a joke - acting was terrible... superhero is meh.
so, are people now confusing Jerome Baker with Tyquan Lewis? Or they just don't have a better picture of Baker?
http://bleacherreport.com/articles/2706876-2018-nfl-mock-draft-matt-millers-way-too-early-predictions
Wow, Gruden and Kiper have been a bit ruthless on our players... hope they prove them wrong
well respected by both players and fans - class act.
then send in the dog to get rid of the cat. save money on dog food.
I don't know why she swallowed the fly, I guess she'll die.
what do we do in the wintertime in these major northern cities then? maybe we should all move south... :)
what harbaugh and what baby?