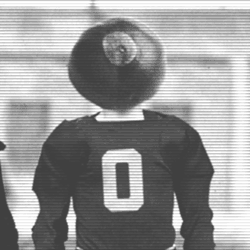 CharlotteBuckeye
---
Member since 03 December 2012 | Blog
Recent Activity
I would move Northwestern in to the #2 spot. Some of their alternative uniforms are dope.
Kenny G orchestrating the comeback and OT win over Purdue deserves more than a "Honorable Mention" in my opinion. Coming in cold as the #2 QB and marching down the filed and not only scoring the TD but then the 2pt conversion...
#cooljazz
Interesting when members type that articles like these should not be posted but then it gets 500+ comments. If you ran 11w would you do more or less posts that get that many comments?
Also, very interesting seeing all the different interpretations of the t-shirt which says more about you than the wearer.
#alldone #Rorschachtest
I watched the film also and some holes are big but what I noticed is how he blows by the secondary who should be the fastest players on the team. Breakaway speed is what we need.
Any idea when Master's ranking gets updated? Dude is the best 3 star I've seen. Should be a top 5 RB.
Never go to IKEA on a Saturday. You have been warned. Also, think about how long it will take to build whatever furniture contraption the wife decides she has to have.
I'm trying to guestimate what his position will be? At 6'6 he could get to 275lbs easy and be a DE or he could be a TE at 255lbs? Imagine dude at 260lbs as an outside linebacker...
Facebook Live Link:
https://www.facebook.com/13abc/videos/10155220460686897/
Should have led with #FireFickell instead. Rookie mistake...
I've been gone so long, not sure what buildings those are?
Nope, can't do it. Not gonna click.
Does the fact that she didn't know/remember his name help the case? Police identified him by a tattoo on his arm.
I got my first downvote. So I wasn't there and hopefully this accusation is false. He is innocent until proven guilty however. On another note assuming that he is innocent, his team should have gotten in front of this 2 weeks ago. You have to control the narrative especially this close to the draft.
Not sure who is representing him on the lawyer/agent side but they failed.
Reminds me of an email investigation 2 days before the presidential election. This happened on April 9?
Yep...
http://www.cleveland19.com/story/35242592/football-sex-assault-police-report-woman-claims-she-was-raped-kicked-out-of-room
OMG, somebody tell him to shut up. Don't say anything, get a team of lawyers and media specialists to handle this quickly!!!!
Went to California and offense didn't miss a beat. Could throw the hell outta the deep ball and ran well.
Cox Mill is down the street, round the corner from me. I'll check out a game or 2 next fall and report back if he stays interested in the good guys.
Hard to get kids from NC to come to OSU, no matter what sport.
I see height as an issue in a pro style offense. This is Alabama's worst nightmare, mobile QB who can throw the deep ball. Dude is a baller, ability to sense when pocket collapses while keeping eyes down field is amazing. The timing of his passes looks real good, able to hit receivers in stride and can throw the deep ball well. This is the perfect offense for him, not sure when he will see the field tho...
#fresh
So Dylan Thompson is still with the team? I know he was ineligible last season.
Thandie is the hottest 44 year-old on the planet hands down ( or hands up if watching with company).