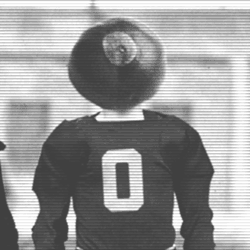 Chargerbuck
---
MEMBER SINCE January 25, 2012
Recent Activity
Mattison - "good overseer"... Let me correct that- Mattison is tremendous, and we are very fortunate to have him...
I don't see the NFL as a threat... OSU is the best college gig in the country... Day relates so well to the kids, and he is a devoted family man... Why would he leave for the cess pool NFL?

Just don't see it happening...
Fabulous article! Just a great read... I am very happy for Keandre - always felt the kid could play... Just another Schiano casualty.
Nobody in the country will have a better receiving corp in 2020. I am incredibly excited to see Julian Fleming... He might be the best WR recruit to ever come into the program... Time to get these guys with Justin Fields, to start working the magic!
Absolutely spot on...
just sickens me that this particular replay official decided to take matters into his own hands... I think there's more to this story that warrants further investigation. Hopefully, he's never allowed to do another game... and the replay official expert on the broadcast (Dave Katalian) should be eliminated from all further broadcasts.
Kaleke Hudson— Forever known as "Mr. Offsides" in the OSU-Michigan rivalry.
What a humble young man... An example for all young kids to emulate... Congratulations Joe Burrow— Ohio is proud of you and your family...
Awesome speech BTW...
Please "NO" (says Greg Mattison)...
Wade, Williamson, White, Wray, and anyone else who's last name starts with "W"...
Agree with you... Jordan Fuller did NOT play well, especially in the first half. After a stellar season, he was not at his normal level Saturday... Gonna need him against Clemson.
Couldn't agree with you more... DPJ was dropping passes and short arming others... He really hasn't developed like I thought he would... Chalk that up to coaching and attitude.
Just glad we got Greg Mattison, and they kept Don Brown!
Next up Wisconsin... One game at a time! One more victory and we're Big 10 champs!

Beat Wisconsin!
You're a class act Blu... and what I like is you are one of the few that understands the rivalry and stays above the fray... That said, this game has a "Cooper-esque" feel to it— Michigan has nothing to lose, and wants nothing more than to ruin another great Buckeye season...
That said, Michigan has to protect Patterson... He does not like to get hit— and has a real real tendency to fall apart (and even throw left handed) when heavily pressured. Michigan has great WRs, and they are passing the ball very well right now. They have all the intangibles going for them—Of course turnovers will always have an impact... but this game comes down to Michigan's OL vs. OSU's DL... I like OSU in that aspect... and if they get to Patterson, I think he will turn it over...
Gonna be a good one... It's OSU/Michigan week- it gets no better!
Maybe—but they don't practice against Chase Young...
Advantage Buckeyes.
I would put Franklin #1... Please, before anyone goes off about Jerry Sandusky, I just feel he shouldn't ever be mentioned again in any way, shape or form.
Franklin is as annoying as they come... Yes, Michigan is our rival, but I actually root for Michigan when they are underdogs to Penn State. Why? Because of James Franklin (and probably because they both can't lose). He is a prima-donna and thinks of himself as "elite", but his players and team not so.

i hope OSU gets out to a big early lead, and then Ryan Day puts his foot on Franklin's throat and runs it up. Go Bucks!
One game at a time... Gonna be healthy for the stretch run...
can't wait for next week!
The season starts next Saturday— here's hoping for 5-0 going forward... Go Bucks!
This only opens the door to: How much, and where did he get the money to repay it?

I am only stating the obvious... hopefully, this is just a minor hiccup.
Well that's not what Chase Young said happened... check out his statement...
Sounds like you must be an agent to have that take on things...
Any coincidence that this is a circa. 2018 violation? Anyone remember who was in charge of the program then? More noise from that era...
hopefully, minor... Coach at the time has been replaced... no further sanctions necessary?