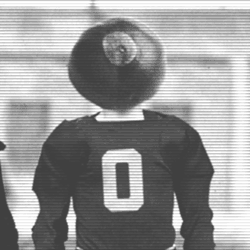 ChapsRocks
---
MEMBER SINCE November 24, 2014
Favorites
SPORTS MOMENT: Attending the 2002 National Championship game.
Recent Activity
Bump for entertainment purposes only.
wonder if OSU coaches tell recruits its unsafe to practice in 103 degree Florida heat?
The AP and Media could be replaced with a larger committee with no sitting AD's.
Try to get the best of both worlds.
I dislike May as much as the next guy. just never hated Pitt over it.
I didn't realize so many OSU fans disliked Pitt. It must be because of Mark May but even so it seems sort of random to dislike them.
I am not flipping at all. Neither of us is changing each others mind. can we just agree to disagree?
I should have went with the BCS has more B10 in the top 6 argument.
They are just rearranged a bit.
Actually I lied and you are correct. Must have looked too quickly. But I still don't understand why you pop in just to argue with me.
Of course the BCS looks more favorably at the B10.Why would you even say it doesn't? The stats are posted above. Why do you follow me around arguing with me?
Northwestern beat Stanford who is a better win than Notre Dame and a top ten team. You can't just omit that. Your are really reaching here. I am not saying VT should have been ahead of OSU last year. That is not my logic and you know this, your too hung up on winning an argument. Me saying Ole Miss should be over Bama this year would be like saying VT should be over OSU last year. I am not saying either. If VT had only one loss last year and it was to a better team and had beat a better team than OSU and had actually beaten OSU and had the same record. Yes, I would have said VT should be ranked higher. Simply put Stanford has no argument over Northwestern.
There is really no reason for you and I to debate this. Northwestern has a better resume. They do its inarguable. Despite a better resume and a head to head win the argument I hear you giving is "because the CFP committee said so".
Northwestern doesn't have three losses. They lost to Michigan and Iowa. They have the same record. They have a better win and better loses than Stanford. Northwestern beats Stanford in everything except number of times beating USC. Before saying stop maybe check your facts. There is no reasonable argument to put Stanford over Northwestern. We don't even need the eye test because they actually played.
You must subscribe to the "they didn't play Stanford football" argument.
See the BCS rankings posted above. The BCS would show the B10 even more respect than the committee.
If there were no agenda Stanford would not be ahead of Northwestern.
It will depend if they need Wisky high to improve the resume of one of the other four.
The SEC seems to get some love as well.
I think the the formula is to schedule an FCS opponent if you have a conference Championship game. At least until they all 5 have a conference championship game. Stanford is likely only out because of a loss to Northwestern. Why even risk it. You will always have the conference championship "trump Card". Georgia Southern and MTSU didn't hurt Bama even with SEC being down. The team without the conference championship game was ranked 4th. Would the committee had left Stanford out if they beat an FCS school instead and the only loss was to Oregon? Probably not.
I do think there are a lot of head scratching decisions made by the committee.
Why should Northwestern be ahead of Stanford?

Northwestern has head to head win and better resume than Stanford but Stanford wins "eye test".
Stanford has better "Resume" than Ohio State.
And Ohio State beats Northwestern by "Eye Test".
Ok got it.
i want to know why the committee see's such a big difference between Stanford and Northwestern. Northwestern has same record, better win, better losses and head to head match up. Based on CFP rankings Big Ten is stronger than PAC12. i don't know what the argument is but I feel like the real reason is they don't want to alienate the pac12.
Stanford has a way better resume than lets say.. Northwestern.
I don't have a particular issue with any one team. I was more trying to point out the inconsistencies. Why should Stanford be ranked ahead of Northwestern even. Northwestern's best win is against #6 and Stanford best is # 8. Northwestern's losses are to #5 and #14. Stanford lost to #13 an #15. Northwestern has the head to head win. Based on the committees rankings northwestern plays in the tougher conference. Is Stanford really better than a team they lost to because they beat USC twice?
No the one that put OSU in 3 NC games.
The NFL should do this too!
I haven't heard it mentioned but with five power conference champions jockeying for four spots it seems even less likely the mid-majors will get in.
This is the funniest thing I have ever read.