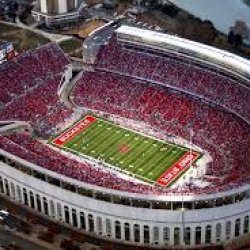 CentralFloridaBuckeye
---
East Coat, Florida
MEMBER SINCE March 13, 2013
Grew up on the Ohio side of the Ohio/Penn boarder. Went to OSU. Currently living on the east coast of central Florida doing reconnaissance work for the Bucks in SEC territory! Go Buckeyes!
Favorites
SPORTS MOMENT: When the Buckeyes won the 2002 National Championship.
COLLEGE FOOTBALL PLAYER: Chris Spielman, James Laurinaitis, Randy Grandishar, Eddie George and Archie Griffen, Dick LeBeau
COLLEGE BASKETBALL PLAYER: John Havlicek, Jerry Lucas, Sullinger
NFL TEAM: Pittsburgh Steelers
Recent Activity
I CAN'T BELIEVE THIS!!!!!! JUST AWESOME!!!!
As poorly as we have played tonight and with a couple of major bad calls too, we still have a shot to win it.
JT did not lose us this game. Special teams and a couple of bad calls - pick got overturned, should not have been enough to overturn the call.
Swing pass for 1 yard! Excellent, not!
Good job Sprinkle! Nice stop!!
Kick off team is so bad. Just sad.
Time for a big stop on D!!
TAke the damn HB swing pass out of the game plan. It does not work!
Another false start! WTF!!!
Just run JKD and JT and throw the ball down field and we win!
You're going to miss a great comeback. Bucks will win this game!
We're going to find out really quick if this team has any heart.
NIce stop in the backfield!
Okay, c'mon O let's get the ball moving.
Well, that sucks! Time to regroup.
Braxton actually did a good job to save a huge loss.
Nice no gain Cardale! LOL
Yeah, I agree. Although it is the game up north that worries me more.