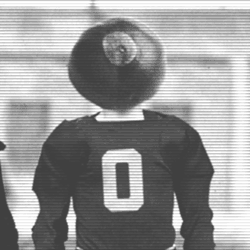 cdub4
---
Central Ohio (via University Heights, OH)
MEMBER SINCE April 05, 2013
Favorites
NBA TEAM: Cavs
MLB TEAM: Indians
Recent Activity
If it ain't broke don't fix it.
Positivity and Mtrotb are mutually exclusive.
I hate white cleats/shoes in all sports. I prefer black or team colored shoes. Black with a team color logo/swoosh is fire.
As stated above, Fox has the MLB World Series that weekend, and I can't remember the last time a WS game was not a night game. A night game for OSU vs Wisky ain't happening.
Jackson was the best...Musberger the worst.
Chase Young. A dominant DE that commands double teams changes the whole defense.
There are 85 players on the OSU football. More than likely there are Buckeyes using PED's. I would assume every P5 team.and NFL team has PED users. Is there proof Clemson had a PED program for their players?
Georgia. I hate ND more than any team in sports.
He has an Ohio tattoo and won Ohio Mr. Football....
Pretty much CENTERED between the Indiana and Pennsylvania borders if you look at a map...SOUTHern part of the state.
The article I read said Keenum overthrew a wide open Mclaurin for another potential long TD.
Or the 2002 OSU offense...
If LSU beat Texas 7-0 in Austin the talking heads would be talking about LSU's NFL caliber defense and SEC physicality....not bad offense LOL. I really don't have an issue with a team moving up a few spots with a 7 pt road victory in a prime time game in which the lead mostly throughout..but that is just me. I would expect the same thing if OSU beat a top 10 team on he road 7-0 or 45-38.
I lived in the OSU dorms for 2 years, one year in Morrill Tower when it was 8 to a suite/bathroom, and in a 2 person room on North Campus. This was in the mid 90s. There was no fucking way I was going to do South Campus if I could help it. It was like New Orleans...OK to visit but I wouldn't want to live there. No AC and remember on quarters you are there in June SMH. The bathrooms were foul on weekends.
Gary committed to Michigan Feb 2016. Clemson had just come off a 31-0 victory over Ohio State in the CFP semifinal and lost 45-40 to Bama in the CFP Final. They also had a Heisman finalist at QB. Clemson was competitive nationally IMHO and a better program than Michigan at the time
Cameron Brown is another player I haven't heard much about.
I take it to mean he has not been overly impressed with Fields' play. He is a true sophomore with no career starts. He has a lot of potential but we as fans were spoiled last year with Haskins.
Doug Lesmerises in his comments about today's practice that at one point the MLBs worked alone and it was Mitchell and Borland with Harrison and Browning working as weak side LBs.
Malone was more dominant in basketball than Jeter in baseball. Malone was NBA MVP 3 times. Jeter never won an AL MVP award. Advantage Malone IMO.
Tell that to Ed Wariner or Tim Hinton.
Fact. Coaches and recruiting coordinators pay attention to recruiting services. They would be fools if they did not.
I am 43 and have never been fishing. Seems kind of boring to be honest.
ASU would be interesting. They seem like a program on the rise. Lots of talent out there too.
Georgia has tons more in state talent than Alabama. Smart will make Georgia a destination job...it should be already, it produces the 4th most CFB and NFL talent.
Good stuff Taylor!!