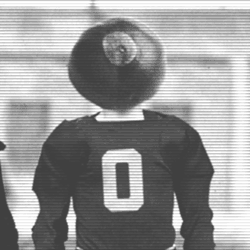 cdub4
---
Central Ohio (via University Heights, OH)
MEMBER SINCE April 05, 2013
Favorites
NBA TEAM: Cavs
MLB TEAM: Indians
Recent Activity
Rutgers. Because they are Rutgers.
Someone beat me to it, but one of my biggest bet peeves are people who seem to think sports started around 1980. The Lucas/Havlicek class is and probably will always be the best BB class in OSU history. I am not sure ANY other school had a recruiting class with two all time NBA players the caliber of Jerry Lucas and John Havlicek. Went 78-6 with 3 NCAA Finals appearances and Ohio State's only basketball championship.
Ealy is an elite baseball prospect. He was rated the #1 player in Mississippi his class by Perfect Game. If he had indicated to MLB he would pass on the Ole Miss scholarship he would have been drafted really high out of HS.
Experience is a factor too. Second year starters perform better than first year starters regardless of scheme change.
Yes.
No, your last statement isn't possible. It sounds like something someone on crazy pills would suggest.
A lot of haters are having crow for a late night meal. I love it.
Fickell actually did get a WR to verbally commit to OSU under his watch. Michael Thomas turned out OK.
Just because everyone needs to grow up and be big boys and girls doesn't mean everyone is capable.
The part IMO that makes it even harder for UM to close the gap is that once you get these kids on campus, iron sharpens iron as they say...it almost increases the gap. 4 and 5 star WR recruits in Columbus battle players like Jeffrey Okudah and Marshon Lattimore. Tackles have to try and block Bosas and Youngs. Linebackers see players like Dobbins and Elliott on the other side. Even if Michigan gets their share of high 3 stars and some 4 stars, aside from coaching being a reason Buckeyes seem to max out their potential, it's the reps they get against other elite talent once they get on campus.
I don't look at that lost and think disrespect. 6-10 are splitting hairs.
I saw him in HS..He was very raw. The only word up in NE Ohio is he left a very strong VASJ program that had won a state title and transferred to Garfield Hts, who had a lot of talent but didn't even get out of districts I believe as a junior. Meechie Johnson was a freshman guard on that team. Not sure why he left VASJ exactly, but Garfield Hts was getting a lot of transfers.
I understand the AD lost money, I created a forum topic about it. Part of the reason OSU lost money is because they played Michigan on the road, also the Zach Smith issues more so than payouts to non conference teams. I also am just assuming that there was a negotiation process and that the OSU AD doesn't just throw money away on general principle.
What does this have to do with the financial performance of the AD? Meaning they are still going to profit. What is a better option?
NFL is professional CFB is amateur. CFB should not be about the fans, should be about the student.
Patriots are not the Lakers or Yankees. They don't do farewell tours.
Dude he meant their pace is ahead of the rest of the US SMH.
Hyde Park had a great Wagyu strip steak. I worked at Lindey's, Hyde Park, and Ocean Club which is a Cameron Mitchell establishment. They all got most if their meat from the same distributor, Michael's Meats. There might be a few specific cuts for a particular restaurant, but the meat is basically the same quality, choice or prime. I hardly ever go out to eat at steakhouses after working in them, they were great to work in but steak and lobster are easy to do yourself. I tell all my friends crab legs are the biggest rip off to me in the restaurant industry.
https://en.m.wikipedia.org/wiki/Darrell_Royal Darrell Royal played at Oklahoma from 1946-1949. I do not know if he was a captain but he does still hold the Oklahoma all time INT record with 18 and did play QB as a senior. Royal later coached 20 seasons at Texas from 1957-1976 winning 3 national titles, served as AD and has his name on their stadium. He lost his first Red River shootout as HC but did win his next 8. Royal is the first person to came to my mind. Royal actually coached against his HC Bud Wilkinson, whereas Moeller never coached against Woody Hayes.
There are a lot of takes that are not aging well, that's for sure.
You can watch live streams. There were multiple games on YouTube this evening.
Sales are down 20% this week across Cameron Mitchell Restaurants for March and will probably get worse before it gets better. It is what it is.
I expect universities in the South to follow suit.
I am sure Dabo is negatively recruiting us about this right now. /s
I can only imagine what the people whining about being inconvenienced by this virus for a few weeks would have thought about WW2 and all the inconvenience upon America than brought for a 4 year span? I will survive this indignity of not possibly not being able to attend OHSAA, Cavs, and other events for a bit. I am mentally tough I guess.