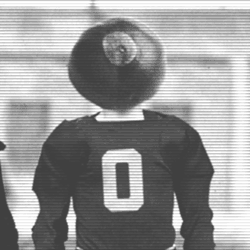 cdub4
---
Central Ohio (via University Heights, OH)
MEMBER SINCE April 05, 2013
Favorites
NBA TEAM: Cavs
MLB TEAM: Indians
Recent Activity
Cameron Brown is another player I haven't heard much about.
I take it to mean he has not been overly impressed with Fields' play. He is a true sophomore with no career starts. He has a lot of potential but we as fans were spoiled last year with Haskins.
Doug Lesmerises in his comments about today's practice that at one point the MLBs worked alone and it was Mitchell and Borland with Harrison and Browning working as weak side LBs.
Malone was more dominant in basketball than Jeter in baseball. Malone was NBA MVP 3 times. Jeter never won an AL MVP award. Advantage Malone IMO.
Tell that to Ed Wariner or Tim Hinton.
Fact. Coaches and recruiting coordinators pay attention to recruiting services. They would be fools if they did not.
I am 43 and have never been fishing. Seems kind of boring to be honest.
ASU would be interesting. They seem like a program on the rise. Lots of talent out there too.
Georgia has tons more in state talent than Alabama. Smart will make Georgia a destination job...it should be already, it produces the 4th most CFB and NFL talent.
Good stuff Taylor!!
This article is awesome!!. Can't wait to hear the podcast. Great insights.
I think Russell is a pretty good fit. Shot 42% from 3 last season, can handle the ball, good in the pick and roll. Big help while Thompson is hurt.
https://web3.ncaa.org › lsdbiPDF division i manual - NCAA.org This is a link to the NCAA handbook. This is why I am speaking with confidence, I am looking at handbook LOL. Page 218 bylaw 15.2.8.1.2.3 covers the summer school deal with initial counters. Page 232 NCAA bylaw 15.5.1.9.1 concerns the football exception to the summer financial aid rules. Basically incoming true freshmen who attend summer classes prior to initial full time enrollment are not considered counters until the fall. Also I am getting my information concerning mid year enrollees and how they are counted in regards to 25 man limits from the handbook...page 231 bylaw 15.5.6.3.4 explains this. According to the 11W scholarship grid OSU is 86. You have to remember Kevin Woidke was given a scholarship for spring and per a Dan Hope article in April it was not promised for fall. This all besides the point...DV me all you want but at least I am using the NCAA handbook as my source on this. In the eyes of the NCAA and the OSU athletic department, Ohio State is is not at 86 right now. I don't think I can make it any clearer. You can not have more than 85 counters ever at any given time in 2019. Not in February..not in June..not in August. I did not realize the freshmen who enroll in June aren't counted, but that makes strengthens my point you can't go over 85.
There is a 25 man hard cap. There was a 25 man hard cap last year also. Last year you could backcount early enrollees to the previous years 25 man limit. I have not seen anything saying you still can't backcount initial counters, assuming you have the room in the previous years class, but this has been questioned on the forums.
Not true. You are talking old stuff about Urban and Bama. You have to be at 85 at all times. It has been this way for several years. If you are talking when Les Miles and Houston Nutt and Urban and Saban coached...sure. It has been years since teams have been allowed to go over 85 at any point and time. The August deadline is in the past. I think where some people are getting confused is, yeah, you see articles about how OSU or Bama or whomever have 88 players after signing day. At the end of the day...if 11W puts out an article about OSU having 88 players in March after signing 25 players...what you have to understand is let's say 8 kids are early enrollees...the other 17 incoming freshman don't show up til June. Point being you will see articles about how OSU needs to get down to 85, but in actuality The Ohio State University is only paying for 71 scholarships (88‐17 traditonal June enrollees) when the articles are written because 17 players are still seniors in HS. OSU under Meyer were never "over 85" in reality. All the articles are saying is that in theory, if everyone showed up for summer, you would be over 85. But in truth, when these articles are written, OSU in reality is at 65-75 in regards to NCAA compliance. And now the transfers and medicals happen BEFORE the June recruits start school under the current rules. So again, you can not pay for more than 85 players on scholarship at any time (particular semester). Hope this explains how the 85 man cap works in 2019 (not 2009)
No you can not. You can not have more than 85 players on scholarship. The medicals and transfers to get to 85 happen before the incoming freshman are getting their school paid for. The rules changed several years ago. I have never seen a team over 85 in several years.
You can never be over 85. Ever.
He is basing it on the description of the injury. You don't need a medical background for reading comprehension.
Spot on about Lamb. I totally remember him from the Scout basketball board. Very argumentative. Came across as a tool.
Nothing about the information released has much to do with paying recruits. This is a money laundering scheme, most of the money was given back to the embezzler. This really doesn't seem to be a recruiting scandal. like people are hoping for. It sounds like the player was already a student.
Response was over the top. I understand the general premise, but it was harsh and missed the boat a little IMO.
Unless Marshall could have lowered his 40 time down from 4.68, another year wouldn't have done much for his draft stock at his height.
Guys who have track experience like Sheffield, D. Smith, Ward, Campbell etc are not going to lower their 40 times as much with draft prep, because they tend to already have good running mechanics. The guys who have less track experience tend to have larger gaps from their OSU times to their combine times.
Link to NCAA drug policy. (1 year suspension for first time PED suspension) http://www.ncaa.org/sport-science-institute/topics/frequently-asked-questions-about-drug-testing Link to story on Bama's Deonte Brown and his suspension for NCAA violations (4 games) https://tdalabamamag.com/2019/01/10/deonte-brown-given-four-game-suspension-in-2019-ua-filling-appeal-with-ncaa/ Link to story about Clemson players and their failed PED suspension appeal. They are suspended for 1 YEAR. https://www.cbssports.com/college-football/news/two-clemson-football-players-to-miss-entire-2019-season-after-ped-appeal-denied/ Facts and links. Not hard to find. And no recreational drugs are not PEDs. Again...still never seen a link from you ...ever .showing Bama players were suspended for PEDs or an explanation why Brown is only facing 4 games for PEDs.
No they didn't. Also you were wrong again. Recreational drugstore not considered PEDs by the NCAA. Noah Spence was a special case in which the B1G considered Ecstasy a PED, and it is not...so they lowered Spence's suspension to 3-4 games. PEDs are MANDATORY 1 year suspensions by the NCAA. The Bama players faced 4 game suspensions for whatever NCAA violations they committed. The only logical common sense conclusion is that the Bama players violations that were found in late December 2018 were not related to performance enhancing drugs. The Clemson players went through the NCAA appeals process and were denied...and got 1 year suspensions. The Bama players were handed 4 game suspensions prior to the appeals process. I don't know how else to explain in to you, you seem a bit stubborn...but bro LMAO...Bama situation had NOTHING to do with PEDs.