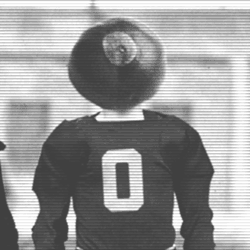 cdub4
---
Central Ohio (via University Heights, OH)
MEMBER SINCE April 05, 2013
Favorites
NBA TEAM: Cavs
MLB TEAM: Indians
Recent Activity
They will reload not rebuild. They recruit well.
It could be possible redshirt freshman 2014 JT was the best JT we saw. Personally I think he was never the same after the broken foot, he also seemed scared to make a mistake in 2015. Knee sprains, etc. QBs can get beat up, look at Tua. It isn't revisionist history...I can't be the only only who remembers "bench JT" comments LOL.
Dbl post
I remember when 90% of 11W comments were how Clemson would go back to Clemsoning and Dabo would get exposed after Deshaun Watson left. Lightning in a bottle. Despite the recruiting classes Clemson was bringing in SMFH. As long as LSU keeps bringing in top 5 classes and Louisiana keeps putting out the most NFL players of any state per capital, LSU will be an elite program. JMO.
Your comment will not age well, I guarantee.
Fields is pretty fast for a QB. I think he runs in the 4.5s. His baseball scouting report says he ran a 6.63 60 FWIW.
I lived in the towers in the mid 90's. I was part of the 2 to room, 8 to quad days. I feel like in the mid 90's the Towers were considered the best dorms on campus. They were the most expensive undergrad rooms on campus, the freshman football players among a good amount of other athletes tended to stay there. It was pretty much all quads of 8 in the mid 90's. Sharing a bathroom with 7 others was not as nice as North Campus but better than South SMH. Downside was it was far from High Street and many classes, I feel like a lot of people skipped class in the winter. I also feel like it was real social, you had 7 other suitemates, 40-50 to a floor and the largest dorm on campus. You also had your own commons which was a plus. Overall it was pretty cool in the mid 90s. I will say 12-16 people in a suite sound like incarceration SMH. Sounds horrible. I always heard that back in the day Morrill Tower had the highest dropout rate on campus...I could see it.
What a talented list of players SMH. We as Buckeye fans are fortunate.
Double post
The current NBA scoring is 110.5 ppg game, which is on the high end as a historical average but not insane. 84-85 and 85-86 had similar averages, along with 78-79, 64-65 and a few other seasons. Scoring is down from its peak in the 60s. It has been trending up but is down from last season. The game played differently, the 3pt shot has changed the way teams are built but the scoring as high as it can be historically.
If I were him I would go pro now. He also could take a redshirt year at Bama and enter the draft next year, but even that could be a bit risky. Also I would pump the brakes on the easy path to a championship talk.
I got downvoted for this once into oblivion but you can never have 85 kids on scholarship at any time at any part of the year. Never. OSU got a violation for being over the scholarship limit by 1 a few winters ago and was punished. There is a reason why schools have to be careful in regards to early enrollees because they can't be over 85 now either.
CFB and NFL have hashmarks in different locations, field corners in college have more ground cover than in the NFL. It really depends on the coaches and scheme. It can even depend on the ability of your free safety or matchups on who you want where.
I will be rooting for Bama. I hope they win 56-0
Fuck no.
Players often get better with playing time. Saying White will not get better at Rutgers is silly.
For clarity, as a CH alum just to point out Gaffney went to Garfield Heights and played for Sonny Johnson along with Meechie, not Cleveland Heights. I actually went to a Cleveland Heights/Garfield Heights game a few years ago to check out Gaffney and Meechie. Funny story, at that game (winter 2017) as I am taking my seat, I swear the biggest HS school kid I have ever seen walks by me. Kid actually looked a bit familiar but couldn't place him. I was totally in basketball mode mentally, I went to see Gaffney and Meechie, forgot OSU recruit Tyreke Smith played basketball for Heights, and the massive dude was the OSU freshman DE Chase Young, who came with Jaylen Harris to catch a NE Ohio basketball game between some future Buckeyes. Gaffney was raw then when I saw him and Garfield Heights was a mess IMO. That GH team was one of the more frustrating HS teams I ever watched.
I love the Film Study analysis. OSU and Clemson are both loaded with playmakers, will be a fun game to watch. I think the first comment nails it, Buckeyes need to stay on schedule and Fields needto be decisive, the one thing he is guilty of at times is taking sacks. Have to avoid 3rd and long. Hopefully his MCL has healed up a bit.
This is true. USFL did take Herschel Walker as a junior prior to the NFL allowing juniors.
How would fans would NBA benefit from a 3 year rule? Looking at the current NBA, I do not see how an NBA fan would benefit by not having players like Trae Young, Ja Morant or Luka Doncic in the NBA. I might benefit as a CBB fan but I am not that selfish as to advocate for a 3 year rule so I have better games to watch on TV.
Triple post.
Dbl post
The general thought is some of the Florida recruits from underprivileged backgrounds seem to be raw in regards to coaching but have high ceilings. The elite players from places like suburban Dallas, Houston, Atlanta, Austin, etc have better HS coaching and facilities, go to more camps, some get private instruction, etc and are more developed.
Jackson has made some mechanical changes with his footwork and throwing motion that has improved his accuracy. I believe Jackson is faster than Miller ever was. Miller ran a 4.5 at the NFL Combine, I think Jackson is a sub 4.4 guy.
http://www.espn.com/nfl/attendance/_/sort/homePct You are correct and incorrect. This link shows 9 NFL teams average over 100% ofcapacity. 29 NFL teams average over 88.8% attendance. Navy's premise is correct that NFL teams draw better than CFB teams. The 3 teams below 88.8% of capacity this season are Washington 79.8% Jacksonville 78.8% Cincinnati 71.8%